Men and Yoga: What Inspired Yogis to Hit the Mat

mbg Founder & Co-CEO
By Jason Wachob
mbg Founder & Co-CEO
Jason Wachob is the Founder and Co-CEO of mindbodygreen and the author of Wellth.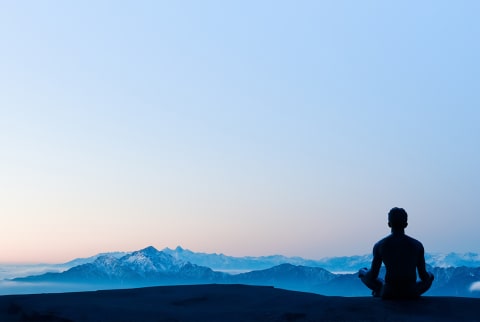 Image by 4X Image / Getty
October 11, 2010
I've written about and am passionate about encouraging more men to practice yoga. Each day this week, some of yoga's most respected men will answer a different question about men and yoga. This group all has unique introductions to yoga, diverse backgrounds, and different practice styles. Massive shoulder injuries lead one yogi to hit the mat, while another yogi reluctantly came to yoga "kicking and screaming." My hope is that one of these men inspires you (a man, or a woman too!) to hit the mat. Today, the men share how they began their yoga practices.
MindBodyGreen: When/how did you first start practicing yoga?
Vinnie Marino: I started doing yoga as a teenager in New York in the 70's. I enjoyed it but then got heavily into partying and forgot about yoga. Then I moved to LA in 1990 and took a flow class that kicked my ass across town... It was challenging, fun, sweaty, and with music on. I loved it.
Bryan Kest: I began practicing yoga when I was 15 years old – 32 years ago. My father turned me on to it.
David Swenson: I got into yoga in 1969 when I was 13 years old living in Houston, Texas. My older brother Doug was a surfer and got into yoga so I just followed along and pursued both things with equal fervor. We traveled all over the world in pursuit of the perfect wave and the joy of yoga.
David Romanelli: My first class was Seane Corn's class in September 1996. It was one of the hardest physical experiences, yet also deeply spiritual... and I didn't know it was possible to feel that way in a sober state... I was hooked for life!
Michael Taylor: When I was a little kid my training began! Back then the training was easier -- much of what we're learning when we're older is simply re-learning. My early focus was more East Asian than Central, although the aim and approach are very similar. It wasn't until the 1990s that I walked into my first yoga class in New York. It was in a gym, and looked more interesting than lifting weights.
Rusty Wells: I came to yoga kicking and screaming. I really was resistant. But after the first practice, I was forever changed and perfectly in love. I found myself at home.
David Regelin: I started practicing in 2001 in my mid 20's. I had reoccurring back pain, and a friend suggested yoga. There was a yoga studio that I passed by on my way to work everyday, one day I decided to try a class. While waiting for the class to begin, I realized that I was in pain just sitting on the floor. Once the class started I was shaking and trembling in every posture. I realized that even though I ran, lifted weights, cycled, etc, that I was weak when lifting my own body weight and suffered in almost every posture. Yoga had revealed to me that I was not taking proper care of myself. I began practicing with the goal of self preservation. Also the endorphin release after the class was better than any drug.
Noah Mazé: I grew practicing a meditative tradition, chanting, study, etc. I was 14 or 15 when I started hatha yoga (postural focus). For me it felt like I found home, as my physicality was totally affirmed and integrated into the other aspects of yoga that I was already practicing. Until then, my 'spirituality' felt more separate from my athletic side. I remember being so happy in those first classes that we got to do handstands and other poses that were really fun and hard, but doable.
Brock Cahill: I first started practicing about 7 years ago, in order to heal some massive shoulder injuries. The docs wanted to cut and sew me back together, and I just did not see that as an option. I am a pretty active dude, and 6 weeks in bed plus a year long rehab sounded like hell. I started looking for an alternative and stumbled across yoga. From day one I was frickin' hooked... And yoga, most specifically handstands, healed my shoulders.
Derek Beres: I began studying the philosophy of yoga and other Eastern ideas at Rutgers in 1993, graduating with a degree in Religion with a focus on those areas. I did not have an asana practice at that time. After forays into Tae Kwan Do, Karate, Capoeira, and a great modern dance technique called Allan Wayne work, I began studying asana in 1999. The philosophies had always interested me, and remain the main focus of my yoga practice. I had grown tired of chiropractors and orthopedic surgeons telling me that I would never be pain-free from a number of childhood injuries. The physicality of Vinyasa Yoga immediately appealed to me, as I grew up an athlete, and merging asana into the other limbs of the yoga discipline just made complete sense.
Sam Chase: I started practice a little over a decade ago -- certainly not long by many standards. Honestly, I had no higher aspirations than being able to touch my own toes. I'd grown up extremely bookish and academic, and really asthmatic, so I hadn't until that point had much of relationship with my body -- we were barely on speaking terms. And on the yoga mat suddenly it was like this whole new me unfolded -- I could do things I didn't think were possible, my asthma gradually went away, and I was hooked long after I touched my toes.