This $8 Clean Drugstore Mascara Has Me Racking In The Compliments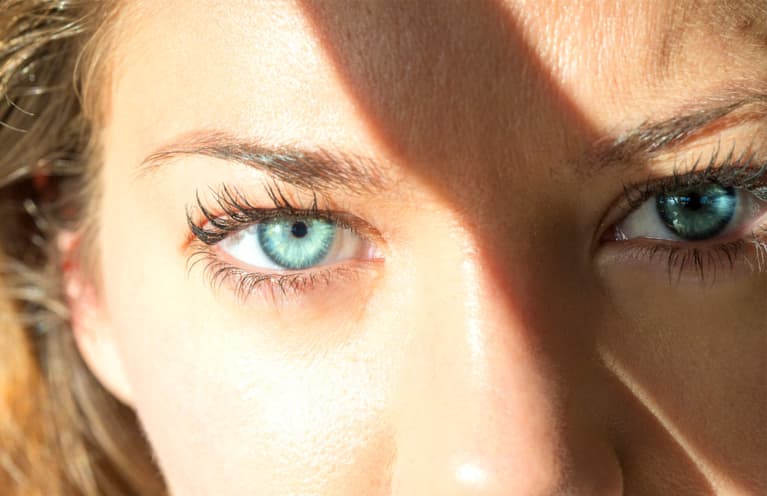 Our editors have independently chosen the products listed on this page. If you purchase something mentioned in this article, we may
earn a small commission
.
I don't wear daily mascara. Well, up until recently I wasn't wearing daily mascara. But thanks to Maybelline's new Green Edition Mega Mousse Mascara, I'm coating my lashes more days than not. Why? I'm practically addicted to the compliments it's earning me.
The dense, lush formula is one of the best clean mascaras to hit the market in the last year; the vegan formula contains 70% naturally derived ingredients, uses recycled packaging, and costs less than $9. So when someone asks me about the ahhh-mazing mascara I'm wearing, I have no problem gushing away about all the highlights.
Allow me to elaborate.
Why I'm wearing this clean Maybelline mascara daily.
I'm not one to wear lots of eye makeup. I prefer a simple aesthetic on myself (and have a general laziness in the morning). Of all the things I must tackle by the end of the day, swiping on mascara or eyeliner is simply not on the top of the list.
Yes, yes, I'm a beauty editor, and it's arguably part of the job description—so I put in my best effort to try out new launches and formulas regularly to stay up on the market. But I wasn't sold on many of the options I've tried.
Most formulas either wore out by midday, ended up smearing on my cheeks in the humidity, or simply didn't add any oomph to my natural strands. I have a few numbers I simply adore (Ilia's Limitless Lash Lengthening Mascara is a total knockout), but those tend to be sold only at specialty retailers and come with a higher price point to match.
So instead, I skipped the product altogether. I'd rather wear nothing than end up with raccoon eyes at the end of the day. However, this creates a problem: When I get asked about what clean mascaras I can recommend to regular folks, I'm not loaded with options.
Or at least I wasn't, until I tried Maybelline's Green Edition collection, which included this wow-worthy mascara. Of course, Maybelline knows a thing or two about mascara formulas; the pink-and-green tube is practically iconic for beauty fans. But crafting clean mascara is something of a challenge—so while I was eager to try the launch, I was also skeptical.
All skepticism faded away within my first day. And as I continue to wear it (almost daily!), I grow increasingly confident that most folks will simply adore this option.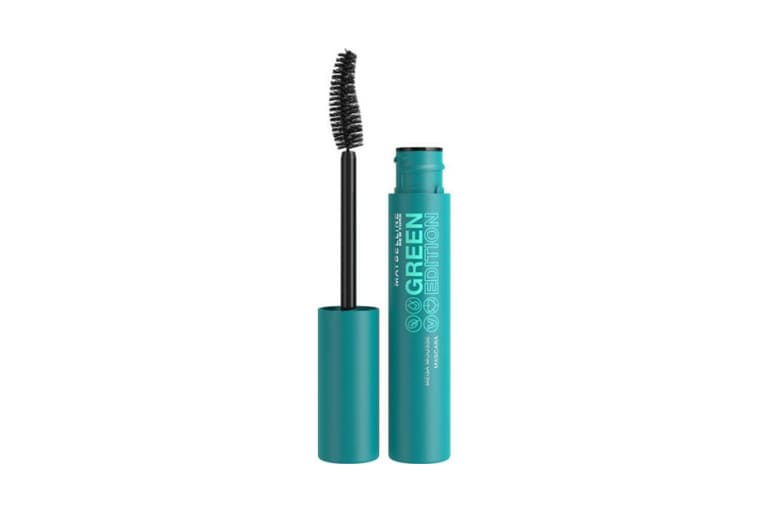 Maybelline New York Green Edition Mega Mousse Mascara
$NaN
The results: Full lashes with a clean formula at an affordable price. 
The formula contains at least 70% naturally derived ingredients. According to the brand, an ingredient is natural origin "if it's unchanged from its natural state or has undergone processing yet still retains greater than 50% of its molecular structure from the original natural source." (Honestly "naturally derived" is murky territory in beauty, so I'm impressed they so clearly define it.)
A few of the highlighted natural ingredients are shea butter and coconut oil, which help create a texture that's equal parts thick and silky. It also skips many of the major ingredients clean-leaning consumers look out for: parabens, mineral oil, silicones, BHT, and petrolatum.
And the performance is impressive: I simply swipe on one to two coats in the morning, and I'm instantly more polished. The fluffy brush reaches every strand, offering an even coat that lifts and separates.
The pigment is rich and dense but never flakes and smudges. (And I write this while enduring the thick summer humidity. If this formula was going to transfer, I would have discovered it by now. It simply doesn't.)
I prefer using the Brownish Black hue, but they also have Very Black and Blackest Black for those who want something deeper and more striking.
While I would have genuinely been impressed with the product on my own, I can't help but be amazed by the feedback I'm getting from other people. Being a beauty editor opens you up to curiosities about your makeup routine, so I'm used to people asking for recommendations. But the volume of comments I get from this formula is worthy of note: Just the other day a stranger asked me about my lashes while I was wearing it.
Amazon reviews agree, too. Loads of users are pouring in their high praise, like "The best out there! I love it and hope it stays around because I never want to switch to anything else. Highly recommend."