This Breakfast Couldn't Be Easier To Meal Prep & It's Packed With Protein

Cookbook Author
By Vasudha Viswanath
Cookbook Author
Vasudha Viswanath is the author of The Vegetarian Reset and the founder of We Ate Well, a community for foodies that puts nutrition back in focus.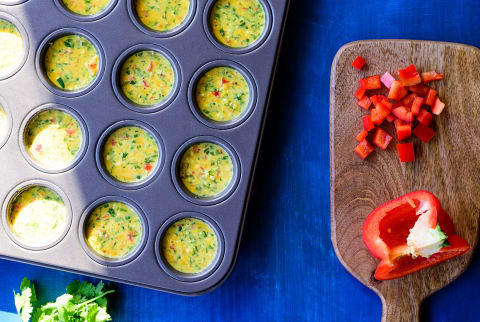 Image by Alexandra Shytsman / Alexandra Shytsman
January 17, 2023
We carefully vet all products and services featured on mindbodygreen using our
commerce guidelines.
Our selections are never influenced by the commissions earned from our links.
These fluffy mini frittatas or egg muffins are spiced with a simple combination of ginger, green chile, and turmeric to take the ubiquitous coffee-chain egg bites up a notch. They are great for meal prep, make a fast but filling breakfast or snack on the go, and clock in at approximately 25 calories per bite. You can mix up the toppings as you like—feel free to use spinach, roasted red pepper, goat cheese, or any other veggies or cheeses you like.
Masala Egg Bites
Ingredients
4 eggs
½ cup full-fat cottage cheese
½ cup shredded Cheddar cheese
½ cup diced red bell pepper/capsicum
2 tablespoons diced onion
2 tablespoons chopped cilantro/fresh coriander
1 Indian green chile, jalapeño pepper, or Thai chile, chopped
1 teaspoon grated ginger
½ teaspoon ground turmeric
¼ teaspoon salt
Method:
Preheat the oven to 350°F/175°C. Lightly grease a 24-cup mini-muffin pan with nonstick spray. (If using a regular muffin pan, increase the baking time by 5 minutes in Step 5.)
Combine the eggs, cottage cheese, and Cheddar cheese in a blender or food processor and blend until smooth. The mixture will be the consistency of heavy cream/double cream.
Add all the other ingredients to the blender and pulse a couple of times until evenly distributed (we don't want to blend the toppings smooth; just distribute them evenly throughout the mixture).
Pour the mixture into the prepared mini muffin pan, filling each muffin cup no more than two-thirds full.
Bake for 15 minutes, or until golden brown on top. Let cool in the pan (they will deflate a bit). Remove from the pan and serve.
Store in an airtight container in the refrigerator for up to 4 days. Reheat for 20 seconds in the microwave. They are also freezer-friendly—just wrap them individually in plastic wrap to prevent them from sticking together and freeze for up to 1 month.
Reprinted with permission from The Vegetarian Reset by Vasudha Viswanath, The Collective Book Studio, January 2023. Photos by Alexandra Shytsman.

Vasudha Viswanath
Cookbook Author
Vasudha Viswanath is the author of The Vegetarian Reset and the founder of We Ate Well, a community for foodies that puts nutrition back in focus. She has been a lifelong vegetarian and passionate home cook. Her journey into eating healthy started with a doctor's note about her elevated blood sugar after a routine physical. She transformed the way she cooks to cut out excessive starch and sugar and has never felt better. After spending over a decade on Wall Street, Vasudha left her career in finance to write a cookbook and create We Ate Well. She grew up in Bangalore, India, and now lives in New York City with her husband and daughter. Find her on Instagram using the handle 'v8well'.