Make This Sweet & Savory Blueberry Steak For Your Next Date Night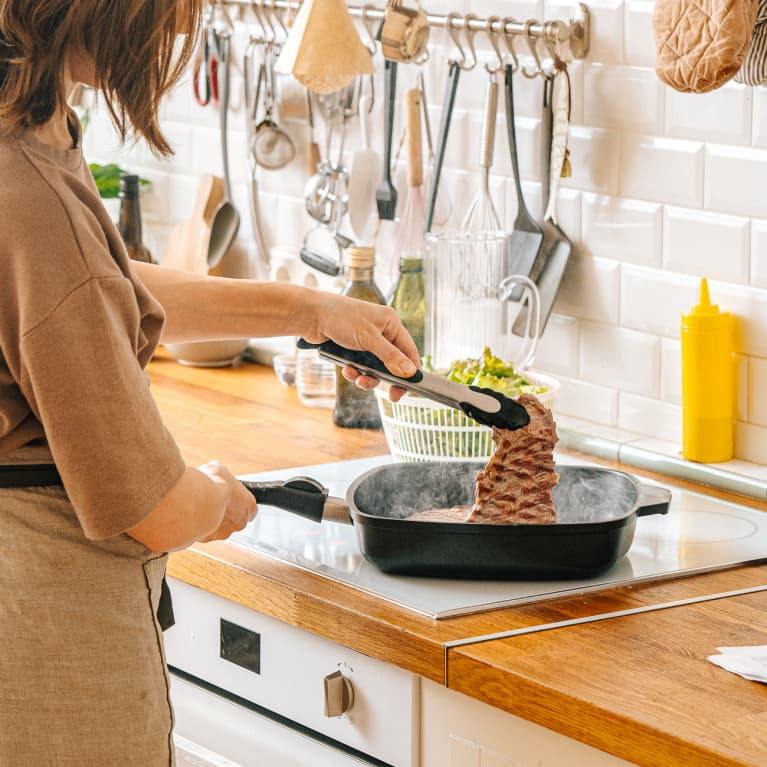 Our editors have independently chosen the products listed on this page. If you purchase something mentioned in this article, we may
earn a small commission
.
One of my most favorite cities in the world is Florence, Italy. This Renaissance city is oh-so-enchanting, not to mention the best place to feast on world-class art and gourmet cuisine. I will never forget trying the blueberry steak at a local restaurant there. When the waiter recommended we order it for our dinner, I had my hesitations but decided to trust the expert. And I am so glad that I did! Sweet and savory, this dish from my book, The Defined Dish: Healthy and Wholesome Weeknight Recipes , begs for a serving and is best enjoyed with your companion for a special night.
When I cook steaks, I always remove them from the fridge and let rest at room temperature for 20 minutes prior to cooking. This way, they aren't cold and don't seize when they hit the pan, resulting in more tender, evenly cooked steaks!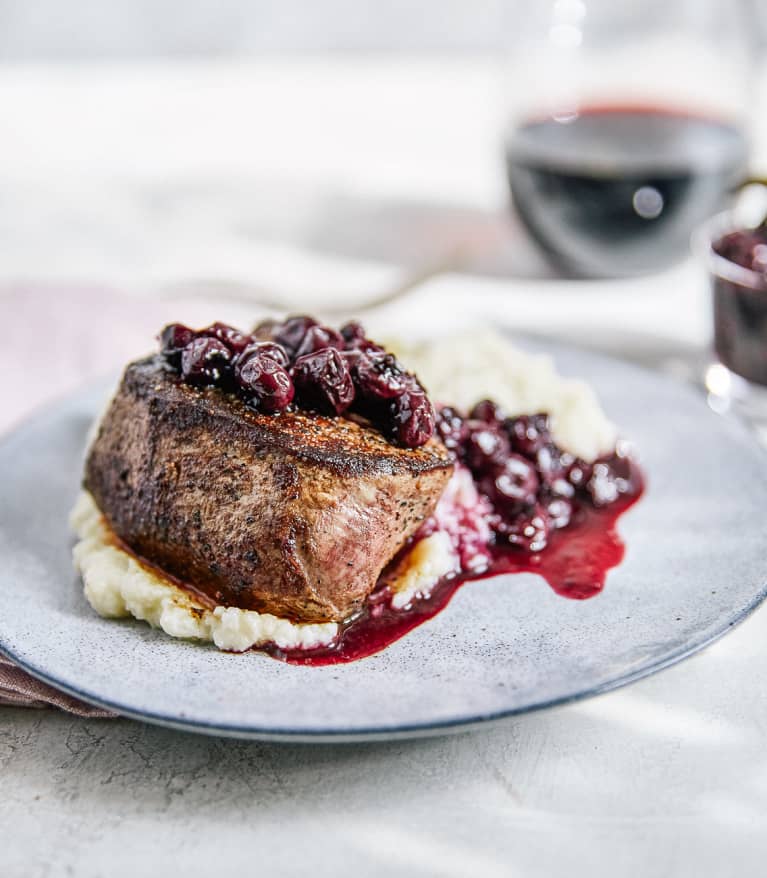 Blueberry Filet Mignon With Cauliflower Mash
Blueberry sauce ingredients:
2 tablespoons extra-virgin olive oil
1 medium shallot, very finely diced (¼ cup)
1 garlic clove, minced
¼ teaspoon crushed red pepper flakes
1 pint fresh blueberries
¼ cup aged balsamic vinegar
1 tablespoon coconut palm sugar
1 sprig fresh rosemary
Kosher salt
Cauliflower mash ingredients:
2 small heads cauliflower, cut into florets (8 cups)
2 cups low-sodium chicken broth
2 garlic cloves
½ cup unsweetened full-fat coconut milk
1 teaspoon kosher salt
½ teaspoon freshly ground black pepper
2 (8-ounce) filet mignons, 1 inch thick (see Note)
1 teaspoon kosher salt
½ teaspoon freshly ground black pepper
2 tablespoons avocado oil
In a small saucepan, heat the olive oil over medium heat. Add the shallot, garlic, and red pepper flakes and gently cook until tender, about 3 minutes.
Add the blueberries, balsamic vinegar, palm sugar, and rosemary. Bring the sauce to a boil, then reduce the heat to a light simmer. Cook, stirring occasionally, until the sauce has thickened and coats the back of a spoon, about 20 minutes. Taste and add salt if necessary.
Remove the rosemary sprig and discard. You can either keep the sauce as is or, for a smoother sauce, use an immersion blender (or working in batches in a blender); blend the sauce until smooth. Cover the sauce to keep it warm while you prepare the rest of the dish.
In a large pot with a tight-fitting lid, combine the cauliflower florets, broth, and garlic. Cover the pot and bring the broth to a boil over high heat.
Let the cauliflower steam until fork tender, about 15 minutes. Do not drain.
Add the coconut milk, salt, and pepper, and, using an immersion blender or working in batches in a blender, blend the cauliflower mixture until smooth. Cover and keep warm until ready to serve.
Pat the steaks dry with a paper towel, then season both sides of the steak generously with the salt and pepper.
Heat the avocado oil in a large cast-iron skillet over high heat until it just begins to smoke. Use a pair of tongs to carefully place the steaks in the skillet.
Cook until a deep brown crust forms on each side, about 4 minutes per side for medium-rare or 5 to 6 minutes per side if you like your steak a little more well done. Transfer the steaks to a cutting board to rest for 10 minutes before serving.
Drizzle the steaks with the sauce and serve alongside the cauliflower mash.
And do you want to turn your passion for wellbeing into a fulfilling career? Become a Certified Health Coach! Learn more here.