Using Your Smartphone Doesn't Make You A Bad Parent, New Study Finds
Contributing Sex & Relationships Editor
By Kelly Gonsalves
Contributing Sex & Relationships Editor
Kelly Gonsalves is a sex educator, relationship coach, and journalist. She received her journalism degree from Northwestern University, and her writings on sex, relationships, identity, and wellness have appeared at The Cut, Vice, Teen Vogue, Cosmopolitan, and elsewhere.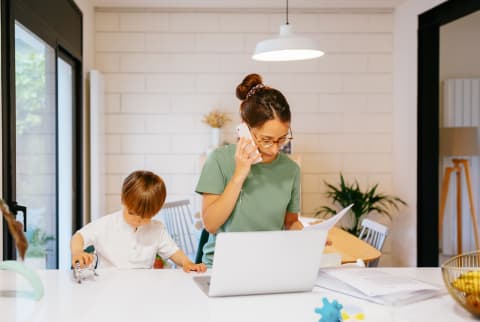 Image by BONNINSTUDIO / Stocksy
July 11, 2020
Perhaps you've received some choice words from people who've seen you on your phone around your child and assumed you were a disengaged parent because of it. Well, here's the scientific research you can mention the next time people make assumptions about your parenting skills based on your smartphone use.
A new study published in the Journal of Child Psychology and Psychiatry found that, no, being a normal person who uses their smartphone semi-regularly is not associated with bad parenting. In fact, in some cases, using your phone more often can be associated with warmer, closer parent-child relationships.
Advertisement
This ad is displayed using third party content and we do not control its accessibility features.
How parents use their smartphones.
Researchers analyzed surveys of more than 3,600 parents asking about how often they used their smartphones, what they did on them, their smartphone use around their kids, and their relationship with their kids.
The results showed the link between smartphone use and parent-child relationships was relatively weak and pretty mixed. The real mediating factor between smartphone use and parenting was the degree to which the tech interfered with family time. In other words, if a parent tended to become so absorbed in their phone that they were less present or spent less time with their kids, then that interference did hurt their relationship with their kids.
But parents who used their phones a lot without it interfering with family—in other words, parents who were just texting or browsing on their phones while still being engaged and responsive to their kids—didn't experience any negative effects at all. In fact, as long as this interference factor was low, more smartphone use was actually associated with stronger attachment between parents and their kids.
"For parents, the smartphone is an essential link to the outside world for support, knowledge, or to connect with others in similar situations," Lynette Vernon, Ph.D., one of the researchers, explained in a news release. "Across diverse family environments, smartphones play multiple roles in family life, including provision of social support and information and allowing for work and digital errands. As long as phones are not heavily impacting on family time, smartphones tend to be tied to positive (and not negative) parenting."
For many people, their phone is a big part of their social lives and how they interact with the world, especially amid COVID-19. That's not necessarily a bad thing, and for parents, it can be a life-sustaining way to remain connected to others.
The takeaway.
"There is a well‐worn history of public controversy over the potential harmful effects of new technologies on children and families," Vernon and her co-authors write in the paper on their findings. "Media entities, policymakers, and various scholars have voiced concerns that smartphones represent a risk for warm and attached parent–child relationships. But blaming smartphones for problematic parenting is, arguably, missing the point."
A parent using their smartphone does not necessarily mean they're disengaged from their kids, as these findings clearly show. "All told, we found little evidence of a direct effect of phone use on parenting," they conclude, adding that we ought to "move beyond blanket assumptions of risk" and interrogate our assumptions about how parents should be using their devices.
Conclusion? Don't be so quick to make judgments about other people's parenting. Yes, there are many reasons excessive social media use can be harmful for us and excessive screen time can be harmful to kids. But as far as creating a warm, loving relationship between parent and child, smartphones don't necessarily get in the way of that.
Advertisement
This ad is displayed using third party content and we do not control its accessibility features.
Kelly Gonsalves
Contributing Sex & Relationships Editor
Kelly Gonsalves is a multi-certified sex educator and relationship coach helping people figure out how to create dating and sex lives that actually feel good — more open, more optimistic, and more pleasurable. In addition to working with individuals in her private practice, Kelly serves as the Sex & Relationships Editor at mindbodygreen. She has a degree in journalism from Northwestern University, and she's been trained and certified by leading sex and relationship institutions such as The Gottman Institute and Everyone Deserves Sex Ed, among others. Her work has been featured at The Cut, Vice, Teen Vogue, Cosmopolitan, and elsewhere.
With her warm, playful approach to coaching and facilitation, Kelly creates refreshingly candid spaces for processing and healing challenges around dating, sexuality, identity, body image, and relationships. She's particularly enthusiastic about helping softhearted women get re-energized around the dating experience and find joy in the process of connecting with others. She believes relationships should be easy—and that, with room for self-reflection and the right toolkit, they can be.
You can stay in the loop about her latest programs, gatherings, and other projects through her newsletter: kellygonsalves.com/newsletter