The Humble Portobello Burger Gets An Upgrade Thanks To An Equally Humble Superfood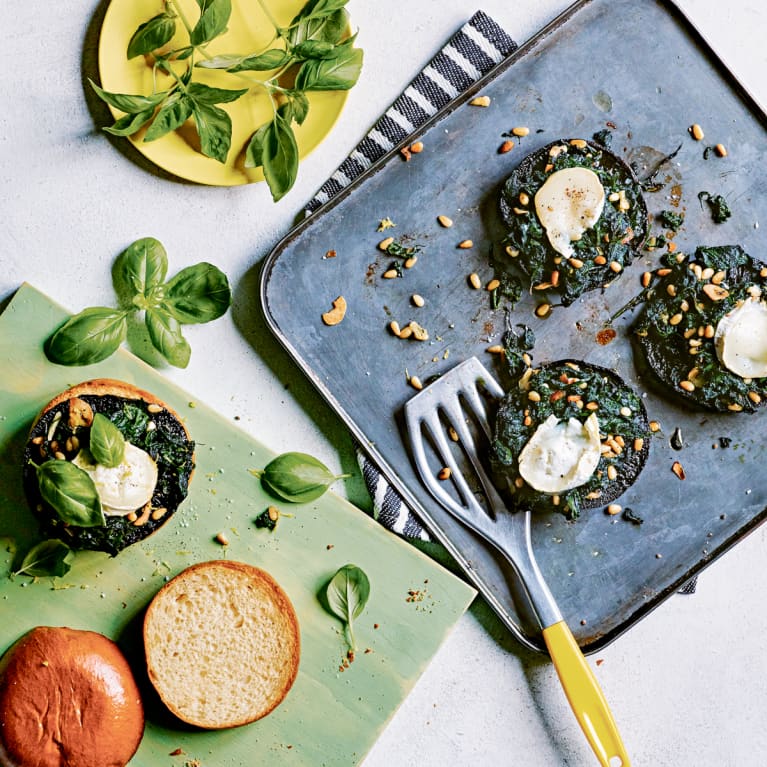 The simplest options when looking to make homemade veggie burgers is to turn to the portobello mushroom. It's a perfect fit from the plant world for a pure, unprocessed "burger," but it can get a little boring too. This recipe, from the kitchens of LEON Restaurants, a U.K. chain that has since spread across the Atlantic to open a location in Washington, D.C., is a perfect update.
Instead of layering the toppings onto the buns, it flips the burgers on their head quite literally so they can be stuffed with spinach, pine nuts, and goat cheese—one of the healthiest types of cheese you can pick. Of the popular leafy greens, spinach is a better source of nutrients like iron, magnesium, and folate when compared to kale, and it lends itself perfectly to any filling, including this one.
The addition of fresh herbs to the recipe, along with a well-timed splash of lemon, gives the flavor a necessary lift to prevent it from becoming heavy. While the recipe calls for serving them on fluffy burger buns, we imagine these stuffed mushrooms would taste pretty amazing on their own, too.
From the restaurant's new cookbook LEON: Happy Fast Food, this recipe is perfect for making a truly satisfying and special homemade vegetarian burger options.
4 large portobello mushrooms
3 tablespoons extra-virgin olive oil, plus extra for serving
5 large sprigs of fresh thyme, leaves picked
zest and juice of ½ unwaxed lemon
3 cloves of garlic, peeled
2 tablespoons olive oil
3 tablespoons pine nuts
1 lb. baby spinach leaves
7 oz. rinded goat cheese log, sliced into 4 thick disks
4 good-quality burger buns, sliced in half and warmed or toasted
a small bunch of fresh basil, leaves picked
salt and freshly ground black pepper
Heat the oven to 400°F.
Cut the stems off the mushrooms and discard, then place the mushrooms on a baking pan, gill-side up. Drizzle the mushrooms with the extra-virgin olive oil, then sprinkle with the thyme leaves, some salt and pepper, and a pinch of the lemon zest.
Bake for about 20 minutes, then flip over, spoon over any juices, and bake for another 10 to 15 minutes, until the mushrooms have roasted, shriveled, softened, and intensified in flavor. Remove from the oven and set aside.
While the mushrooms are in the oven, prepare the spinach and pine nut filling. Put a skillet over medium heat. While it is coming up to temperature, finely slice the garlic. Add the olive oil to the pan and fry the pine nuts for a few minutes until fragrant.
Add the garlic and fry briefly for about 1 minute. Finally, add the spinach and fry until wilted—not more than a couple of minutes. Season with salt and pepper and a splash of lemon juice to wake up the flavors. Set aside.
Divide the spinach-and-pine-nut mixture among the mushrooms (let any excess liquid drain back into the pan) and top each with a slice of goat cheese. Return to the oven for 5 to 10 minutes or until the cheese melts and bubbles.
To serve, place one stuffed mushroom in each burger bun, topping with a drizzle of extra-virgin olive oil, a pinch each of salt and the remaining lemon zest, and the freshly torn basil leaves. Eat immediately.