The Perfect Keto Bagel Recipe To Curb Those Morning Carb Cravings

Contributing Health & Nutrition Editor
By Stephanie Eckelkamp
Contributing Health & Nutrition Editor
Stephanie Eckelkamp is a writer and editor who has been working for leading health publications for the past 10 years. She received her B.S. in journalism from Syracuse University with a minor in nutrition.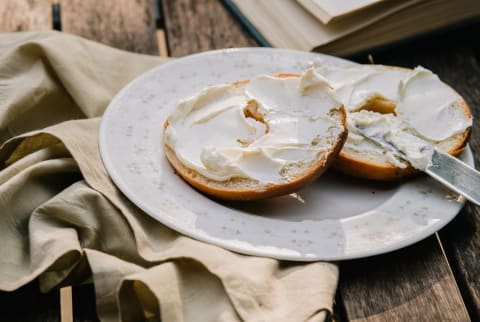 Image by Jeff Wasserman / Stocksy
June 22, 2019
We carefully vet all products and services featured on mindbodygreen using our
commerce guidelines.
Our selections are never influenced by the commissions earned from our links.
Who doesn't like a nice toasty bagel? Even the thought is enough to elicit fond scent memories of epic weekend brunches. But, given the high carb count and relative lack of nutrition (most are made from refined wheat flour), they may not be part of your regular breakfast rotation—especially if you're on a keto diet.
The good news: Bagels are still on the breakfast table—as long as you're willing to get a little creative. By making strategic ingredient swaps and adding in the appropriate keto-friendly foods, you can still find comfort in your favorite carby flavors and textures without sabotaging your keto goals.
To prove we're not bluffing, scroll down for a totally drool-worthy Asiago Rosemary Bagel recipe from the cookbook Keto Gatherings by Kristie Sullivan. While we still consider it somewhat of a treat—after all, most functional nutrition experts recommend formulating your keto diet to be rich in nutrient-rich whole foods and heavy on the veggies—it's a great way to make weekend mornings feel a little extra special without knocking you out of ketosis.
What makes this bagel recipe keto-friendly?
To keep your total carb intake low (so you can stay in that fat-burning state known as ketosis), this keto bagel recipe forgoes traditional flour for high-fiber, high-protein, and high-fat ingredients like psyllium husk powder, eggs, cream cheese, protein powder, and ghee. Together, these ingredients somehow manage to achieve a near-authentic chewy bagel texture worthy of your next breakfast sandwich. We recommend toasting up one of these puppies and loading it with a pastured egg, smashed avocado, thick tomato slice, and small handful of arugula.
Bonus: You can make these keto bagels even if you have a nut allergy, as this recipe doesn't feature any type of nut- or coconut-based flour, which are frequently used in keto baked goods.
Asiago Rosemary Keto Bagels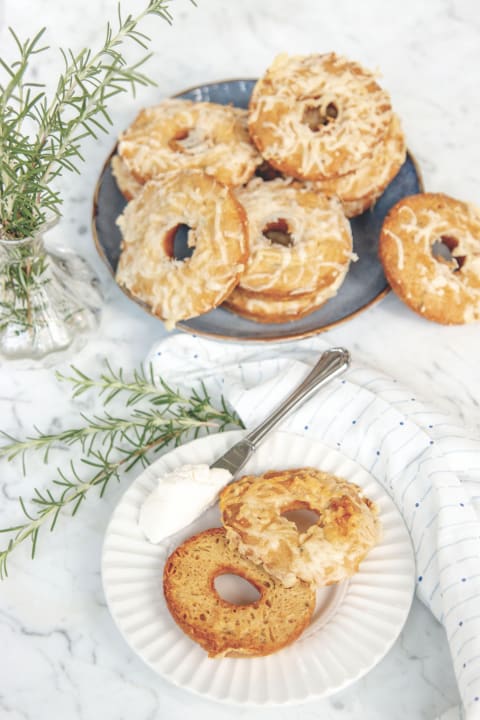 Image by Kristie Sullivan / Contributor
These delightfully cheesy, herby keto bagels pack a surprising amount of protein (11 grams!) to keep you satisfied, with just 1.4 grams total carbs.
5 ounces part-skim mozzarella cheese, shredded (about 1¼ cups)
2 ounces Parmesan cheese, grated (about ⅔ cup)
2 ounces cream cheese (¼ cup), room temperature
½ cup egg whites (about 4 large eggs; pro tip: use your leftover yolks in one of these recipes)
3 tablespoons ghee, melted but not hot
¾ cup whey protein
3 tablespoons psyllium husk powder
1½ teaspoons baking powder
½ teaspoon salt
¼ teaspoon garlic powder
½ cup very hot water
9 ounces Asiago cheese, finely shredded (about 2¼ cups), divided
1 tablespoon finely chopped fresh rosemary
Preheat the oven to 350°F. Grease two 6-well doughnut pans.
In a large bowl, use a hand mixer or stand mixer to mix the mozzarella, Parmesan, cream cheese, eggs, and ghee; set aside.
In a separate bowl, whisk together the protein isolate, psyllium husk powder, baking powder, salt, and garlic powder. Add the hot water to the dry ingredients, stirring constantly so that the psyllium powder doesn't clump. When the mixture is thoroughly combined, stir in the cheese mixture. The batter will be runny.
Add 7 ounces of the Asiago cheese and the rosemary to the batter and mix well.
Divide the batter evenly among the wells of the prepared pans. Bake for 15 to 18 minutes, until just browned and set. Remove from the oven, sprinkle the bagels with the remaining 2 ounces of Asiago cheese, and return to the oven for 6 to 9 minutes, until the cheese is melted and lightly browned.
Let cool in the pans for at least 10 minutes before serving. The texture of these bagels is even better when they are cooled, sliced, and toasted.
Based on excerpts from Keto Gatherings by Kristie Sullivan, with the permission of Victory Belt Publishing. Copyright © 2018.
And do you want to turn your passion for wellbeing into a fulfilling career? Become a Certified Health Coach! Learn more here.