How To Cook Perfect, Slime-Free Okra: 3 Tips, From An RD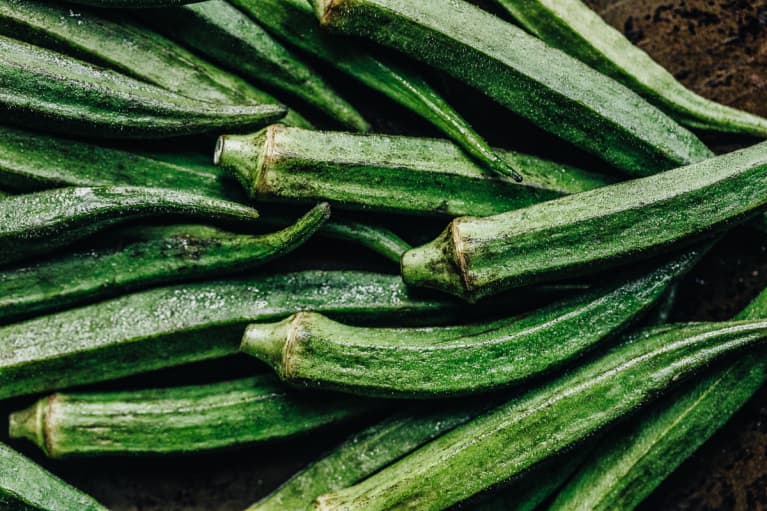 There's so much to love about okra. If you're a stranger to the Southern delicacy, allow us to give you the highlights: Okra is chock-full of vitamins C and K, as well as prebiotics and folate. In fact, "one cup of okra provides 15% of the daily value for folate," says registered dietitian Molly Knudsen, M.S., RDN. It's also low-carb and high-fiber, so while it's botanically classified as a fruit, it's often considered more of a nonstarchy vegetable in the diet, Knudsen remarks.
It's healthy, it's in season, and it's incredibly easy to whip up. But there's one gripe about okra that may have you avoiding it altogether: its slimy texture.
What makes okra so slimy? 
Perhaps you've taken a bite and recoiled at its stickiness; sometimes there's even a translucent goo coating each pod. Shudder. "This is caused by a substance called mucilage," Knudsen notes, "which is a gelatinous soluble-fiber also found in aloe vera and cactuses."
And when okra is heated, that mucilage makes its thick appearance—great for gumbos and stews, sure, but not so appealing on a sautéed side dish.
How to make the perfect okra, every time.
So is there a way to cook slime-free okra without dunking it into the deep fryer? Here, Knudsen has a batch of tricks:
Avoid excess moisture: To reduce the slime, make sure you're not adding too much liquid to the pan (or grill or baking sheet or air fryer). You also want to make sure the okra you're working with is bone dry: "After you wash okra, like any fresh produce, it's important to pat it completely dry and to work with a dry knife and cutting board," says Knudsen. On that note, don't cover the pan if you're sautéing the okra, as that can draw out more moisture as they steam.
Soak it in vinegar before cooking: Some people may find soaking the okra in vinegar for half an hour can keep it slime-free. Knudsen agrees: "The acid from the vinegar may be beneficial in preventing the okra from getting too slimy when cooking," she notes, but you can also add acids like vinegar or lemon juice toward the end of cooking to have a similar effect.
Don't overcut the pods: Cutting into the okra releases the mucilage, so rather than chopping them up into bite-size pieces, you may want to cook them whole. If you must make some cuts, you might want to cut them in half lengthwise or into larger chunks.
No need to avoid okra entirely: If you aren't a fan of its slimy texture, try Knudsen's methods to keep your okra crunchy—no matter whether you sauté, sear, air-fry, or grill the summer superfood.