Try This Cruciferous Veggie Stew: Because It's Winter & Gut Health Always Matters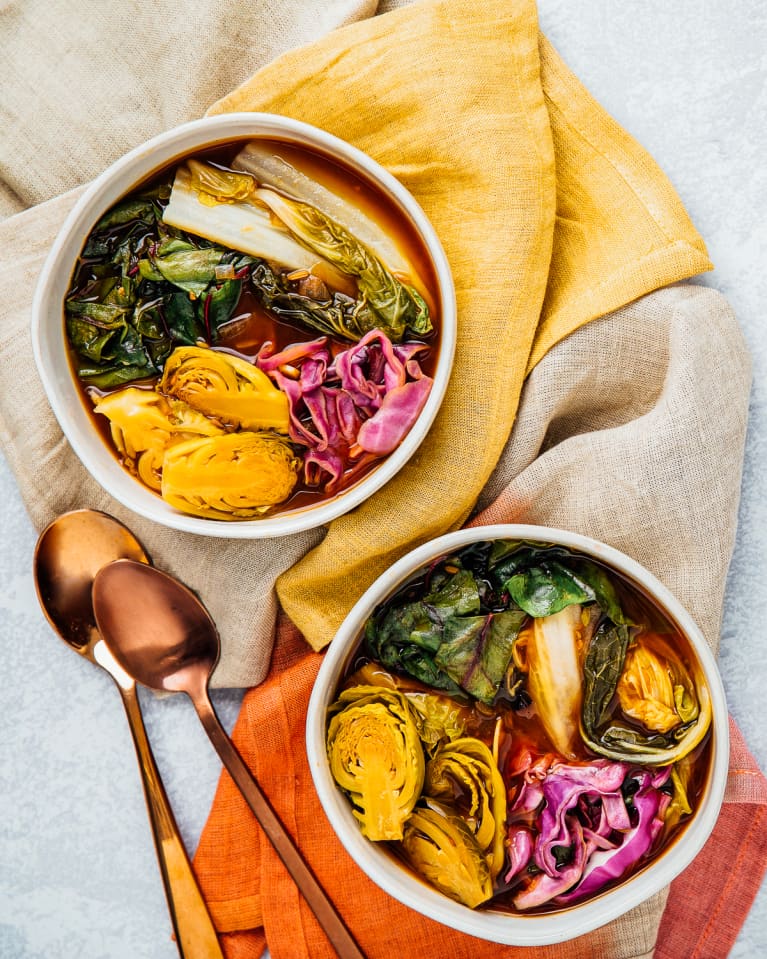 Our editors have independently chosen the products listed on this page. If you purchase something mentioned in this article, we may
earn a small commission
.
Perhaps this is better titled, "Top Triangle Soup," as it is loaded with those crucial cruciferous vegetables highlighted at the top of the Food Triangle. Chock-full of glucosinolates and bright phytonutrient colors, this is a hearty, vibrant cabbage stew.
We wanted to create our take on a simple recipe that has fueled families in austere times. Too often, we tend to be steeped in culinary excess. The irony is that fresh, delicious, and nutritious plant-sourced food is now considered a luxury and is available ubiquitously and year-round!
Hearty Cruciferous Cabbage Stew
1 small yellow onion, diced
2 small parsnips, cut into thick slices
1 cup Brussels sprouts, sliced lengthwise in thirds
4 garlic cloves, sliced
2 cups unpeeled, cubed golden potatoes
4 cups low-sodium vegetable broth
1 (15 oz.) can diced tomatoes
1 tbsp. caraway seeds (more or less to taste)
¼ cup apple cider vinegar
1 tbsp. molasses
1 tbsp. low-sodium tamari
1 cup chopped napa cabbage
1 cup chopped red cabbage
1 cup chopped Swiss chard, thick stems removed
4 to 5 baby bok choy, quartered
Freshly ground black pepper, to taste
Heat a large saucepan or Dutch oven over medium-high heat. Once hot, sauté the onions, parsnips, and Brussels sprouts with as little water as possible—use just enough to avoid burning—until the onions are translucent and begin to caramelize.
Add the garlic and cook for 30 to 45 seconds, until golden brown, taking care not to burn. Add the potatoes and broth and bring to a boil. Simmer for 15 minutes until the potatoes begin to soften but aren't quite fully cooked. (They will cook further as the vegetables steam.)
Add the tomatoes, caraway seeds, apple cider vinegar, molasses, and tamari. Simmer for 1 to 2 minutes to meld the flavors, and then taste and add more vinegar, molasses, or tamari as needed.
Add the napa cabbage, red cabbage, Swiss chard, and bok choy, allowing it all to float on top. Cover to steam for about 5 minutes, until the desired tenderness is reached.
Ladle out the vegetables from the top of the pot and add an equal portion to each bowl, or stir everything together before serving. This soup is even better—although not quite as colorful—the second day.
Excerpted from The Healthspan Solution, reprinted by permission of Alpha Books, a division of Penguin Random House LLC. Copyright © 2019 by Julieanna Hever and Ray Cronise.