Your Weekly Horoscope Is Here: What's In The Stars For You?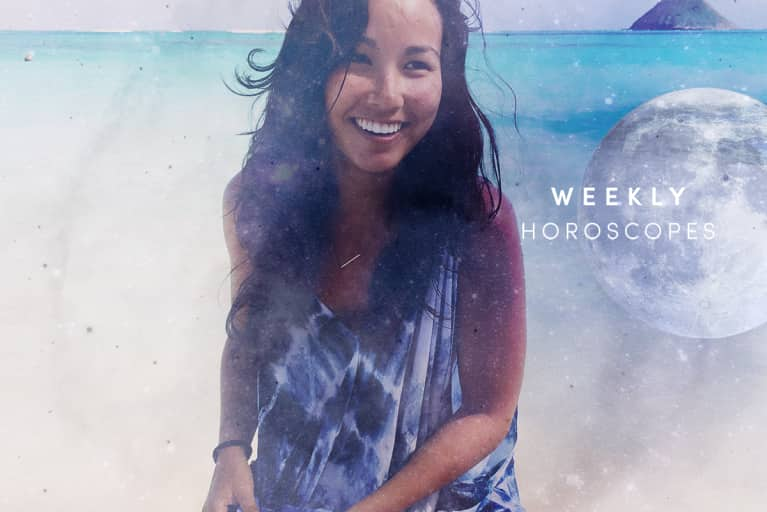 This week goes from whisper to roar as planets drift from quiet, reflective Cancer to live-out-loud Leo. It begins Thursday, July 20, as passionate Mars wraps up a respite in the cosmic crab shell that began on June 4. The emotion ocean has been rather active, even stormy, over the past seven weeks—exacerbated by the Sun's tour of Cancer that began on June 21. But in a way, all the kerfuffle has been a relief. Now feelings are all out on the table. And hopefully everyone feels heard and understood.
Make a point of being more compassionate in the first half of the week as Cancer Season winds down. If you sense tension with a loved one, maybe they are holding in true feelings. Create a safe space for conversation and sit down for a private chat. Maybe it's you who's been the distancer, frustrated because you're feeling misunderstood. Take one more stab at saying how you feel.
And remember, timing is everything. Just because you're bursting at the seams with a white-light revelation doesn't mean you should text the other person in the middle of the workday. You could wind up being more of a frustrating distraction than a co-creator in a global win-win. Find out a good time to meet—in person, ideally, or via phone or FaceTime—when you're both in a relaxed setting and unhurried frame of mind.
You might want to move fast on that scheduling, though, because we'll all feel like royals once make-it-happen Mars ascends into Leo on Thursday, rolling out the crimson carpet until September 5. The question is: Where does your realm of genius lie? We all have an area of life where we simply shine whether it's something as outre as performing in drag or as humble as bringing joy to the elderly.
Over the next seven weeks, be more active about developing those skills. You could be the king or queen of a scene before summer is through. With lusty Mars in Leo, summer love could go from simmer to exothermic boil! Invite in that romantic renaissance by developing a more playful spirit. How can you pump up the passion with your love interest or get more direct results from digital dating? Doing the same thing over and over will only yield expected results. Daring Mars wants you to color outside those lines and give a new tact a try.
On Saturday, Leo Season officially begins as the Sun blazes into the lion's domain until August 22. Swap the understated basics for sequined bodysuits, bralettes, and banana hammocks...if you dare.
The show ponies, theater geeks, and spotlight hogs shall inherit the earth during this four-week cycle. Pitch, perform, present! A fierce-AF style upgrade could get attention; diving into your creative gifts is another way to make a splash. (Who wants to start a dance troupe?) Flaunt your magic by marketing and promoting what you have to offer the world. But watch for the ego trip—a downside of this confidence-inflating solar cycle. Praise can be addictive, but the glory will feel empty if we're doing it for the "applause, applause" instead of following a soul's calling.
Sunday brings one more dose of Leo magic as the new moon—the first in a back-to-back pair—energizes this regal sign. The sequel, which happens to be the August 21 solar eclipse, will bring an extra potent lunar lift to all of our dreams. Dream in 4-D and ratchet up the romanticizing. There will be a time for practicality, but this weekend is not it. Let yourself be swept up in the fantasy of what COULD be. Imagination is the precursor to innovation, and this new moon pairing will deliver some divine downloads.
Want more astrological insight? Check out your July horoscope, then learn what your rising sign is (and what it says about you).