I Tried The Jolie Filtered Showerhead For 3 Months & My Hair Is So Much Shinier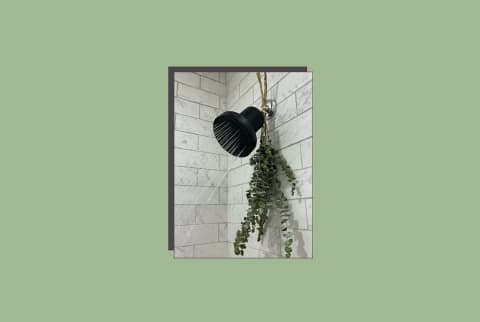 Last updated on May 7, 2023
Our editors have independently chosen the products listed on this page. If you purchase something mentioned in this article, we may
earn a small commission
.
I've never been picky when it comes to showerheads. As long as they offer the right amount of water pressure, I'm content. But when I came across an ad for the Jolie Filtered Showerhead about three months ago, I started to really think about the water itself.
While I've always known about the benefits of using a water filter for drinking water, it was the first time I really thought about the perks of using a filter in the shower. After all, how clean was I getting in the shower if the water was filled with common contaminants like aluminum, lead, or copper?
This led me down a research rabbit hole, through which I discovered that using filtered water to shower wouldn't only limit my potential exposure to toxins; it could actually lead to softer hair and smoother skin. To find out whether these claims were true, I splurged on the Jolie Filtered Showerhead—and the results left me floored.
Does filtered shower water really make a difference?
In short: Yes, filtered shower water does make a difference. I was skeptical that the sleek, Instagrammable Jolie Filtered Showerhead would do anything noticeable for my hair or skin—but boy, did this thing prove me wrong.
Don't just take my word for it, though. Riggs Eckelberry, founder and CEO of OriginClear, a clean water innovation hub, previously told mindbodygreen filtering shower water can have significant, visible effects; it can soften skin, improve hair, and reduce skin inflammation. "On top of that, the less we're exposed to these toxins, the better our overall health can be," he explained. "Skin absorbs water, so you want to make sure it's high quality."
Filtering the water in your shower helps remove harmful toxins and contaminants, which could all be impacting the health of your skin and hair. Additionally, research shows hard water can decrease hair strength and cause breakage1 and has been associated with atopic eczema.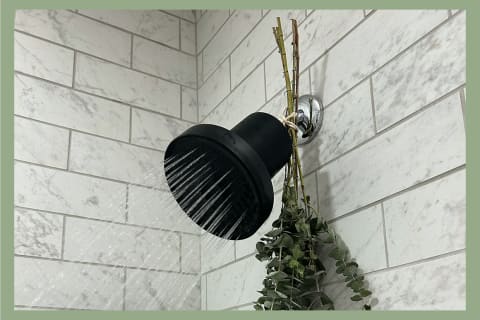 Image by Carleigh Ferrante / mbg creative
What is the Jolie Filtered Showerhead?
Aside from being my new favorite beauty hack, the Jolie Filtered Showerhead is exactly what it sounds like: an easy-to-install showerhead that universally fits on any shower in the United States.
The Jolie uses KD-55 to remove chlorine and other heavy metals from your water. The filter also has calcium sulfite balls, which work to further rid your water of chlorine. By removing these toxins and harsh chemicals from your water, the Jolie keeps your hair and skin healthier and improves your overall well-being with every shower.
There are few things that interrupt a good shower more than a water flow that doesn't fully cover you. Fortunately, that's never an issue with the Jolie Filtered Showerhead. It even has a movable ball joint, so each person can position the water stream perfectly. The best part? It does all this without compromising your water pressure. In fact, my water pressure actually felt stronger after installing the Jolie.
Jolie Filtered Showerhead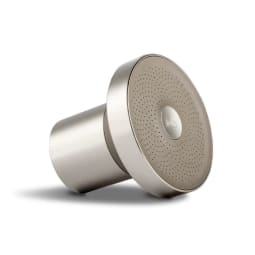 Filter replacement:
Every 90 days
Materials:
High-impact ABS
What's included:
Showerhead, replacement filter, wrench, plumbing tape, "how to" guide
How the Jolie arrives
I'm a sucker for good branding (remember, it was an Instagram ad that got me on the Jolie train in the first place), and everything about Jolie's packaging is right on point. Not only does the brand ship the showerhead in recyclable materials, but it also does so without using any plastic packing materials, packing peanuts, excess cardboard, air balloons, or virtually any wasteful space.
So, what is in the box, you ask? Literally, everything you need to install your Jolie: the showerhead itself, a replacement filter (which is already inside the showerhead), a wrench, plumbing tape, and a "how-to" guide containing easy-to-follow installation instructions.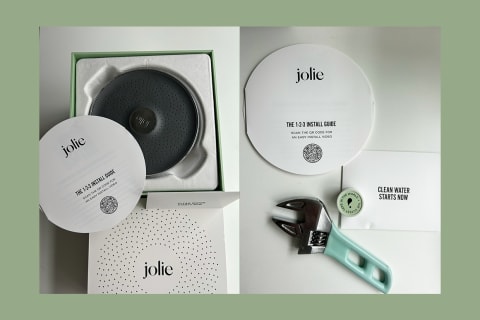 Image by Carleigh Ferrante / mbg creative
How to install the Jolie
Speaking of setup, let's break down everything you need to know about how to install the Jolie Filtered Showerhead. First things first: I'm no plumber (shocking, I know). Fear of installation led me to call for backup (from a friend who also is not a plumber)—but truly, I could have done this completely on my own.
To install the Jolie, you'll simply need to unscrew your existing showerhead (put it in a safe place if you're a renter!) and follow the brand's instructions carefully. The only tools you'll need are the wrench and plumbing tape, which are neatly provided in the box.
The entire installation process took less than 10 minutes, and the most difficult part was getting the showerhead screwed on tightly enough to eliminate drippage. This is where the plumbing tape and the wrench come into play. Hint: You'll use more plumbing tape than you might initially think.
Once you get the Jolie screwed on securely, you're home free. That is, of course, until you need to swap out the filter in three months. Pro tip: Sign up for the subscription to receive the filters every 90 days (you'll save money on the initial purchase this way, too).
Image by Carleigh Ferrante / mbg creative
How I tested the Jolie
Unlike with other products that claim to improve skin and hair, incorporating the Jolie into my life took virtually no effort. Once it was installed, I went about my regular routine, showering as I normally would. Here's how it went…
What I noticed when I showered with the Jolie
OK, on to the fun part: my results. To be clear, as simple as installation is, I would not be using a product that needs to be replaced every 90 days if it didn't prove its worth—and the Jolie delivered in spades.
Seriously, I noticed a difference the first time I showered. The water felt smoother and cleaner, and I felt good about the fact that I was no longer showering in potentially harmful chemicals. I actually felt like my shampoo was lathering up easier and I was using less soap than usual.
When I stepped out of the shower on that first day, I was shocked to find that my skin didn't have that typical tightness I was accustomed to. And when I blow-dried my hair, it felt smoother than usual.
My results after 3 months of testing the Jolie
When it comes to long-term results, the Jolie continues to impress me. Honestly, I just feel cleaner when I'm using it.
I'm using fewer products than before, and still my skin feels more moisturized. Those little bumps I used to get on my elbows and knees are gone. When I do apply my lotion, it goes on so much easier; I can actually feel it absorbing into my skin instead of sitting on top.
In the past three months of using the Jolie, I've noticed a huge decrease in shedding (something I've struggled with for years). What's more, my hair looks shinier and feels healthier. No more itchy scalp, either. I've been testing the Jolie in cooler months, so I've mostly been blow-drying my hair—but the few times I've let it air dry it has done so with significantly less frizz. It's even growing faster!
The pros & cons of the Jolie Showerhead
Pros:
Cleans and softens water
Fits in all showers (universal in United States)
Easy to install
Visible results in hair and skin
Designed to optimize water pressure
Sustainable & recyclable packaging
Exceeds NSF-177 certifications
Cons:
Filter needs to be replaced every 3 months
Might not fit international showers
The takeaway
The aesthetically pleasing design totally elevates my shower, and multiple people have noticed the improvement in my skin and hair. I recently stayed at a luxury hotel with a rain shower, but I just couldn't wait to get home to the Jolie. In fact, I notice such a difference in how my skin and hair feel, I no longer want to wash my face in the sink. I even made my boyfriend get one for his place. With easy installation, visible results, and no time added to your daily routine, you won't regret making this upgrade to your shower. To learn more about filtering your shower water, check out our picks for the best shower filters.