I Battled With Anorexia For 25 Years — Here's How I Finally Found Recovery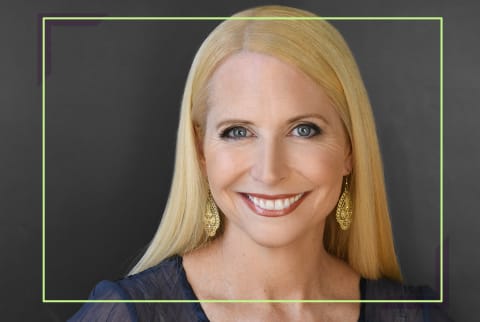 Image by Meredith O'Brien / mbg creative
June 25, 2022
We carefully vet all products and services featured on mindbodygreen using our
commerce guidelines.
Our selections are never influenced by the commissions earned from our links.
While some health issues are visible to the outside world, many people face chronic conditions that don't have externally visible signs or symptoms—also known as invisible illnesses. In mindbodygreen's series, we're giving individuals with invisible illnesses a platform to share their personal experiences. Our hope is their stories will shed light on these conditions and offer solidarity to others facing similar situations.
I was a happy little girl. I loved to dance, sing, and be the center of attention. I devoted hours perfecting Irish step routines and performing annual variety shows for my family. My favorite days were jumping in the ocean during the summer, building sand castles, and eating sandy peanut butter and jelly sandwiches.
Well, until I started a war with my body.
The development of my eating disorder.
I never wanted an eating disorder. I never woke up and thought I'll start restricting food or I'll excessively exercise today, but as a child I felt my emotions strongly. I had the ability to feel joy and laugh out loud and then rapidly, seemingly out of nowhere, a surge of panic ran through my body.
I was a super-sensitive child, and any perceived judgment or criticism sparked my fight-or-flight into overdrive. Most things scared me. I was indecisive, impulsive, and a people-pleaser.
Quickly I found solace in skipping meals, bingeing and purging, counting calories, and matching my self-worth with a number on the scale. My eating disorder was my numbing agent.
My anorexia diagnosis.
At the age of 13, I was diagnosed with anorexia nervosa, but no one could tell. Since I was not emaciated, no one suspected a thing. It was my secret. It was my "invisible illness."
All through middle and high school, I wore my smile as a mask. My huge toothy grin hid my sadness, loneliness, and unworthiness. I held on to roles like the straight-A student, exercise fanatic, and the girl who always cracked a joke when there was tension at home. My eating disorder became my protector, and my priority was hiding it so no one could take it away from me.
I was torn between the two parts of myself—the "eating disorder" self and my "healthy" self. Only I could choose to recover. No one else. I needed to do the hard work and strengthen my authentic self, the part that was not affected by diet culture and the unattainable beauty ideal.
Recovery is an action. It is a verb. It is not stagnant. It is alive.
I continued to live my life with a debilitating eating disorder. Medical complications ensued. I isolated. I stopped singing and dancing. I disconnected. I truly thought that full recovery was not possible for me because my anorexia festered into my cells, my DNA. It stuck to me like molasses.
The turning point.
At the age of 35, after my family experienced successive sad events, my eating disorder escalated. My weight got dangerously low. I stopped eating. I was too depressed to get out of bed. I stopped working. My life was crumbling before my eyes until my parents finally intervened. My disappearing body got their attention.
"Mer, we will not sit back and watch you die. You have had this eating disorder for 25 years. You need help."
So, even as I kicked and screamed, I entered a Partial Hospitalization Program (PHP) at the Columbia Day Program in New York City. It was a program specifically for those with eating disorders. Even though I desperately wanted to be the perfect anorexic, I had a sliver of hope that I would find a more fulfilling purpose in my life.
My two nephews were also born—I called them my guardian angels. I wanted to be a wonderful aunt. I wanted to see them grow up. I needed to stay alive to do so. My eating disorder had competition.
For six months, I sat through endless psychotherapy groups and attended lunch and dinner support groups. Simply put, meal exposure saved my life.
As I placed the fork into my mouth with each meal, I slowly chiseled the chains off my wrists and ankles. I processed earlier sexual traumas. I identified more effective ways to feel my feelings and to express my emotions. I learned Dialectical Behavior Therapy (DBT) skills to challenge my all-or-nothing thinking and other cognitive distortions. I practiced mindfulness. I connected to my body through yoga and stretching. A supportive recovery community surrounded me.
Where I am now.
After I left the PHP bubble, I still had years of recovery ahead of me. Recovery is an action. It is a verb. It is not stagnant. It is alive. I had lapses and relapses. I thrived in recovery and made huge strides. Then I stumbled and fell, but I always got back up. From deep in my soul, I thought that my life had to be more than my eating disorder.
Here is my definition of recovery today:
I accept and attune to my here-and-now body and treat it with care, compassion, and respect.
I experience freedom and joy by connecting to others, feeling my feelings, eating regularly, and living in the present moment.
I find purpose, meaning, and self-worth unrelated to my body, weight, or shape.
Ultimately, I started to identify what I was recovering for: life, connection, relationships, health, a career as a licensed clinical social worker to help others, and being the best aunt possible. My path was a long, arduous journey. I felt like I had bricks in my pockets, and I still climbed the mountain. I climbed and climbed until I reached full recovery. And believe me it is beautiful.

Meredith O'Brien, LCSW
Eating Disorder Coach & Author
Meredith O'Brien, LCSW is a licensed social worker, a certified intuitive eating counselor, a certified Carolyn Costin Institute eating disorder coach, and an author. With advanced training in dialectical behavior therapy, Meredith specializes in mental health services, more specifically the areas of depression, anxiety, addictions, eating disorders, chronic suicidal ideation, self-harm, family conflict, emotional dysregulation, and life transitions. Her recently published memoir, Opening the Door: My Personal Journey Through Anorexia to Full Recovery, is available July 2022 wherever books are sold, including Barnes and Noble, Amazon and in e-format.