5 Desk Design Ideas That'll Almost Make You Forget You're Working

mbg Sustainability + Health Director
By Emma Loewe
mbg Sustainability + Health Director
Emma Loewe is the Senior Sustainability Editor at mindbodygreen and the author of "Return to Nature: The New Science of How Natural Landscapes Restore Us."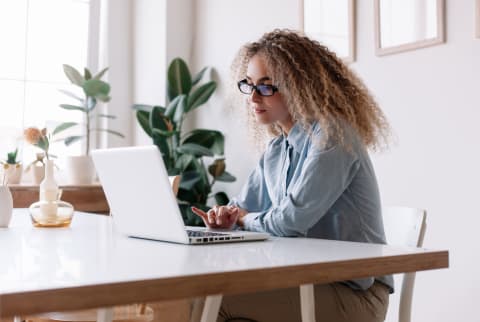 Image by Viktor Solomin / Stocksy
Last updated on November 4, 2020
Our editors have independently chosen the products listed on this page. If you purchase something mentioned in this article, we may
earn a small commission
.
It's seven months into the pandemic, and anyone who's been working from home is likely due for a desk refresh. Here, five interior designers share tiny cosmetic changes that can have an outsize impact on mood and productivity:
Advertisement
This ad is displayed using third party content and we do not control its accessibility features.
1.
Pull inspiration out of the box.
To keep yourself motivated at home, intuitive counselor and sacred space designer Elana Kilkenny recommends making your own treasure box of inspiration: "Write down on small pieces of paper different vocational goals, personal dreams and/or ways you desire to feel, and put them in a small decorative box on your desk," she says.
What you write down should relate to how you use your desk—so if it's mostly for work, you'd want to put your career intentions on there. "Then, on the days when you could use some help on where to focus or need some inspiration, simply close your eyes and pick out a piece of paper from the box, and let the message that you pick intuitively guide you."
2.
Design for movement throughout the day.
When the pandemic began, interior designer Kelly Robinson transitioned from designing corporate offices for tech companies like Airbnb, SoundCloud, and Headspace to working in residential spaces. In both cases, her advice is the same: Design your workspace for movement. Start with an ergonomic chair, but then also put some pillows or a stack of books nearby so you can sit on the floor or stand whenever your body is craving a new posture.
Advertisement
This ad is displayed using third party content and we do not control its accessibility features.
3.
Relocate so you're facing a window.
"If you can, situate your home desk close to a window or in an area with lots of natural light to keep you energized throughout the day," designer Amber Lewis, the author of Made for Living, recommends. She also says that tiny personal touches can work wonders to fuel your creativity at home: "Keep things simple but don't forget the little details: small mementos or a bundle of fresh florals will make things feel homey and inviting."
4.
Don't skimp on the senses.
When sprucing up your desk, Karina Lameraner, a stylist at online interior design service Modsy, says to take note of your senses. How does your space look, feel, smell, and sound?
As for the look, she says lighting is key: "Lighting is super practical (and necessary) for most desk stations—so choose a piece that not only fits your style but also makes you happy."
Treating yourself to a new scent can also work wonders. "Candles, essential oils, or even incense will elevate your senses while you're sitting at your desk," Lameraner adds. "I diffuse geranium oil religiously because it aids in migraine relief and has an overall calming, earthy scent."
Tiffany Thompson, interior designer and founder of Duett Interiors, agrees: "Activating your senses can transform you to a different location and place and allow your mind to wonder and get creative," she says.
Advertisement
This ad is displayed using third party content and we do not control its accessibility features.
5.
Designate a desk crystal or candle.
Finally, adding an element from nature can help make your desk more of an escape during times when a lot of us are stuck indoors. "For some added good vibes and practical magic, consider placing a crystal, large or small, on your home desk," recommends Kilkenny. "Consider what type of energy you want to either amplify or mitigate in terms of which type of crystal to pick. Magnetize your crystal with intention by holding it in your hand and having your intention in your mind or said out loud as an invocation."
Not into crystals? "Try placing a candle you love on your desk and light it (if you can safely do so) when you want to focus your intention on a project or meeting you are about to engage in, and let the flame of the candle focus both your attention and intention," she says.
Thompson is also a firm believer in the power of a good candle, and she has a special appreciation for ones that transport us to different places through scent. Her top pick right now? Grandma's Kitchen by Homesick Candles.
During a time where so much is out of our hands, exerting control over our immediate surroundings feels extra gratifying. Happy decorating to you and yours.
Advertisement
This ad is displayed using third party content and we do not control its accessibility features.