Wood Cutting Board Smelling Funky? 5 Ways To Keep It Fresh & Scent-Free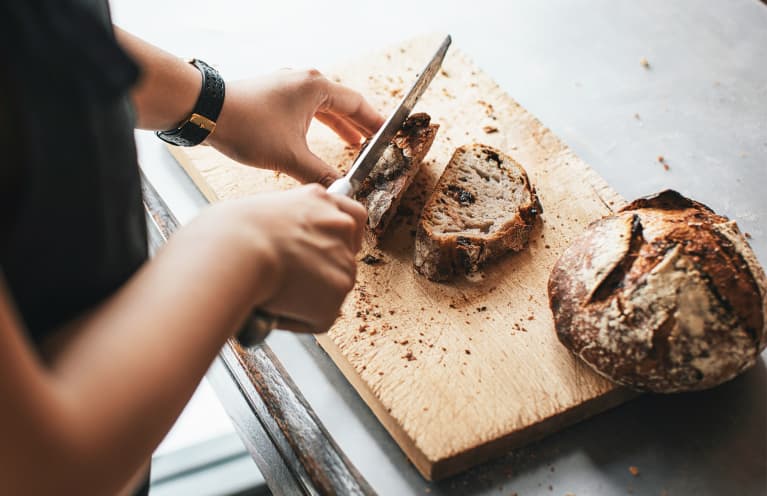 Our editors have independently chosen the products listed on this page. If you purchase something mentioned in this article, we may
earn a small commission
.
Wooden cutting boards have been a kitchen standby for ages, beloved by both home cooks and pro chefs for their durability and lovely aesthetic.
But since wood retains water more than a plastic cutting board might, these boards also tend to absorb particularly strong smells—and germs. So to find out how to best keep your wooden cutting boards in shape over the years, we asked Tarek Alame and Tiffany Yu, co-founders of the California-based cutting board company Sonder LA, for their top cutting board tips:
1.
Avoid serrated knives.
Serrated knives, like the ones you use for cutting loaves of bread, for example, "will terribly beat up wood cutting boards," Alame and Yu tell mbg. "The design of the serrated edge is similar to that of a saw," they add, "which is specifically designed to cut very deep into wood, tearing the wood fibers." If you are going to use a serrated knife, use it on a cheaper plastic that'll be easier to part with once it's scratched beyond repair.
2.
Always wash both sides of the board.
Because wooden boards are going to absorb water, you always want to wash both sides of it, Alame and Yu say, even if you only cut on one side of it. This will allow for even water absorption, which "keeps the wood fibers more settled," they explain.
And speaking of washing your cutting board, you'll want to tackle it as soon as you can, especially when cutting anything stinky or raw, like meat, fish, garlic, and so on. Alame and Yu say the sooner you wash, the better you'll be able to avoid any lingering smells.
4.
Get rid of smells with lemon and salt.
If any smells do wind up lingering (hello, garlic!), simply grab a lemon and some salt. "Sprinkle coarse salt liberally over the board, then slice a lemon in half and use it to rub the salt into the board," Alame and Yu recommend, "squeezing juice onto the board as you go." Your board will be left with a fresh lemony scent and, hopefully, no trace of garlic, onion, or the like.
5.
Use baking soda as a backup option.
Now, if the lemon and salt don't do the trick and there's still some leftover odor, there is a chance the smell will naturally dissipate on its own as it dries.
But one other way to remove a stubborn scent, according to Alame and Yu, is to scrub the smelly section of the board with a baking soda paste using a sponge or toothbrush. "You can create a paste by mixing three parts baking soda to one part water," they explain, noting that odors left behind on the surface are often caused by weak organic acids. "Baking soda neutralizes such acids, eliminating their odor," they add.
If you want your wooden cutting boards to last for years, it's super important to keep them in good shape. That means cleaning them properly, taking the time to oil them periodically, and definitely avoiding those serrated knives. If you do, your cutting boards are more likely to stand the test of time.