Hairstylists Want You To Curl Your Hair With Socks — Here's How To Do It Right
mbg Associate Editor
By Jamie Schneider
mbg Associate Editor
Jamie Schneider is the Associate Editor at mindbodygreen, covering beauty and health. She has a B.A. in Organizational Studies and English from the University of Michigan, and her work has appeared in Coveteur, The Chill Times, and Wyld Skincare.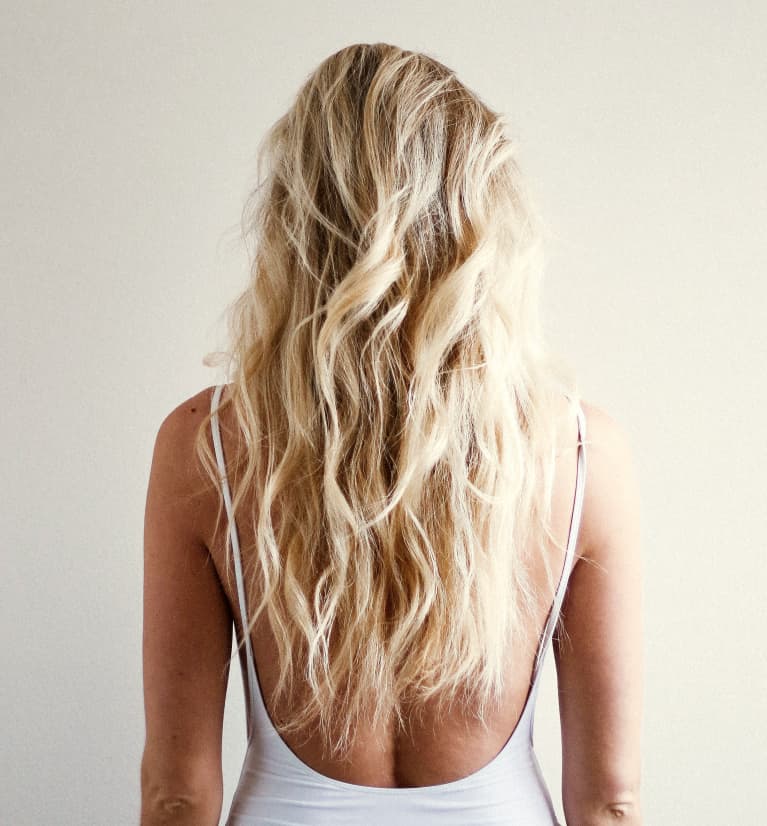 The latest beauty trend to surge amid the pandemic: curling your hair with...socks? While heatless curls are nothing new (people have been using household items—T-shirts, silk scarves, and the like—for ages), these techniques soared as beauty fans remain home, perhaps eschewing the hot tools in favor of some hair-healthy alternatives. It was only a matter of time until we found a go-to styler inside the sock drawer.
Sock curling is a versatile trick that can work for most types. Example: Those with straighter strands can create bends and waves, and those with curls can define their delicate springs, all while keeping the hot tools out of arm's reach. (For tight coils, however, socks are likely too thick—consider doing smaller strips of fabric, like a cut T-shirt!) Need more proof that these are the viral sensation of the moment? Just ask the 81 million users on TikTok—hairstylists included!—sporting full, voluminous curls.
Here, the pros explain how to repurpose the closet staple.
How to sock curl your hair. 
Some people find sock curling blow-dried hair gives them a softer, more manageable wave; but if you wish to go completely heatless, experts recommend starting with damp, freshly washed hair. Then follow NYC-based hairstylist Matt Newman's go-to method:
First, Newman pins a crew-length sock to each side of his head with a couple of bobby pins (you can also use hair clips), the opening of the socks facing downward.
Split one side of hair into two sections and crisscross both sections around the sock, weaving in front and behind until you reach the ends of your hair.
Then, says Newman, "flip up the sock to cover the ends," sort of like you're rolling a pair of socks together, and "seal it with a scrunchie."
Repeat this process on the other half of your hair with the other sock.
Let it set for eight to 10 hours (preferably overnight).
Gently remove the hair clips and socks, and finger comb your strands to separate the curls. Feel free to use a lightweight oil or serum for more shine, focusing on the ends.
As we mentioned, there are tons of ways you can finesse the curls to your liking: For looser, barrel curls, simply choose a thicker pair of socks and wrap the hair loosely around the fabric. For defined ringlets, choose a thinner set and tightly carousel the strands.
And depending on your hair's thickness, you can also play around with adding on more sock sections: Celebrity hairstylist Justine Marjan, for example, separates her hair into four sections instead of two in her own sock curl tutorial—when she brushes them out the next day, her long tresses are extra fluffy and voluminous.
Sock curling is an easy, no-fuss way to achieve heatless curls overnight: Just wrap the strands around your go-to pair, sleep on it, and unfasten the 'do in the a.m. It may take some practice to achieve your desired level of curl, but that is what's so great about this heatless style—sock curling won't weaken the hair structure if you do it again (and again, and again…).