How To Safely (& Painlessly!) Get Rid Of A Hangnail In 4 Easy Steps
mbg Associate Editor
By Jamie Schneider
mbg Associate Editor
Jamie Schneider is the Associate Editor at mindbodygreen, covering beauty and health. She has a B.A. in Organizational Studies and English from the University of Michigan, and her work has appeared in Coveteur, The Chill Times, and Wyld Skincare.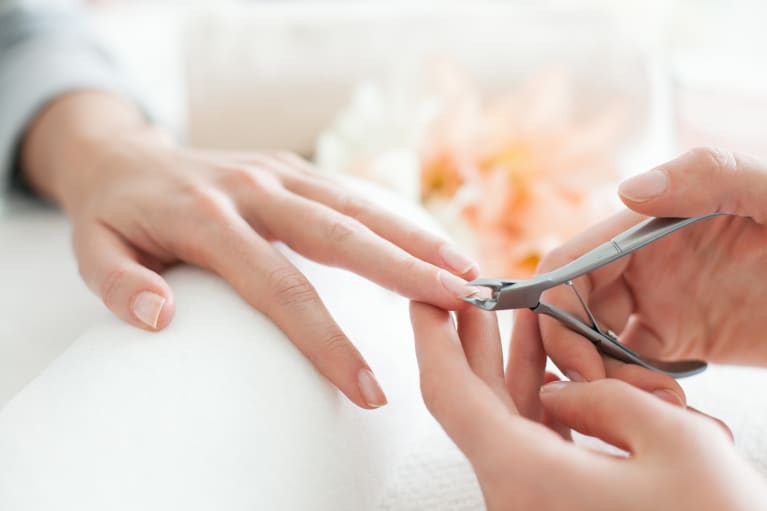 Our editors have independently chosen the products listed on this page. If you purchase something mentioned in this article, we may
earn a small commission
.
I know I'm not alone when I say: Hangnails are the worst. Those tiny tears, quite common with dry and brittle nails, can be uncomfortable and oftentimes painful. And well, they're annoying to look at—so you might rip them off for some immediate gratification. But this only leads to swollen, stinging fingers (my cuticles ache just typing the sentence) and even more hangnails down the line.
So how do you get rid of those jagged pieces of skin without leaving your poor digits irritated and raw? While it's always best to see a professional nail tech if you can, experts say it is possible to mend the nail beds at home. Find the step-by-step method below:
1.
First step: Don't pull!
"You should never pull or tug a hangnail because it may cause damage to the surrounding tissue and lead to an open wound vulnerable to infection," says Evelyn Lim, chief educator of Paintbox—an important tip to mind as you wield the nail clippers later on, but even more so if you're one to pick and prod the area with your fingers. Not only can it cause tears and irritation to the delicate skin, but you can also introduce bacteria into the small wound.
Soaking the nail seems like a no-brainer—softening the hangnail should make it easier to clip off, no? But according to Lim, that soak can do more harm than good: "I suggest not to soak in water, as doing so will expand the tissue surrounding the nail plate, which may lead to over-trimming," she says. "[It's] the same with cuticles—doing so will lead to overgrowth." As a result, the hangnail may return with a vengeance (and a few new friends).
Although, you do want to make sure your hands are clean. Says Amy Lin, founder of sundays—a nail care brand focused on wellness—washing your hands with soap and water should be your very first step. Make the area pristine before you perform self-surgery.
3.
Apply cuticle oil or hand cream.
Instead, Lim notes, "Apply cuticle oil to differentiate between live and dead skin," (aka, the hangnail). You can also use lotion or hand cream—whatever you have on hand—to help soften the area.
With either a cuticle nipper or a nail clipper, Lim suggests positioning the tool at a 45-degree angle before gently trimming the excess skin. Gently is the operative word, here: You never want to tug at the hangnail with your tool. Rather, "Clip it without pulling it to avoid any irritation," says Lin.
Instead of grabbing the hangnail and pulling it from the root, think about clipping right where the skin juts out from the nail bed. After all, cutting the cuticles too close to the base can cause even more hangnails to crop up.
Hangnails may be tiny, but they can cause quite a lot of pain, irritation, and sometimes infection if you poke and pull. To help the skin stay clean and snag-free, make sure to follow the tips above and keep those hangnails from living in your nail beds rent-free.