This Soothing, 3-Step Technique Can Help You Conquer Overwhelming Moments

mbg Social Media Associate
By Olivia Giacomo
mbg Social Media Associate
Olivia Giacomo is mbg's Social Media Associate. A recent graduate from Georgetown University, she has previously written for LLM Law Review.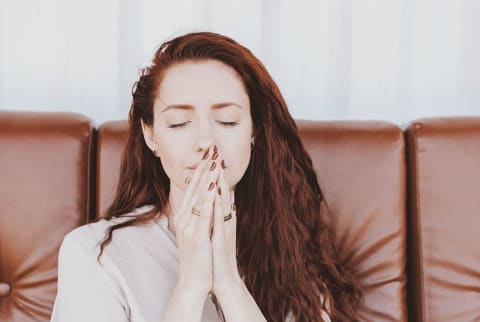 Image by Lyuba Burakova / Stocksy
January 28, 2022
In the midst of overwhelm, it can be difficult to focus on anything other than your nervous energy, much less figure out how to overcome it (tunnel vision, anyone?). That's why it can be helpful to have some simple tools readily available for those instances; you can call on them without having to cue up a guided meditation or scroll through Google for breathwork techniques.
When licensed psychologist and behavioral sleep doctor Shelby Harris, PsyD, DBSM, joined us on the mindbodygreen podcast, she shared one such tool: the 3-3-3 method. Below, she explains how to practice the exercise and how it can help soothe those intense feelings.
Advertisement
This ad is displayed using third party content and we do not control its accessibility features.
How to practice the 3-3-3 technique.
Harris explains that, oftentimes, feelings of overwhelm occur when your fight-or-flight response is activated without an obvious stimulus. "Even though there might not be something that you actually have to fight or run away from, your body is having that response," she says, which can feel confusing and create more uncertainty. The key to soothing this distress, she shares, is a quick grounding exercise.
"It can be as simple as just naming three things you see, three things that you can touch in front of you, three things that you can smell or taste in the moment," she explains. "If you can just find three things that you can see, 3-3-3 of certain groups, that can actually ground you in the moment and help [the feelings of overwhelm] pass a little bit more."
It forces you to think of something—anything!—other than the situation that's making you feel uneasy. Colors, sounds, shapes—anything that's easy to spot in front of you. In case you need a visual, here's a similar grounding exercise Harris shares over Instagram.
If that practice still doesn't calm you down, another helpful way to cope with in-the-moment distress is to actually change how you view the situation, she notes. "If you don't see it as a horrible thing is happening, you can start to reframe it a little bit. That's very helpful," Harris explains. In fact, in a study of college students assigned to give a speech, reappraising (aka reframing) or accepting their nerves was more effective at reducing physical distress than suppressing their feelings1. In fact, reappraising was shown to be the most effective technique of the three when it came to moderating those feelings.
Advertisement
This ad is displayed using third party content and we do not control its accessibility features.
The takeaway.
Of course, if the feelings of overwhelm are becoming too intense, please always speak with a professional, if you can. But consider trying out Harris' 3-3-3 mindfulness technique, too—it might help you feel more grounded during these moments.