4 Ways To Practice Active Meditation If You Can't Sit Still

mbg Nutrition & Health Writer
By Darcy McDonough, M.S.
mbg Nutrition & Health Writer
Darcy McDonough is the Senior Manager, SEO & Content Strategy at mbg. She has a master's degree in nutrition interventions, communication, and behavior change from the Tufts Friedman School of Nutrition Science and Policy.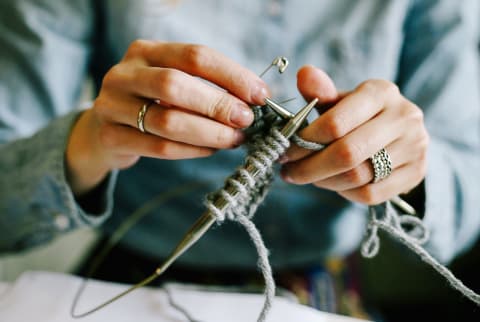 Image by Toma Evsuvdo / Stocksy
October 24, 2019
You want to meditate. You know it is good for you. You've heard about all the benefits, from a calmer mind to less stress. But for some reason, you just can't seem to sit still. Maybe you don't think you have time, or you're a little fidgety, or maybe you want something more tangible to focus on; whatever the reason, sometimes meditation can feel a little, well, passive.
Lucky for you, there are some active forms of mindfulness that can offer a meditative experience (plus those calming benefits) without the whole setting-aside-20-minutes-of-your-day-to-just-breathe part. And maybe, just maybe, these moving meditations will ease you into a full-blown sitting-still meditation practice.
A perfect alternative to the usual sitting meditation, walking meditation can help you clear your mind and connect with your surroundings. In fact, you can even find guided walking meditation recordings on YouTube or in popular meditation apps like Headspace, to help bring mindful purpose to your commute or quick trip around the block. Headspace's chief science officer, Megan Jones Bell, Psy.D., told us, "Even if you are in a busy city, bringing your attention back to your breath allows you to feel more connected to the world around you."
And while a walking meditation may be slightly different from a traditional practice, Bell explains that "both allow you to become aware of your thoughts, emotions, and sensations." In a study of both meditation and walking1, it was found that a short-bout of either elevated participants' mood. So putting the two together seems to be a no-brainer. In another study2, patients with psychological distress that participated in a mindful walking program saw a reduction in stress and improved quality of life compared to those who did not participate. So, get those steps in while you meditate for extra Zen.
2.
Mindful coloring and tracing
Adult coloring books have been having a moment. A trendy take on the childhood classic, they are filled with whimsical scenes of landscapes and gardens or interconnected geometric patterns rather than the old cartoon characters. And while picking up some colored pencils and trying to stay inside the lines (or not, no judgment!) may feel a bit juvenile, art therapy is actually a well-regarded treatment style. Of course, sitting at your desk coloring isn't quite the same thing as working with a licensed art therapist, but you can still reap some major benefits from a good old-fashioned coloring session.
In fact, one study found that mindfulness-guided mandala coloring3 decreased anxiety in participants. And in another study, students who colored a pattern, rather than free-drawing, saw greater improvements in anxiety as well. Study authors hypothesized that "the complexity and structure of the plaid and mandala designs drew the participants into a meditative-like state that helped reduce their anxiety."
And the next big thing in coloring might be tracing. This stripped-back version of coloring offers another way to focus on a specific task, tapping into mindfulness. You can try it for yourself in the new 72-page workbook Trace by Baron Fig and Kyle T. Webster. As co-founder Joey Cofone explains, "Tracing and coloring fall into similar categories. They're both passive mind activities that help one relax by providing a simple set of directives."
Maybe it is the nostalgia of spending worry-free childhood days with crayons in hand that makes it so calming, but Cofone has another theory, adding, "The act of tracing engages a different part of the mind. It doesn't require active thinking but, rather, passive thinking in which our busy thought-centers are allowed to take a break." So sharpen those colored pencils, and start creating; you might just sharpen your mindfulness skills at the same time.
There is something so powerful about actively participating in nature. While the end product (ultra-local veggies, anyone?) is great, the actual process of gardening consists of a lot of day-to-day tasks like watering and weeding. For many, this nurturing process can boost mental well-being.
Even just spending time outdoors has been shown to lower cortisol levels. So, it's no wonder that getting your hands dirty has a mind-cleansing effect. In one study, gardening was found to be more effective than reading at decreasing stress levels and improving overall mood. A meta-analysis of the health benefits of gardening4 concluded, "Exposure to nature has the potential to allow restoration from attention fatigue," something meditation5 is also well-known for combating. So, if you're looking to garner the mental health benefits of meditation while also growing some delicious produce, look no further than your backyard (or window box).
It's no surprise knitting, and other hands-on hobbies, have stress-relieving mindfulness components to them. I mean, is there anything cozier than knitting on the couch? As neuroscientist Sarah McKay, MSc, Ph.D., explains, "The rhythmic and repetitive nature of knitting is calming, comforting, and contemplative." Similar to yoga, these slow, purposeful movements can relax the mind and the body.
McKay adds, "Research shows that knitting and other forms of textile crafting such as sewing, weaving, and crocheting have quite a lot in common with mindfulness and meditation—all are reported to have a positive impact on mind health and well-being."
In an online-survey of knitters, those who knit more frequently reported higher rates of happiness and lower rates of anxiety, with many saying they knit solely for the purpose of stress relief and relaxation6. Enjoying the process of creating something with your hands can help you free up your mind for a meditative experience.

Darcy McDonough, M.S.
mbg Nutrition & Health Writer
Darcy McDonough, M.S., is the Senior Manager, SEO & Content Strategy at mindbodygreen. She holds a master's degree in nutrition interventions, communication, and behavior change from Tufts Friedman School of Nutrition Science and Policy. She has previously worked in nutrition communications for Joy Bauer, the nutrition and health expert for NBC's TODAY Show.
McDonough has developed & lead nutrition education programming in schools. She's covered a wide range of topics as a health & nutrition reporter from the rise in the use of psychedelics for depression to the frustrating trend in shorter doctors' appointments and the connection between diet and disease.