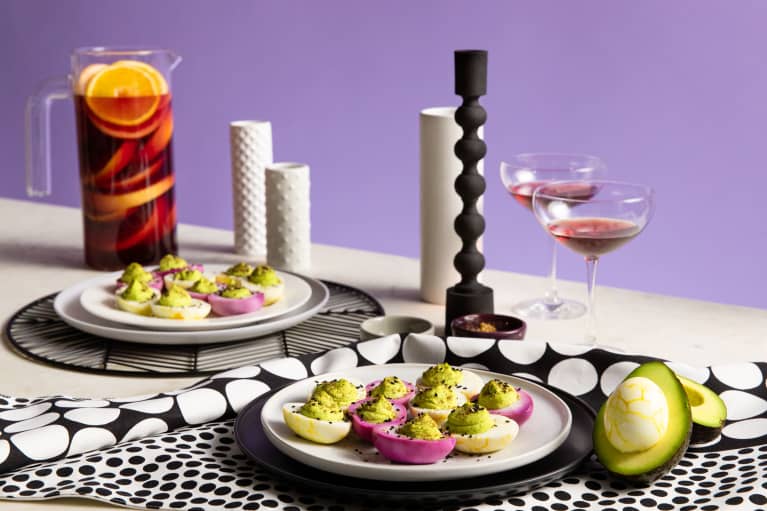 Friendly reminder: Halloween isn't just about orange and black! Thanks to a few natural superfoods, we're getting creative—and a little green—in the kitchen this year.
If you're hosting or attending a party this year, try this fun-to-make, kid-friendly spin on the classic deviled eggs party platter. Instead of the usual mayo, we've swapped in avocado to keep that smooth, creamy consistency. And while California's avo season has come to an end, we're just in time for Avocados from Chile—which are picked at the height of freshness between September and March. Rich in fiber and loaded with nearly 20 vitamins, minerals, and oils, Avocados from Chile help keep your fall and winter menus heart-healthy, satisfying, and, in this case, vibrantly spooky.
Makes 2 dozen
Ingredients:
1 dozen uncooked white eggs
4 tbsp. ground turmeric
2 quarts beet juice, warmed
2 ripe avocados
Salt and pepper to taste
¼ cup Za'atar crumbs
3 tbsp. black sesame seeds
Place eggs in a single layer in the bottom of a large saucepan and cover eggs with cool water. Bring to a boil over medium heat. Once boiling, remove from heat and cover pot. Let sit for 12 minutes, covered, and prepare an ice bath while you wait.
Remove eggs and submerge into ice bath to cool. Once cooled, gently crack each egg with the back of a spoon and set aside. In a container that can fit 6 eggs, combine turmeric with 4 cups of warm water and mix well. In a second container, fill with warm beet juice. Divide eggs into each liquid container and let chill in fridge for at least 5 hours or overnight.
After the eggs have rested, peel them and cut each in half.
Scoop out yolks and place in a food processor. Add avocado, salt and pepper to taste, and blend until smooth. Place mixture in a piping or zipper bag and pipe into the hollowed egg whites. Sprinkle with Za'atar and black sesame seeds.
Notes: Using white eggs will yield a more dramatic effect after the shells have been dyed.
Recipe by Tyna Hoang