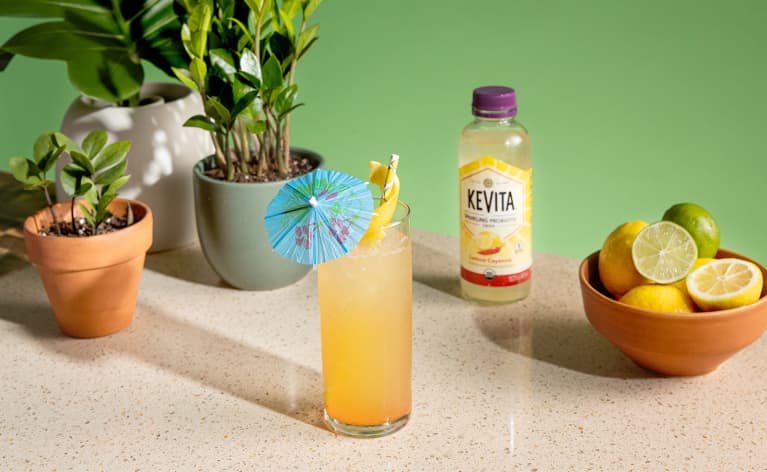 Here at mbg, we're all about Food With Benefits—whether those benefits save you money, time, or help heal your body. In our video series, we'll show you how to make delectable recipes, each with a unique benefit. Whether it's a dinner for four for under $10, these meals, snacks, and desserts will inspire you and make your mouth water! Up today: a quick and easy late-summer refresher with probiotics.
This summer, we've been getting creative with ways to stay cool. And one of our favorites has been fighting heat with heat in the form of a spicy, hot-pepper-infused frozen lemonade.
This blended refresher takes inspiration from classic lemonade but kicks things up a notch with the addition of cayenne, honey, and Lemon Cayenne KeVita Sparkling Probiotic Drink. While its bold flavor is reason alone to whip one up, this recipe also comes with benefits: The juice of one lemon provides an excellent source of vitamin C. Honey is a delicious natural sweetener. Plus, the addition of a KeVita Sparkling Probiotic Drink means this lemonade also contains probiotics, the good bacteria that can work with your body's natural gut flora to break down nondigestible components of your diet to produce beneficial substances that can be converted into energy, outcompete the "bad" bacteria, and interact with the cells in your intestine.
But the best part might be how easy it is to make. Forget the endless mixing that's required to dissolve the sugar or honey in regular lemonade. In this version, just throw all the ingredients in a blender and mix it right up.
Spicy, Sparkling Frozen Lemonade
The recipe makes one serving, but you can just scale up by how many people you wish to serve. (A typical blender will hold about 4 servings.) You can also feel free to adjust the sweetness or tartness to your taste.
Makes 1 serving
Ingredients:
1½ cups ice
Juice from 1 lemon, plus one lemon wedge or half-moon for garnish (optional)
2 tsp. honey
Pinch (about ⅛ tsp.) of cayenne, plus more for garnish (optional)
Method:
Add all ingredients to a blender, then blend until the ice is completely crushed and everything is well incorporated. Pour or scoop into glasses and garnish with a sprinkle of cayenne and lemon wedge or half-moon.
Nutrition Facts per serving (makes 1 serving):
Calories: 62.5 kcal
Total Fat: 0.2 g
Saturated Fat: 0 g
Trans Fat: 0 g
Cholesterol: 0 mg
Sodium: 7 mg
Total Carbohydrates: 17.7 g
Dietary Fiber: 1.7 g
Total Sugar: 13.6 g
Protein: 0.7 g
Vitamin D: 0 mcg (0% DV)
Calcium: 16 mg (<2% DV)
Iron: 0.4 mg (2% DV)
Potassium: 92 mg (2% DV)
The information in this recipe/video is the opinion of the author(s) and in no way reflects the policies or positions of KeVita. This is not intended to be a substitute for professional medical or nutrition advice.