This Is The Secret To Cafe-Quality Turmeric & Bulletproof Lattes

Contributing Food Editor
By Liz Moody
Contributing Food Editor
Liz Moody is a food editor, recipe developer and green smoothie enthusiast. She received her creative writing and psychology degree from The University of California, Berkeley. Moody is the author of two cookbooks: Healthier Together and Glow Pops and the host of the Healthier Together podcast.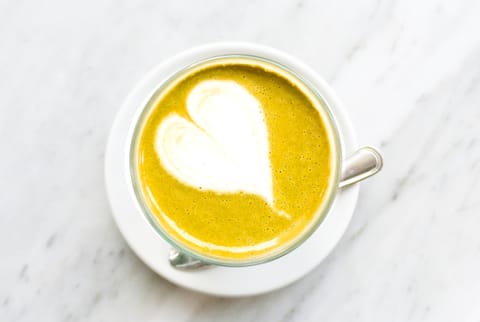 February 22, 2017
I've always made my turmeric lattes in a blender at home, ending up with satisfying, if a little meh, results. The coconut oil somewhat emulsified with the almond milk, creating some foam but not the delicious, creamy froth I was used to consuming at my favorite cafes. Plus, I had to clean out my whole blender, which really took the wind out my relaxing-with-my-latte sails.
Then I found myself at Brodo Broth Shop in the West Village as part of my drinking-bone-broth-for-a-month challenge (stay tuned for those results soon). Marco Canora, the owner and chef behind the seaweed, chocolate, and Thai-spice spiked flavors, pulled out a small milk foamer to froth the bone broth into a latte. The result? Something smooth, creamy, rich, full-bodied, and insanely delicious.
I've seen handheld milk foamers before, of course. I've even used them to make homemade lattes the traditional way, foaming the milk and pouring it on top of the drink. It was fine, good, perhaps not worthy of the extra step. But now, we're not simply whipping some air into our milk. We're emulsifying fat into our drinks, whether it's a spoonful of coconut oil in a matcha or turmeric latte, MCT oil and butter in a Bulletproof coffee, or bone broth into a hot chocolate (yes, really). The handheld milk foamer perfectly emulsifies the fat into the liquid, it takes seconds to clean, and it costs under $15.
To use it, simply combine all of your ingredients in the mug you want to drink from, leaving about an inch of room below the rim (one less thing to clean!), submerge the foamer completely under the liquid and turn it on. Wait for the strangely hypnotizing whirlpool vortex to form, then continue to whip for 10 to 15 more seconds before removing the foamer. Voila—you've got yourself a perfect, personalized superfood drink.
Here are a few of our favorite picks: