The Secret To Making A Dinner Salad That Will Actually Fill You Up

Contributing Food Editor
By Liz Moody
Contributing Food Editor
Liz Moody is a food editor, recipe developer and green smoothie enthusiast. She received her creative writing and psychology degree from The University of California, Berkeley. Moody is the author of two cookbooks: Healthier Together and Glow Pops and the host of the Healthier Together podcast.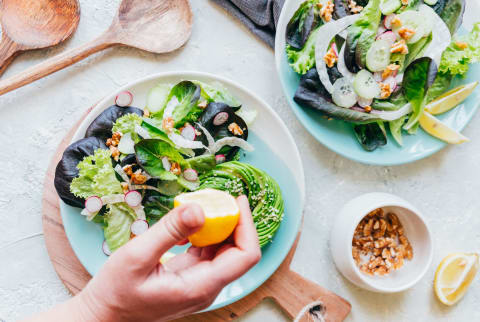 Image by Nataša Mandić / Stocksy
May 13, 2019
I'm going to come right out and say it—I'm a health food writer, and I'm not a huge fan of salads. That is, I'm not a huge fan of most salads. They're often wan, with floppy lettuce and too much dressing (which is often packed with inflammatory oils, defeating much of the point of virtuously consuming a salad in the first place!). Worst of all, they can often leave you hungry only moments after eating them, and turning a productive afternoon into a hangry one is never going to top my list.
In my years as a recipe developer, I've had to come up with a way to enjoy salads, and the top of my list was turning paltry piles of lettuce into something meal-worthy, full of flavor, and able to keep me full, in the same way I'd expect of any meal. Here are a few of my favorite tricks:
Advertisement
This ad is displayed using third party content and we do not control its accessibility features.
1. Add healthy fat.
It always blows my mind when people (ahem, my mother) ask for the dressing in their salad to be omitted, turning it into a fat-free affair. Most vegetables, including leafy greens, contain fat-soluble vitamins, which are dependent on fat to be absorbed in your body. If you eat dry greens, you're missing out on vitamins A, E, and K and thus negating many of the benefits of eating a salad in the first place. Plus, fats are satiating—they actually turn off the hunger hormones in your body, giving you that satisfied, full feeling we all crave post-meal. I love to add gently toasted nuts and seeds to my salads (they lend a nice textural element as well). I'll also often blend avocado or nut butter into my dressings for a creamier, more filling result. Speaking of dressing—I'll lean into extra-virgin olive oil or avocado oil, which add their own heart-healthy benefits.
2. Add protein.
The difference between a meal salad and a side salad often lies in the protein, which again, adds interest to a salad in addition to making it far more satiating. I love to tear up rotisserie chicken and use it in my salads; I'll also boil up some black lentils or wild rice in a bunch of well-salted water (like pasta), then drain it, pop it in the freezer for a few moments, and toss the cooled product with my salad. Hard-boiled eggs are great in salads; the aforementioned nuts add healthy protein in addition to fat.
Advertisement
This ad is displayed using third party content and we do not control its accessibility features.
3. Think beyond lettuce.
Some of my favorite salads don't even include greens—I love a shredded carrot Moroccan-style salad with raisins and a bit of torn chicken and maybe some spicy harissa, or a roasted root vegetable salad studded with nuts with a tahini dressing. One of my favorite spring salads is a mix of roasted and thinly sliced raw fennel with torn mint, fresh strawberries, extra-virgin olive oil, and pistachios for crunch. Once you view any and all food as fair game to make a salad, you'll start to be far more inspired by what's on the table.
4. Add salt!
OK, this won't make your salad more filling, but it's so important to the overall flavor of salad that I couldn't leave it off the list—and eating something that satisfies your taste buds is an important part of feeling satisfied by a meal as a whole. Salt and acid are two key components that are missing from lackluster salads—like many chefs, I like to salt both my dressing and the individual components of the dish to ensure a delicious depth of flavor. This means tossing your greens in a small amount of fine-grain sea salt before they're dressed, and doing the same with any other ingredients you're including. One of the keys to avoiding the result tasting too salty (other than, you know, not using too much salt)? Balancing the salt with acid. I love using lemon and lime juice, apple cider vinegar, and pickled or fermented veggies to bring balance to my finished salads.
Advertisement
This ad is displayed using third party content and we do not control its accessibility features.
5. Sauté your salad.
Sometimes, if I'm underwhelmed by a salad, I'll toss it in a pan and give it a quick sauté—this works particularly well with heartier greens that can be hard on the gut raw, like kale or collard greens. What was lackluster cold becomes meal-worthy warm, especially since I'll usually use a generous amount of satiating oil in the process.
Want to turn your passion for wellbeing into a fulfilling career? Become a Certified Health Coach! Learn more here.
Advertisement
This ad is displayed using third party content and we do not control its accessibility features.