The 3 Ingredient Inflammation-Fighting Iced Tea You're Gonna Wanna Sip All Summer Long

Contributing Food Editor
By Liz Moody
Contributing Food Editor
Liz Moody is a food editor, recipe developer and green smoothie enthusiast. She received her creative writing and psychology degree from The University of California, Berkeley. Moody is the author of two cookbooks: Healthier Together and Glow Pops and the host of the Healthier Together podcast.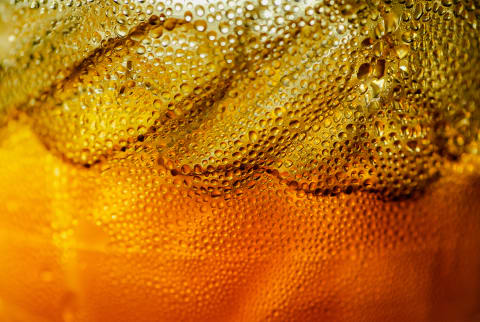 Image by Jovo Jovanovic / stocksy
July 29, 2019
Pretty much everyone in wellness is obsessed with a good turmeric latte, and why not—turmeric is renowned for its anti-inflammatory benefits and features an earthy, addictive flavor mixed with an Insta-worthy bright orange color. But the warm drink can be a bit too hot for the sweltering days of summer, which is where this three-ingredient chilled concoction comes in.
Each ingredient in this drink packs a wallop of wellness. Let's explore what they bring to the table.
Turmeric
The star, of course, in all of its fiery glory, is turmeric. "Turmeric is a powerful anti-inflammatory herb that's been used for centuries to treat a variety of ailments," explains Jessica Cording, a registered dietitian and mbg Collective member. "Turmeric's active compound, curcumin1, has been extensively studied for its disease-fighting potential and preventive health benefits2." It's been shown to increase antioxidant capacity and help fight free-radical damage, boost your immune system, prevent and treat cancer, protect your heart, boost your mood, and help stave off long-term neurodegenerative diseases. Not bad for one little root.
Ginger
Lemon
How to make turmeric ginger lemon iced tea.
Peel and roughly chop 2 tablespoons each of the turmeric and ginger root. Cut 3 organic lemons in quarters, leaving the skin on, then top the mixture with 8 cups of freshly boiled water. Cover and let steep until it reaches room temperature, then transfer to the fridge and let continue to steep for at least 12 and up to 24 hours. Strain and sweeten with maple syrup to taste. Store in the fridge and enjoy for up to a week!
Want to turn your passion for wellbeing into a fulfilling career? Become a Certified Health Coach! Learn more here.