How To Know If Your Mineral Sunscreen Is Actually Reef-Safe & Why It Matters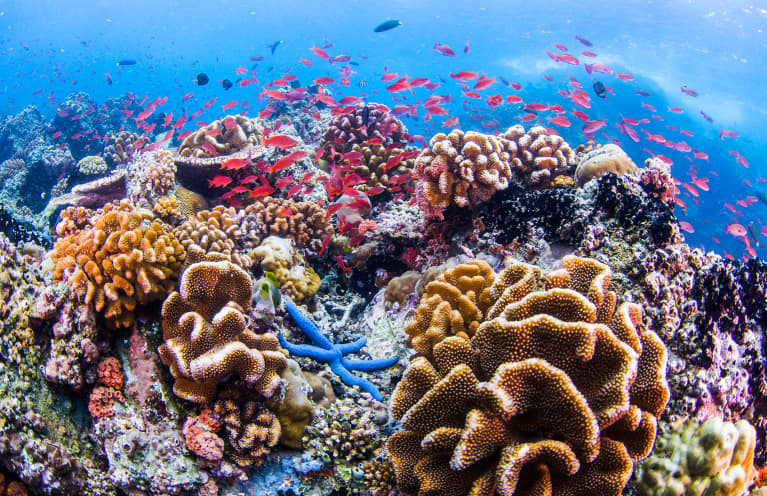 It's always great to see beauty brands putting effort into sustainability. There are so many ways to do this, a few being: using sustainably sourced ingredients, opting for post-consumer recycled plastic or other sustainable packaging, and making sure that what's inside the container is planet positive, too—which is what we'll be focusing on below.
One common eco-initiative is "reef-safe" sunscreen: You've likely seen the term plastered on more than a few product labels. But we have to ask, what does "reef-safe" really mean? Here, we'll quickly give you the lowdown on what this term entails and what to look for in your sun protection to ensure you're doing good for yourself and the planet.
What does reef-safe mean?
It's important to note that wearing SPF is essential for keeping your skin healthy, and you should try to wear it daily wherever your skin is exposed to the sun. That being said, some sunscreens may be better for both your skin and the planet: Mineral sunscreen, specifically, may be a better pick for those with sensitive skin, and especially for coral reefs and marine life. How come?
Well, studies have shown that exposure to a certain hormone-disrupter commonly found in oxybenzone (a chemical sunscreen filter), has the power to trap young coral in its own skeleton, preventing future growth. Researchers also deemed butylparaben, octinoxate, and a chemical called 4MBC, (all commonly found in chemical sunscreens) as harmful to coral health. So when people refer to sunscreen as "reef-safe" they likely mean it won't cause the coral to die—although, it's important to note that these claims are not regulated.
How to tell if your mineral sunscreen is reef-safe.
But the question remains: Does this mean that all mineral sunscreens are considered better for the ocean? Here's where it gets a little bit more complicated. Two common ingredients in mineral sunscreen are titanium oxide and zinc oxide. These are actually the only two ingredients the Environmental Working Group (EWG) has deemed safe for protection against UV rays; zinc oxide, in particular, also protects against UVA rays, which are the main contributor to photoaging. (You can read all about zinc oxide here.)
And it's true that these mineral blockers may not be as harmful to the reef directly as their chemical counterparts, which is great. However, that doesn't mean they're completely safe for marine life. The caveat? The minerals used need to be non-nano (meaning they aren't broken up into smaller bits). If they aren't, these nanoparticles, specifically zinc oxide nanoparticles, can be ingested by marine life and potentially cause harm to many different species.
So there you have it—mineral sunscreen might be better for the environment as is, but the best option is to look for non-nano mineral SPF the next time you pick one up to ensure you're looking out for marine life. Major bonus if the product uses recycled plastic or sustainable packaging in general.
Unfortunately, it is possible for companies to claim that a product is reef-safe when it actually isn't. That being said there are two ways to check if you're buying the best product for the ocean: First, check to make sure it's a mineral sunscreen. Then look for the phrase non-nano somewhere on the label. This way, your skin and marine life will stay protected. If you're on the hunt, here's a list of our favorite eco-friendly sun protection picks.