7 Ways To Improve Your Indoor Air Quality, From A Mold Expert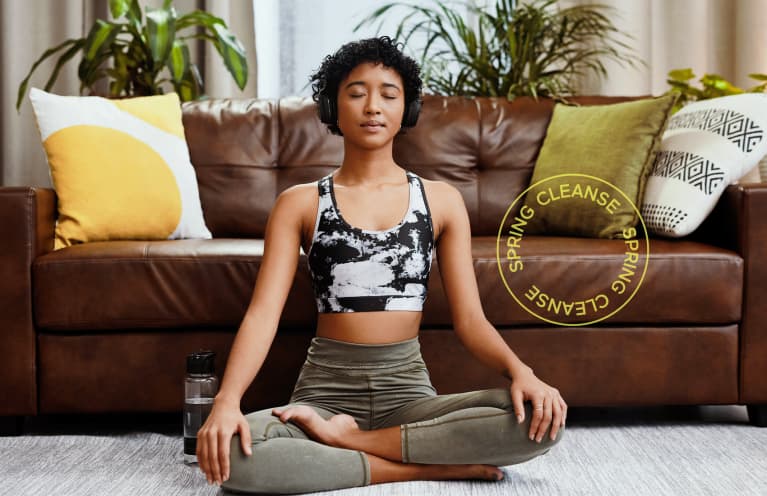 Our editors have independently chosen the products listed on this page. If you purchase something mentioned in this article, we may
earn a small commission
.
Beyond dust and clutter, there's a lot of emotional debris that's built up all around us in the past year. mbg's
Spring Cleanse
series is here to help clear it away. Follow along for the first two weeks of April as we share nourishing, sustainable ways to embrace a lighter, brighter home—and toss any lingering heaviness into the (compost) bin.
Raise your hand if you're familiar with the term "particulate matter," or PM. Many people are not well versed in this topic or the essential role that it plays in our health.
In its simplest form, particulate matter is made up of particles that have become aerosolized in the air we breathe. They become dangerous when they are smaller than 10 micrometers in size. These particles can pass right through the respiratory tract and enter the immune system, causing a litany of potential illnesses. Examples of particles this small include mold, bacteria, viruses, allergens, and toxins.
According to the EPA, particulate matter has been associated with health effects such as cardiac arrhythmias and heart attacks, and respiratory effects such as asthma attacks and bronchitis. "Exposure to particle pollution can result in increased hospital admissions, emergency room visits, absences from school or work, and restricted activity days, especially for those with pre-existing heart or lung disease, older people, and children," their website reads.
Reducing the particulate matter in your home is imperative for improving your indoor air quality. Here are seven tips on how to reduce PM indoors and clean up your home's air this spring:
1.
Stay on top of your dusting routine.
Keeping up with a regular dusting routine is an easy way to reduce the number of tiny particles sitting around your space.
Some common places that dust tends to collect include behind furniture, in the vents of your HVAC, along baseboards, and on top of the molding. Additionally, if you have a basement, that's a room that can be a real magnet for dust—especially if it has a dryer.
Using a vacuum with a certified HEPA filter will prevent small particles from passing through the filter and recirculating back into the environment while you clean.
3.
Don't just clean. Disinfect!
I always recommend cleaning products that contain both surfactants and disinfectants since they do two jobs at once: Separate particles from surfaces and destroy bacteria, viruses, and mold that could potentially cause irritation. Seventh Generation is one more natural cleaning brand that makes a good disinfectant.
4.
Change your filters, and clean your ducts.
Changing the filters on all mechanical systems and cleaning your ductwork annually will reduce the number of particles constantly being recirculated in your home. It is possible to change filters yourself, but I recommend hiring someone for the ducts who is certified by the National Air Duct Cleaners Association.
5.
Protect your home against water buildup.
Be proactive against water damage by monitoring humidity levels at home (here's a guide to keeping those in the right range) and installing leak detectors in water-prone environments to ensure bacteria and mold do not increase the particulate matter in your home.
In addition, making sure the area around your shower or kitchen sink is thoroughly dried after use is a good daily habit.
6.
If you do notice water buildup, treat it right away.
If you have a spill, drying and dehumidifying that space as soon as possible is key to avoiding mold growth. Unfortunately, mold can grow in as little as 24 hours.
If you miss the event when the initial water leak and moisture are present for an extended period of time, you can use your senses to determine the initial severity. Look for visible water or discoloration near the leak. Is there a musty damp smell in that area? Can you feel moisture? If so, identify and address the leak, then begin drying and dehumidifying the space. I would then consider reaching out to a mold inspector to test the area and ensure you do not have mold growth.
7.
Install a whole-home purification system into your HVAC equipment that can filter out particles.
This system attaches to your furnace to purify the air coming through your HVAC system. They can be costly to install, but it's an investment I'd recommend—especially if you prioritize clean air at home or are prone to respiratory issues. My favorite is Healthway's Super V for its ability to filter out particles to the nanometer.
Finally, remember to practice good hygiene (wash those hands!) and leave shoes off at the door so you're not accidentally bringing unwanted viruses and bacteria into your space.