This Head Position Will Give You The Perfect Lash Every Single Time
mbg Beauty Director
By Alexandra Engler
mbg Beauty Director
Alexandra Engler is the Beauty Director. Previously she worked at Harper's Bazaar, Marie Claire, SELF, and Cosmopolitan; her byline has appeared in Esquire, Sports Illustrated, and Allure.com.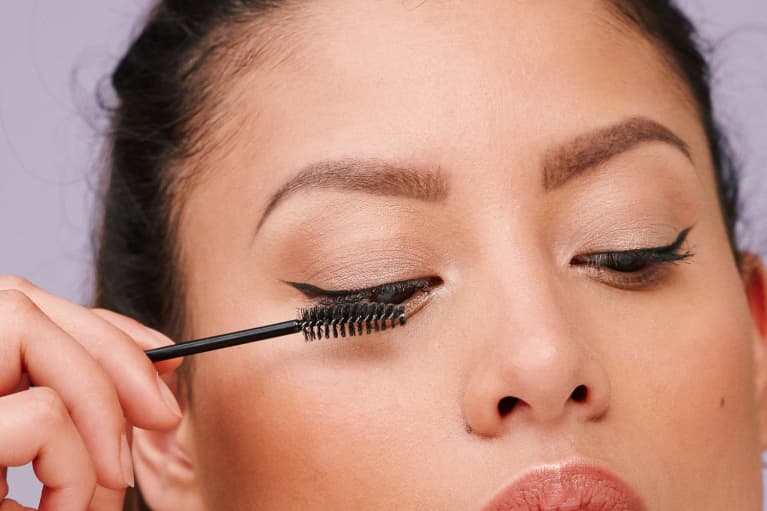 Makeup face is real! You know, that position and face you may find yourself making in the mirror when tactfully applying your mascara, lipstick, contour, or liner. It's certainly a sight, and perhaps not one that you'd want others to see.
But the truth is that applying makeup precisely and thoughtfully takes dedication and verve. (A fellow beauty editor swears that liquid eyeliner can smell your fear.) And with that skillfulness, sometimes comes a funny face or two. Lipstick face tends to be instinctive: You gently push out your pout, so it's soft and ready for a coat of color. Contour face requires pulling in your cheeks and examining your bone structure. Eyeliner face changes with the look from cat-eye to smoky.
Which brings me to mascara face, perhaps the most elusive face of them all! Well, some mascara faces are more effective than others, it turns out.
The makeup-artist-approved head position for smudge-proof mascara.
To start, grab your trusted mascara. (If you need help, check out our guide to makeup brush types or peek at our favorite clean mascaras.) And then plant yourself in front of the mirror, feet evenly on the ground. Then, follow this makeup artist's application tip.
"To help keep from accidentally getting mascara on the eyelid when applying to your lashes, it's all about positioning your face. With your mirror in front of you, lift your chin up to angle your face up and then with your eyes only, look down at yourself in the mirror," says makeup artist and licensed esthetician Jude Andam. "This head position helps give you better access to your lashes so you can apply to even the shortest lashes and get a better lift with each application, all the while keeping your eyelids and brows out of the way, making you less likely to accidentally smear or mess up your eye makeup."
So that will keep you from messing up your lids and lashes and allows for more exacting precision. Then from there, you can have more fun with the movement of the wand itself. Just be mindful to create these effects by moving the positioning of the wand, not your face. (Read: Keep your head still and let your hands do the work.) "Don't forget to really use the mascara wand to manipulate and move your lashes into the shape and direction you want," she says. "For a bright, wide-eyed look, fan lashes up and forward. For a more winged-eyed look, fan lashes up and out toward temples."
Go ahead: Flaunt your makeup face. In fact, many times, it's a necessary part of the application method! And when it comes to mascara, it's about the head positioning—tilt back and let the hands do the rest.