5 Florist-Approved Tips To Make Your Cut Flowers Last Longer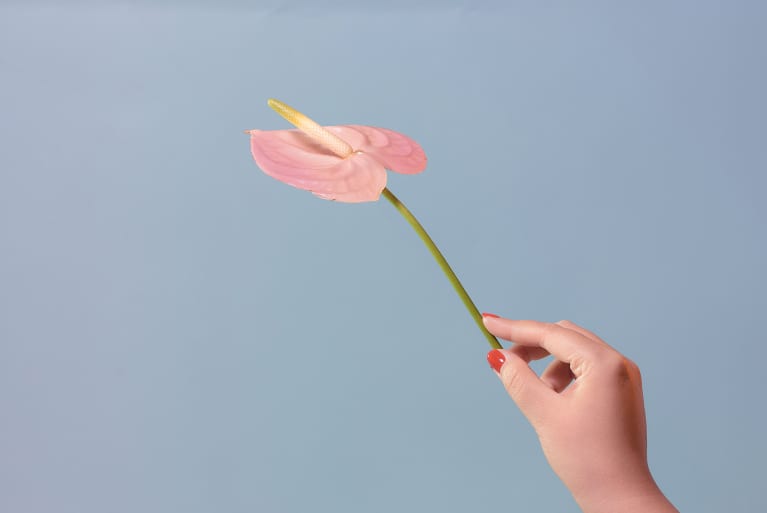 Our editors have independently chosen the products listed on this page. If you purchase something mentioned in this article, we may
earn a small commission
.
We often think of flowers as a go-to gift, so why not give them to ourselves? After all, we could all use a little pick-me-up—especially this week. One 2005 study confirmed that flowers boost the mood and well-being of both men and women of any age, often for days. So once you've got your bouquet picked out, make it last a little longer with these pro tips from florist LaParis Phillips over at Brooklyn Blooms.
How to make your cut flowers last longer:
1.
Change water every two days.
Change your flowers' water at least once every two days, or sooner if you notice it getting murky. Even after they're cut, flowers will still absorb water.
"Always give stems a fresh cut on the diagonal after changing water," Phillips advises. When you cut the stems on a diagonal, this allows more surface area on the base of the stem for water to be absorbed.
4.
Keep your flowers in a cool place.
Heat isn't great for cut flowers, so you want to keep them in a cool place. The windowsill might seem like an obvious spot for your bouquet, but if it gets a lot of sunlight, somewhere with a bit less light would be better.
5.
Remove all but a couple of leaves.
And lastly, Phillips tells mbg, water goes to the leaves first before reaching the actual flower. As such, you'll want to remove all the leaves on the stem except for one or two, to keep your petals looking hydrated.
Which flowers last the longest?
To really get the most out of your cut flowers, it's also not a bad idea to choose ones you know will last. Phillips offered some of her top choices for long-lasting flowers—and this is by no means an exhaustive list but a great place to start:
Lilies
Alstroemaria
Ranunculus
Sunflowers
Hellebore
Bruinia
Caspia
Chrysanthemum
Lisianthus
Amaryllis
Anything tropical (think Anthuriums or Bromeliads)
Gifting yourself a bouquet is a lovely gesture and a proven way to not only lighten the mood but also add a touch of beauty to your space, as well. And with the proper care, your cut flowers can bring a smile to your face in the days to come.