How To Find A Therapist After Losing A Baby, From A Perinatal Loss Specialist
Licensed Clinical Social Worker
By Joey Miller, MSW, LCSW
Licensed Clinical Social Worker
Joey Miller, MSW, LCSW, is a licensed clinical social worker specializing in reproductive psychology, loss and trauma, and women's mental health.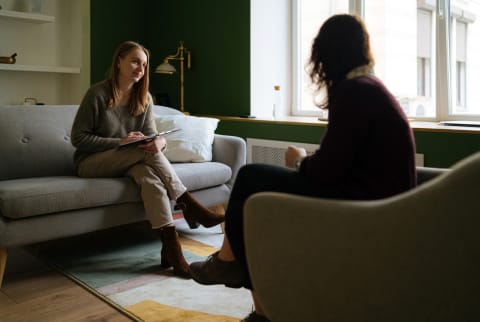 Image by Ivan Ozerov / Stocksy
December 26, 2020
How to begin your search:
Ask a trusted professional (OB/GYN, advanced practice nurse, internist, etc.) for referrals. Most maintain current lists or have trusted colleagues to whom they refer patients.
Contact your closest major medical center's social work, psychology, or psychiatry department and ask for local referrals.
Consider asking a friend or family member for a referral if they've had a personal (and positive) experience with a particular therapist or practice. Note: Some therapists will not treat members of the same family or may not believe themselves to be the best match for your situation. However, all can suggest alternative referrals if/as needed.
Complete an online search through your insurance carrier or a reputable search engine, such as psychologytoday.com or psychology.com. Although online searches can be of use to many, there are two potential downsides to this approach. First, online searches for general providers (for example, within a specific ZIP code) can return an inordinate number of names, leaving you in the same position as when you first started. In this case, just pick several and place calls. See who gets back to you fastest and has availability that works with your schedule. Second, searching under specialty may be frustrating, as many sites restrict the search field to a single prefixed category, such as "grief/loss" or "women's issues." Recognize these can be broad categories within themselves, and the first person you contact who is experienced in grief/loss may not be in pregnancy and infant loss.
Don't, however, immediately rule someone out if they don't have expertise in this exact area. While having previous clinical experience in loss and trauma is ideal, it's not essential. Many licensed quality providers may still be a good fit for you and can help. Begin making calls now.
How to approach your first session.
Once you have secured your first appointment, think about how you ideally wish it to begin. Is it helpful for you to write down some points you want to cover and share those with the therapist at the start of the appointment? Or does that feel like too much pressure? It might be more helpful to begin that appointment with something like, "I'm not at all sure where to start, and I'm feeling pretty disorganized. Will you please guide me with short questions, and I can try to answer them?"
Generally, first appointments cover introductions and begin obtaining some background history and information about where you're at right now. An hour can go by fast, and there's the potential to leave not knowing much about the therapist's personality and style or how you feel about her or him.
At the start of the first appointment, ask the therapist to reserve the last 10 or 15 minutes to obtain his or her feedback, which may include initial goals and a treatment plan. This can also help you confirm the therapist's understanding and perspective of where you're at and what you are willing to work on.
Pay attention to personality. Having a rapport and comfort level with this person early on is essential to the progress of your work. If you don't feel a connection within the first several appointments, say so. In so doing, you create an opportunity for both of you to discuss what might be going on. Sometimes this reaction is more a reflection of painful or uncomfortable session content than about the therapist. In this case, the therapist can make recommendations to make the work feel more manageable and tolerable, perhaps limiting the time spent on a particular topic during each session.
In the event there really isn't a connection, the therapist may be able to identify alternative referrals for you, now armed with more clinical information about your circumstances. That might feel disappointing to begin again, but it's worth the time invested in finding the right person for you.
Bottom line.
Don't be discouraged if some therapists don't accept your insurance, have a long waitlist, or are not accepting new patients. If you can schedule an appointment, do so, but in the interim, continue your search. You'll eventually find someone licensed and credentialed who will give you the support and guidance you need and deserve.
Joey Miller, MSW, LCSW
Licensed Clinical Social Worker
Joey Miller, MSW, LCSW, specializes in reproductive psychology, loss and trauma, and women's mental health. She is currently in private practice at Wellsprings Health Associates in Chicago where she sees patients for urgent consultation and ongoing therapy. She also remains active in medical education, teaching students and training healthcare providers. Miller formerly served as the Perinatal Loss Program Coordinator at Prentice Women's Hospital of Northwestern Memorial Hospital, the largest birthing center in the Midwest (and one of the largest in the country, supporting up to 13,600 births per year). Additionally, she has served as faculty at Northwestern Feinberg School of Medicine.