An Expert's 5-Minute Scalp Massage To Ease Tension Anywhere & Anytime
mbg Beauty Director
By Alexandra Engler
mbg Beauty Director
Alexandra Engler is the Beauty Director. Previously she worked at Harper's Bazaar, Marie Claire, SELF, and Cosmopolitan; her byline has appeared in Esquire, Sports Illustrated, and Allure.com.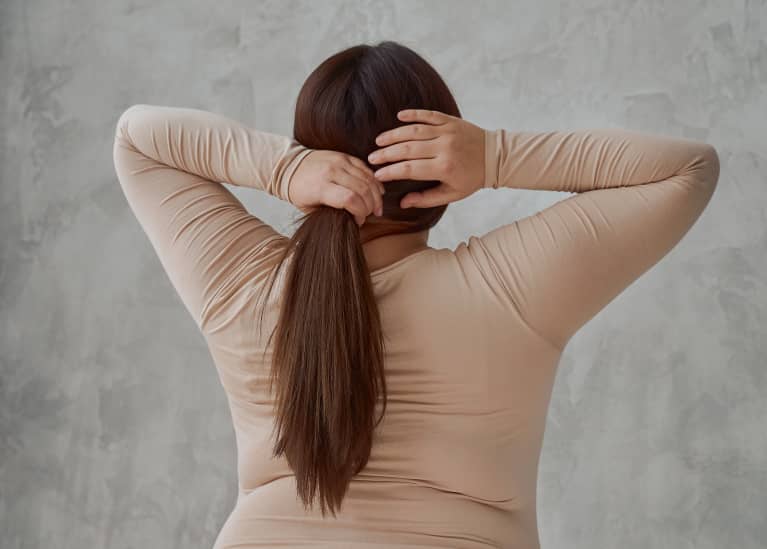 Our editors have independently chosen the products listed on this page. If you purchase something mentioned in this article, we may
earn a small commission
.
Need a moment of relaxation this Thanksgiving? I'd wager you probably do, no matter what you are up to, be it staying home with your immediate household or safely seeing a small group of friends or family. Holidays can be stressful, regardless, and now couple that with the added anxiety of this stressful time? It can feel overwhelming. At times like this, taking a moment to tend to yourself, ground yourself, and relieve tension is of the utmost importance.
Often when people talk about "self-care" in beauty, it involves making some sort of purchase—a mask, a lipstick, a bright new nail varnish—but self-care doesn't need to come at a cost. We've talked about this plenty: Self-care is something you do, not something you buy. However, with many beauty and self-care rituals, you genuinely need the right objects on hand to do them. (You need a stone to gua sha, you need products for a night of masking, for example.)
But there's one beauty self-care routine you don't need anything for: a scalp massage. Here's one stylists' oh-so-easy five-minute scalp massage that you can do anytime, anywhere, with nothing but your fingertips.
An easy, no-fuss scalp massage. 
Celebrity colorist and founder of his namesake brand Christophe Robin recommends that everyone do a scalp massage regularly, noting that it can ease scalp tension, promote hair growth, and boost your mood (learn more about the benefits of scalp massage, here—believe us, there's plenty to love about this ritual).
According to Robin, you can start by lightly wetting the pads of your fingers with an oil—but if you don't want to dampen your roots or simply don't have one on hand, no worries: This is totally possible sans oil or product. If you do choose to use an oil, you can absolutely find options right in your kitchen; he recommends jojoba or sweet almond oil.
First, tip your head forward to get the blood flowing to your scalp. (Or lie on your bed and let your head hang off the side.) Place your head back upright, and follow Robin's four steps:
Starting at the top of your head, use your fingers to comb down, applying pressure so you can feel skin the entire way down. While you are doing this, always avoid using your nails, so you don't end up scratching yourself. Do this from your forehead to the back.
Next, place your fingers on each side of your scalp and rub around in circular motions. You can also do these small circular motions around your hairline.
Lightly tap—like you're playing the piano—all over your head. Again, don't neglect your hairline.
For the final step, take small sections of hair and gently pull outward.
Final tip? "Enjoy and be in the moment," he says.
Self-care doesn't need to cost a thing—nor does scalp care, for that matter. This expert-approved, effortless scalp massage can help ease tension during the most stressful of times.