The Festive & Chic Nail Art You'll Want To Flaunt This July Fourth + A Tutorial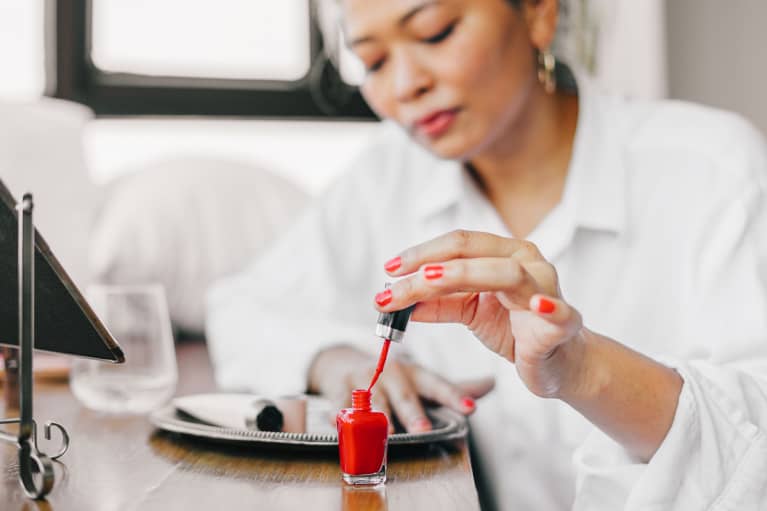 Our editors have independently chosen the products listed on this page. If you purchase something mentioned in this article, we may
earn a small commission
.
When it comes to having fun with your beauty look this Fourth of July, your nails provide ample real estate to show off some holiday spirit. Don't get us wrong; we're all for a bold sapphire-blue eyeliner around here, but it's a bit easier to express your creativity with an elevated nail design. Although, that doesn't mean you must stick to stars and stripes: For a subtler, chic look, how about a multicolored French mani dressed in red, white, and blue?
"This fun twist to the classic French manicure is a great way to add a pop of color to your July Fourth look that's minimalist but will also pair easily with a variety of outfits," offers Amy Lin, the founder of sundays—a nail care brand focused on wellness. Say no more.
Below, Lin explains how to master the holiday-inspired nail art.
A multicolored French mani for July Fourth.
Rather than outlining an American flag on the nail plate (sounds intricate and difficult, no?), paint just the tips—it requires less of a lift. Here's what you'll need:
Paper towel
Nail file
Nail clipper
Cuticle oil
Nail art brush (optional)
Polish remover
Wooden stick
Top coat
Base coat
Red, white, and blue nail polish (a minimum of 2 colors for the multicolor mani)
Step 1: Select your colors.
As we noted above, you'll need at least two shades for the multicolored French, be it red and blue, white and red, or some other combination of the holiday color palette (or all three!). You'll also want a base color for your nails: Either sweep on a coat of white for a bright contrast, or feel free to just slick on a base coat for a more minimalist look.
"Prep your nails the same way you would for a regular manicure," says Lin. You know, clip, file, shape, cuticle oil, the works.
"Apply one layer of base coat to create the clean look," explains Lin. Remember: Your base color can be clear or opaque, but some sort of base is necessary for that expert-level shine—we love this Nail Strengthening Base Coat or this crisp white shade from sundays.
If you do choose to use an opaque color for your base, Lin suggests applying two coats of polish, waiting at least three minutes in between each layer. "After that, wait at least 10 minutes before moving on to the French tips," she notes, lest you smudge the foundation.
Once your base coat dries, choose a color (your red, white, or blue) and paint a thin line at the end of your nail from one side to the other in one smooth stroke—the end result should resemble a tiny half-moon. It may be easier to use a small nail art brush if you have one, but it's not totally necessary: Just use the very tip of the nail polish brush to achieve that small line.
"Imagine you're lightly pressing the tip of your polish brush and sweeping it from one side to the other," says Lin. "If the tip colors are not visible, you may come back and apply a second layer." Repeat on all your digits, perhaps alternating the colors if you so choose.
For all the nail art novices out there (I'm with you), you can always opt for nail tape—try these polish guides from Orly. And if you mess up, Lin suggests cleaning up any errors with a wooden stick, if you have one on hand (you can also use a toothpick dipped in polish remover).
Step 5: Add a top coat and let dry.
Once you're happy with your tips, rejoice and apply a clear top coat for that lacquer-like finish. "You should apply at least two coats and wait at least three minutes for each layer to dry," Lin adds. Wiggle your red, white, and blue tips, and head to the BBQ.
This Fourth of July, embrace the holiday fun with some quick and easy nail art. A touch subtler than an American flag yet just as festive.