How To Detangle Hair: 8 Expert Tips For Every Hair Type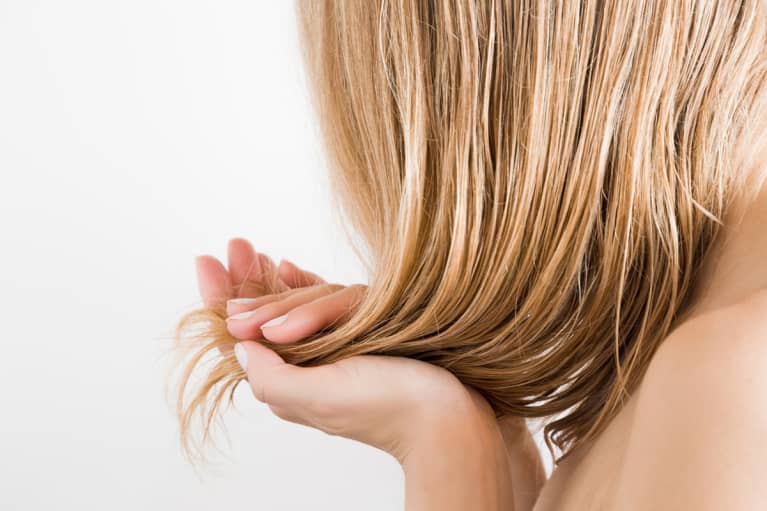 Before you muster a groan, listen to us: Detangling hair doesn't have to be a hassle or painful endeavor. Yes, even those among us with easily tangled and curly hair can ease the process with the right products and tools in place.
So next time you go to rid your hair of tangles and knots, remember the below. It just might save you a headache and a few strands:
1.
Use a physical protectant and detangler.
Perhaps it sounds like an obvious tip, but to detangle your hair—use a detangler. (Detanglers can range from liquid-light sprays to creamier leave-ins; no, they don't have to be marketed as "detanglers" to perform this duty.) These coat the hair with a light, hydrating layer that not only provides nutrients and emollients but offers a loosening slip and protective film so you're less likely to rough up the cuticle or cause damage while brushing.
2.
Find the right detangling brush for your hair type.
Not all hairbrushes are created equally or for the same purpose! You shouldn't treat them as a monolith. Detangling is a prime example of this, as there are very specific brushes that you should reach for in order to get the job done. Here are some of our favorite hairbrush types:
Wide-tooth comb. A classic option for any hair type, wide-tooth combs are better for working knots as they won't snag and pull hair too hard.
Wet brush. These brushes are specifically designed for detangling in the shower. They're also a hairstylists' favorite.
Paddle brush. For straight hair, a simple paddle brush will likely get the job done.
3.
Use your fingers for gnarly knots.
A detangling brush is likely your most effective bet for all-over detangling. However, when a knot gets out of control, put down the tool and get handsy: You can use your fingers to get dexterous and slowly untangle the mess. Your fingers have the ability to work through the knot and get into the nooks and crannies rather than hacking straight through it with a tool.
As hairstylist Faith Huffnagle, director of education at Prose, tells us, "instead of addressing tangles aggressively with a comb or brush, spray a leave-in or detangling spray directly into the knot and massage it gently with your fingers to loosen."
You may have to saturate it with an extra spritz of detangler (or more globs of conditioner, if you detangle in-shower), but keep massaging with your fingers until the knot smooths out.
4.
Start at the ends and work your way up.
A tip you might've heard a time or two, but worth repeating for those in the back: Never brush root to tip—or at the very least, never detangle root to tip. Start slow and steady at the bottom, working your way up the shaft and working out snags as you go. Starting at the root and moving downward in one swoop is a recipe for pulling and breakage.
5.
Use silk accessories to prevent detailing in the first place.
The best way to detangle is to avoid it in the first place—and to do so, we recommend silk and satin accessories. This is most vital when you sleep: "Sleep with a silk or satin pillowcase, headscarf, or cap, which allows hair to slide as you toss and turn while sleeping. Silk and satin prevent friction (which leads to hair pulling, tugging, stretching, breaking, and tangling), and these smooth fabrics help retain the hair's natural oils," says hairstylist Miko Branch, co-founder of hair care brand Miss Jessie's Original.
But you can also use silk scrunchies and scarves during the day to style your hair, which will ideally leave you with less knotting and mess than traditional hair ties or accessories might.
6.
Know when to detangle, based on your hair type.
Given hair has so many variables, there's no once-sized-fits-all advice. Case in point? When to brush your hair. For the longest time, I thought I needed to brush my hair dry. This is because wet hair is swollen and more fragile, prone to stretching and breaking. ("Hair is very elastic when it's wet," Clay Nielsen, a hair care expert and celebrity stylist, previously told us about wet hair.) And here's the thing: For those with straight or loose waves, this advice is true—you're better off taking the detangler to your hair when dry than wet.
But for those with curls? We're better off doing our detangling in the shower with loads of conditioner. "Never dry brush your ringlets. Cleanse scalp and hair in warm water to remove dirt, sweat, and product buildup, then rinse, then apply conditioner," says Branch. "Use a nourishing conditioner to gently detangle hair. Practice patience, be kind to your hair, and use your fingers and/or a wide-toothed comb."
This is a simple tip about daily maintenance. Hair hydrators can strengthen hair with emollients, nutrients, fortifiers, and vitamins—making the hair more manageable and resilient. Plus, they often help seal the cuticle shut, which will keep the hair from snagging on one another in the first place. Finally, hydrated hair is less brittle: So even if it does tangle, it won't snap off as easily if you go to brush it out.
Damage begets damage. When your strands and ends are tattered and split, it's more prone to snag and tangle around the other hairs. "I always recommend to my guests a minimum of at least four haircuts a year or quarterly in the year to simplify. Trims are important because they will keep split ends from creeping up the hair shaft and damaging the hair even more," says hairstylist Jenni Nguyen, owner of Prep & Foxx in Philadelphia.