The Makeup Artist Trick That Covers Up Age Spots So Naturally
mbg Beauty Director
By Alexandra Engler
mbg Beauty Director
Alexandra Engler is the Beauty Director. Previously she worked at Harper's Bazaar, Marie Claire, SELF, and Cosmopolitan; her byline has appeared in Esquire, Sports Illustrated, and Allure.com.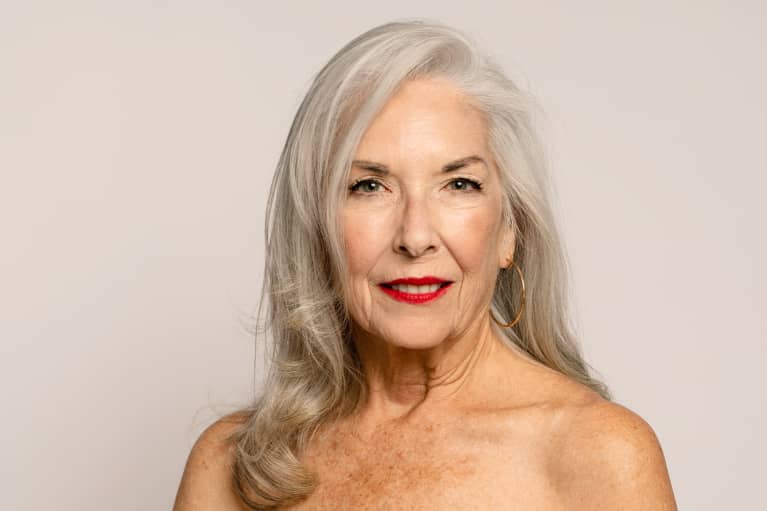 Our editors have independently chosen the products listed on this page. If you purchase something mentioned in this article, we may
earn a small commission
.
With age comes some pretty gratifying things: wisdom, confidence, self-awareness, maturity. Ask most individuals, and they'll tell you with each passing year, they feel they've come into their own more—able to master more tasks, accumulate skills, and feel better about where they are in life.
And for beauty fans? Well, ideally, better at doing makeup that feels like them, naturally. And while nailing down your signature makeup style is no small victory, there are concerns that do come up as well.
In fact, there are several common makeup woes I continually get asked about—specifically surrounding mature skin. Then there are age spots. Ah, yes, dark spots, sun spots, age spots: Whatever moniker you title them, they can be frustrating to cover up, especially in a way that doesn't feel like you're wearing a full face of makeup.
Frustrations aside, it's not impossible. It just takes the right techniques, says famed makeup artist Jenny Patinkin. Here, her genius tip.
The surprising way to cover up dark spots without a full face of foundation.
Even as someone who is too young to muster complaints of "aging skin," I have a constellation of discoloration from post-inflammatory hyperpigmentation. And on days when I don't want to slide on a soft wash of tinted moisturizer or CC cream, they still cause me pangs of self-consciousness. This is all to say: I get the struggle of wanting to cover up dark spots in a way that's effective and natural-looking.
So when Patinkin offered me this tip, I was floored, to say the least.
"It's all about the brush you use and how you blend," she says. "Choose a concealer that's either a close match to your foundation color or your skin tone, and then, using a fine-tipped brush like my Pin Point Liner, tap the product on top, being careful not to cover outside of the discoloration. Give the product a couple of seconds to oxidize and thicken up a bit, and then wipe the makeup brush clean on a dry washcloth and gently feather around the edges only."
Why does this work so well? Well, sometimes with makeup, it's all about precision. "This will not only blend the color of the age spot but will fade the product into your skin so it's not visible," she says. "And if you're worried about it rubbing off over the course of the day, tap a tiny (really tiny) amount of setting powder on top."
There's nothing more satisfying than feeling your best at your most natural. And for you, if that means covering up a few areas of discoloration? So be it. With the right blending tricks, no one will be able to notice.