You Need To Be Cleaning Your Hot Tools — Try This Hairstylist's Natural Hack
mbg Editorial Assistant
By Jamie Schneider
mbg Editorial Assistant
Jamie Schneider is the Editorial Assistant at mindbodygreen with a B.A. in Organizational Studies and English from the University of Michigan. She's previously written for Coveteur, The Chill Times, and Wyld Skincare.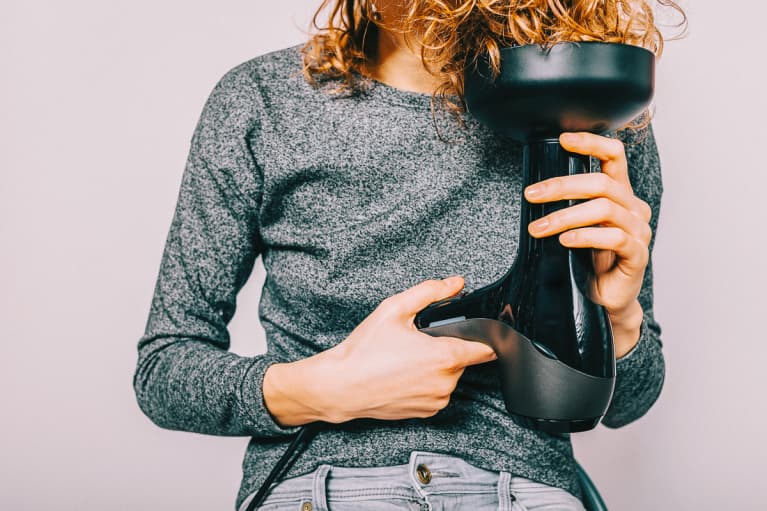 If you frequently work with hot tools, you likely know that some sort of thermal protectant is simply nonnegotiable. Before blasting the strands, you need to coat the hair and shield it from high heat, full stop. Although, after a while, you may notice said protectants (as well as any stylers to enhance your polished look) transferring over to your flatiron or curling wand—a dark, sticky goo staining the barrel long after you unplug.
It's certainly not an excuse to stop using heat protectants, or a crackdown on fun styling products—you just need to give your hot tools a proper scrub.
Why you need to clean your hot tools. 
Not only is it bad for your hair (melted styling product can adhere to your strands and cause damage), but your congested hot tools likely won't give you the results you want. All that buildup creates a physical barrier on the barrel, which makes it harder for those tools to sleek down the strands—to compensate, you might spend longer on your 'do or hike up the heat, both of which can lead to more damage and split ends. Even if there aren't any visible marks on your tools (you should still clean them regularly, even if you don't see any goo), dirt and grime can still live on those devices.
Over TikTok, NYC-based hairstylist Matt Newman offers this all-natural hack: Use a lemon to scrub away all the sticky residue. It's similar to how you might clean up a grimy pan—the lemon's high-acid content can properly lift up all the gunk. Plus, it'll give your hot tools a fresh, citrus scent.
There are a couple of avenues to explore here. First, Newman says, you can squeeze some lemon juice on a paper towel and scrub any visible spots. Or you can drench the towel in lemon juice and water, wrapping it around the metal plates and letting it soak for a beat (the marks should rub clean off). Finally, you can simply cut a lemon in half and rub the citrus directly on the tool—just like you might to brighten up steel cookware.
Of course, make sure your hot tools are unplugged and cooled off before giving them a clean, and allow your device to dry completely before cranking up the heat.
Let's face it: Your hot tools are probably due for a cleaning. Before spritzing on heat protectant and going to town, try Newman's hack to lift off any stains. It takes mere minutes, and it helps those sticky tools look brand-spanking-new.