Cosmic Design: How To Clean & Style Your Home According To Your Sign
mbg Contributor
By Bess Matassa, Ph.D.
mbg Contributor
Bess Matassa has a Ph.D. in urban studies and is now a New York-based astrologer and tarot reader who has been featured in Teen Vogue and Apartment Therapy.
As the Sun moves into Gemini on May 20, the keyword is curiosity! The zodiac's consummate social and intellectual butterfly urges us to open the shades and look upon the world outside with a fresh, innocent perspective. The perfect place to start shaking things up? Begin with a cosmic cleaning of your home base that will get you invigorated for all the journeys ahead.
Here is your sign-by-sign guide to a stellar spring cleaning session and design upgrade.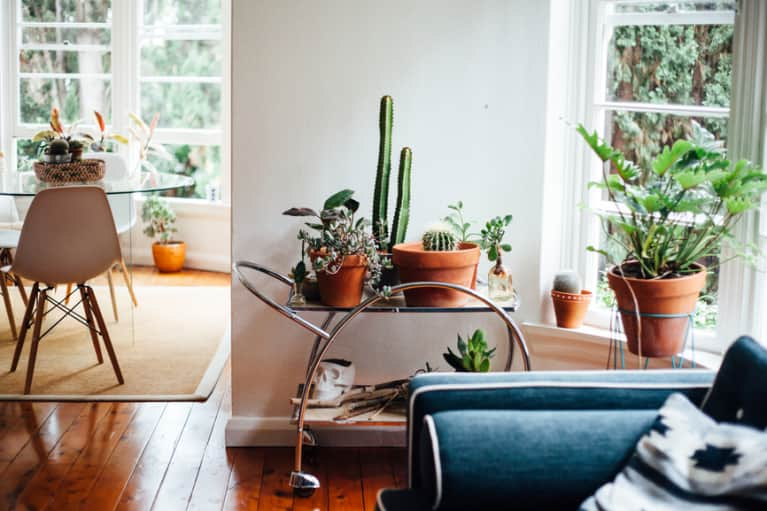 The zodiac's ultimate minimalist, you know exactly how to strip it down. Tackle your spring cleaning efficiently and directly with some simple, instinctual Marie Kondo action. Hold an object, feel into it, and then quickly decide to keep or let it go.
Infuse your space with clear lines, color pops, functionality, and easy-breezy California cool. Invite in indoor/outdoor action, even if it's just a plant or some hanging lights on your fire escape.
You're the sexy sensualist of the zodiac, sweet Taurus, and a clean-out should feel damn good in your body. Set the stage with deliciously scented cleaning products and soft cloths. Notice when your tendency to hold on to an item because of its material value might be holding you back from a deeper desire for a new aesthetic.
Deck out your lair with sheepskin rugs, chocolate box shades, rich-wood accents, rose petals, and handcrafted treasures. Think Dallas Cowgirl cool meets Italian farmhouse.
Chances are, you're already inclined to keep changing it up, Gemini, with a revolving door for items that no longer serve you. Celebrate your light hold and shifting tastes by gifting items to friends and engaging in a little DIY craft action that turns trash into treasures.
Don't be afraid to mix and match unexpected patterns, textures, and styles. Think high-brow/low-brow collisions, found objects, Rainbow Brite palettes, and prisms that celebrate your capacity for shifting perspective.
With your penchant for hanging on to the past, you may find yourself hoarding items that no longer serve your present or future visions, little crabcakes. Start by gently repurposing an old item (think old love letters as party confetti) and let this act slowly guide you toward new landscapes.
Celebrate your romance with history by incorporating flea-market finds into your décor. Let your connection to these items' imaginary stories fuel your own curiosity about fresh perspectives for your own future.
Make your cleansing session super playful! Dress up for it (maybe even a French maid costume with lots of ruffles), pump the pop music, and celebrate all the experiences you've been through as they're reflected through your objects. And if you happen upon a childhood treasure, place it in a position of prominence. Let that spirit beckon you back toward a lost part of yourself.
Celebrate sun-scorched glamour and gloss with saturated palettes, hot pinks, raffia, and emboldened botanical prints. Think Hawaiian Barbie's ultimate Dreamhouse.
The zodiac's so-called perfectionist, you're actually just in love with the divinity in the details of the world that surrounds you. Build little altars of everyday objects as you clean. Value every last item in your space, feeling into its intricacy and purpose. Celebrate the "beautility" of items that are both highly functional and totally gorgeous.
Revel in the subtle, organic movements of the natural world with Georgia O'Keeffe-inspired designs and Santa Fe patterns. Get witchy with it: kitchen healing herb gardens, shifting sand art, and spirit animal totems.
With your high-minded ideals, you likely have visions of the perfect space before you even set out, Libra. Celebrate a structured clean-out by sketching your dream floor plan and combing for inspirational interiors on Pinterest.
Enjoy balanced geometrics and play with the polarity of black-and-white patterns. Add romantic accents from the City of Light with fresh flowers, pastel palettes, wrought iron, and floor-length drapes.
The zodiac's fearless phoenix transformer, your go-deep-or-go-home philosophy necessitates an intense purge of startling proportions. Don't shy away from the emotional aspects of the cleaning process. Dive in, reckon with the skeletons in your closet, cry it out, scream it out, and then—throw it out!
Take a gamble with over-the-top casino style. Mini fountains, malachite, pure gold, black-and-red crushed velvet, swirling marble … take in-your-face design risks that might make others cringe but that allow you to own your full intensity completely.
Open all the windows and doors in your space and just go for it in characteristically exuberant, freewheeling fashion, wild Sag pony. Have a raucous cleaning party and clothing swap brunch with a pack of besties. Dance it out, wearing old pieces before you give them away.
Ground your far-flung visions in the comfort of your home with travel-inspired accents. Think highway signs, nomadic patterns, framed maps, relics from your recent voyages, or maybe even a pop-up tent beside your bed.
The zodiac's badass boss lady, you understand the true value of working hard for luxurious items that last. Go slow with your cleaning process and really feel into the effort and craftsmanship of the objects you love. Hang on to classic pieces and timeless treasures.
Think '80s noir meets Alpine après-ski. Go for sexy, sophisticated looks worthy of a lifetime's labor like Lucite, studded leather sofas, fur, billiard tables, elaborate cocktail glasses, and razor-sharp knife sets.
With your penchant for radical perspectives and eccentric style, it might be time for a complete shake-up. Engage in some dramatic purging and scrubbing to pave the way for a brand-new vision.
Get futuristic with out-there efficiency, new gadgets, multipurpose uses, and hyper-modern metallic accents.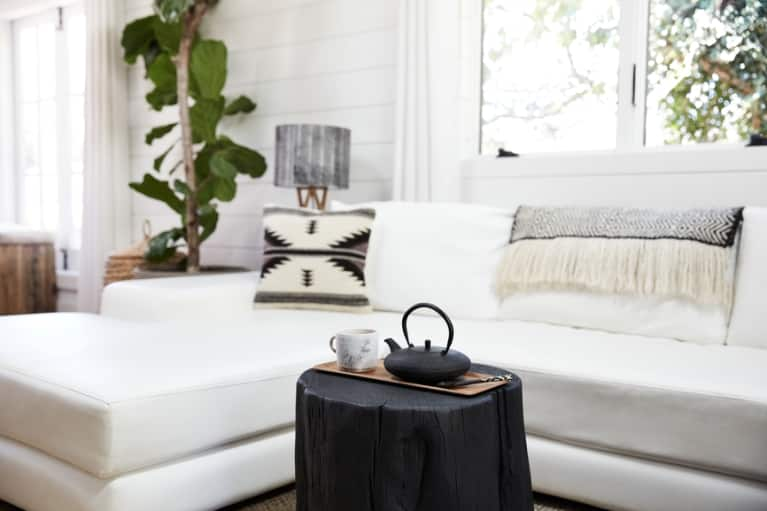 The zodiac's psychic sponge, you feel every last feel, dear fishy. When it comes to a spring cleaning, you might prefer to bury yourself deep in your bed and retreat from the world of to-do lists. Start there. Deck out your boudoir with a fresh sheet set and essential oil diffuser before tackling the rest of your space.
You function best when tied more to the mystical than the material world. Let your spirit fly free by keeping your environment light and spacious. Think tatami mats, bamboo accents, natural materials, rocks in your sink, and crystal grids.
Looking for more astro-inspired home design? Find the perfect houseplant for your zodiac sign here.