paid content
 for

A Minimalist Reveals Her Low-Waste Skin & Body Care Routine
Senior Branded Content Editor
By Krista Soriano
Senior Branded Content Editor
Krista Soriano is the Senior Branded Content Editor at mindbodygreen.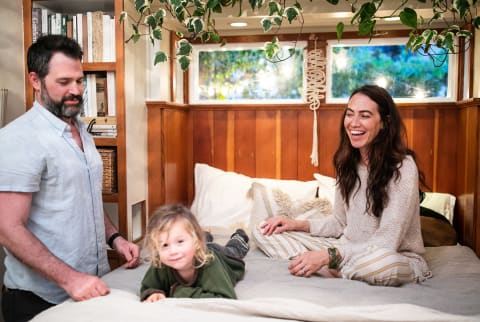 Image by Ashley Randall Photography / Contributor
June 12, 2019
"Naturally, in a tiny home, you're going to have fewer belongings," admits Whitney Leigh Morris, a small-space lifestyle consultant who lives in L.A. But sharing a 400-square-foot home with her growing family of three has led to another layer of minimalism: Buying fewer, better, more sustainable items to truly lessen their impact on the planet.
It's a principle that Morris puts into practice for the things that get to share this space with them, from small toys to bigger purchases. Before buying something, she asks:
Was it produced ethically?
Are the materials sustainable?
Is it designed to last a long time, and at the end of its life, can this be repurposed, recycled, or reused in any way?
Their Avocado Green mattress, for instance—which is made using natural, sustainable, and certified organic materials, without costing a fortune—won't take on wear and tear as quickly as other mattresses, which last for seven to 10 years and still come at a high price.
So in our second of three Snooze Series videos below (check out the first one here!), we peek into Morris' nightly skin and body care routine, which has been pared down with help from this low-waste philosophy.

Krista Soriano
Senior Branded Content Editor
Krista Soriano is the Senior Branded Content Editor at mindbodygreen. She holds a B.A. in journalism with a minor in communications from Messiah College, graduating summa cum laude. She has written and edited lifestyle content for over 15 magazines and websites, including ELLE, Esquire, Good Housekeeping, Cosmopolitan, Marie Claire, Women's Health, Men's Health, Runner's World, and DuJour. At mbg, Soriano helps our partners—which include non-profits and Fortune 500 companies—tell their stories, covering everything from the future of regenerative agriculture, ethical banking, and the endocannabinoid system. She lives in New York.