Close Banner
Advertisement
This ad is displayed using third party content and we do not control its accessibility features.
How To Apply Blush According To Your Face Shape, From A Makeup Artist

Beauty & Health Editor
By Jamie Schneider
Beauty & Health Editor
Jamie Schneider is the Beauty Editor at mindbodygreen. She has a B.A. in Organizational Studies and English from the University of Michigan, and her work has appeared in Coveteur, The Chill Times, and Wyld Skincare.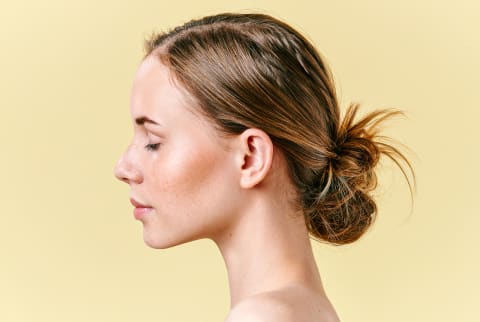 Image by Andrea Obzerova / iStock
We carefully vet all products and services featured on mindbodygreen using our
commerce guidelines.
Our selections are never influenced by the commissions earned from our links.
Of all the ways to frame your face, bangs and brows tend to receive the most hype. As they should, considering the right chop or eyebrow style can enhance your features and accentuate your face shape. But make no mistake: Your blush placement matters, too.
"Where you decide to place your blush can change the look of your face (it's just as impactful as brow definition and shape)," says makeup artist Alexandra Compton, product development manager at clean beauty retailer Credo. A strategic sweep of blush can sculpt your cheekbones for a lifted beat or make you look like your cheeks are youthful and plump, practically bursting with moisture—it just depends on application.
And while you can ultimately swirl on a blush any way you please—if it makes you feel beautiful, there's no reason you should change your habits!—the pros do have their go-to tips for each face shape. We tapped Compton for her guidelines.
How to use blush to enhance your face shape. 
As a general rule: Applying blush inward toward the apples creates a soft fullness, while blending outward toward the temples creates lift and definition. See below for each application tutorial:
According to Compton, the best application for round face shapes is to contour your blush. Because round faces have no sharp angles, you can add some definition and shape to your features with a sharper blush application. "Place your blush directly above your cheekbone, and blend to create the illusion of sculpted cheekbones," suggests Compton.
On the other hand, square faces tend to have plenty of definition already. If you choose, you can soften up angular features by applying blush on the apples of your cheeks, directly under the eyes. "You will draw attention toward the center of your face," says Compton, and round the cheeks a bit.
Heart-shaped faces—with their narrower jaw and wider forehead—can also fare well with what Compton calls the blush "halo effect." Concentrate the pigment on the apples of your cheeks to focus the attention center. You can diffuse the blush upward toward the temples as well to complement those naturally high cheekbones.
Oval face shapes tend to have no sharp angles, yet they have slightly curved outer edges. That said, adding or softening angles isn't totally necessary—but you can always sculpt the face if you choose by placing your blush on the highest point of your cheekbones. "Where you would typically highlight," adds Compton.
Diamond faces already have high, high cheekbones—accentuate them further by sweeping a blush in a "C" shape from the temples inward. "If you want to enhance your cheekbones, try applying a highlighting blush formula with added pearl that will reflect light on the highest point of your cheekbone," notes Compton. She touts the Kjaer Weis Refillable Cream Blush for a luminous peachy hue.
To balance out sharp angles, you'll want to concentrate the blush on the apples of the cheeks to bring in some fullness. You may also want to apply blush in a straight line from the pupils outward (read: not a "C" shape or lifted toward the temples). Rectangular faces tend to be longer than they are wide, and a straight-across application can shorten the face a bit.
A tip for all face shapes.
Each face shape may require a slight tweak, but if you're just looking for lift, you can stick to Compton's universal tip: "Place the blush on the highest point of your cheekbone, underneath the outer corner of your eye, and blend up toward the hairline and in toward your pupil to diffuse." Again, a higher blush placement creates more of a sculpted look, while blush on the apples offers more of a soft roundness.
And contrary to popular belief, she says you shouldn't smile when applying your blush. "Smiling lifts the apples of your cheeks, so when you stop smiling, your blush placement will actually be lower with a straight face." Plus, the formula can settle into any creases after you relax your face muscles.
The takeaway. 
Blush can quite literally change the shape of your face—so if you're trying to add definition or to balance out any sharp angles, a tap of rouge goes a long way. At the end of the day, though, your makeup is about you, and there are no stringent rules you need to follow. Compton agrees: "It really does not matter," she says. "Apply blush in a way that makes you feel most beautiful."

Jamie Schneider
Beauty & Health Editor
Jamie Schneider is the Beauty Editor at mindbodygreen. She has a B.A. in Organizational Studies and English from the University of Michigan, and her work has appeared in Coveteur, The Chill Times, and more. In her role at mbg, she reports on everything from the top beauty industry trends, to the gut-skin connection and the microbiome, to the latest expert makeup hacks. She currently lives in Brooklyn, New York.