How To Actually Get Closure After A Breakup, From A Therapist

Licensed Psychoanalyst
By Jordan Dann, MFA, LP, CIRT
Licensed Psychoanalyst
Jordan Dann, MFA, LP, CIRT, is a licensed psychoanalyst in private practice in New York City working with individuals and couples. She is a graduate of the Gestalt Associates for Psychotherapy, an IMAGO couples therapist, and a Somatic Experiencing practitioner.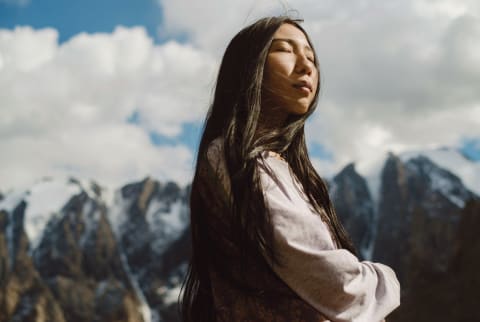 Image by ZHPH Production / Stocksy
August 12, 2021
Most of us have experienced a breakup, but not all of us find closure.
Breakups are rife for activating all of our unresolved attachment issues and traumas, and if we don't take time to fully process the breakup and take care of ourselves with support, we may be left with unresolved feelings.
What is closure?
Social psychologist Arie Kruglanski coined the phrase "the need for closure1" in 1990. What he was referring to was the psychological need or impulse our brains have to organize and understand a situation, or "down-regulate."
If you've experienced a breakup, then you're probably familiar with the process of mentally reviewing all the things that happened over the course of your relationship. The process of reflection usually includes noticing all the different feelings that are associated with the breakup, and organizing your thoughts about the narrative of what happened.
Research conducted by Langeslag and Sanche in 20182 gathered a group of heartbroken people to explore the "down-regulation of love feelings after a relationship." Each group was offered different prompts to "down-regulate" their feelings of love. One subgroup received the directive to think negative thoughts about their ex. Another subgroup was offered the prompt of acceptance. The third group was directed to have "positive" distracting thoughts, and the fourth subgroup was offered no directive.
What they discovered was that according to the EEG readings (a test that detects abnormalities in brain waves), all three strategies significantly decreased people's emotional response toward their exes. That said, those who thought negatively toward their partner experienced an overall worsening of mood, suggesting that negative thoughts, although helpful for moving on, also have a negative impact in the present.
The researchers found that distraction made people feel better overall but had no bearing on diminishing the strength of feelings toward their ex-partner. "Distraction is a form of avoidance, which has been shown to reduce the recovery from a breakup," Sandra Langeslag, Ph.D., study co-author and director of the Neurocognition of Emotion and Motivation Lab at the University of Missouri, St. Louis, said in a news release.
Those results suggest that closure must involve some form of processing what happened—without placing all the blame on your ex—as well as actually sitting with all the difficult feelings associated with the breakup rather than avoiding them.
Processing the end of a relationship is important for many reasons. Our bodies are wired for a felt sense of resolution. Especially if you notice disregulation in your nervous system in any way after a breakup, such as anxiety, interrupted sleep, depressive symptoms, or preoccupying thoughts, these symptoms are your body letting you know that a process has been interrupted. Once your physiology has an authentic narrative, you will feel a "letting go" and freedom to move on.
Without closure, you may return to a relationship that isn't working or is unhealthy, or you might be in danger of repeating the same patterns in your next relationship. Moreover, getting closure allows you to be open and ready to welcome other people into your life.
How to actually get closure.
Being in a relationship is an ongoing experience of contact with another person. As human beings, our systems are hardwired for attachment, and during a relationship we orient toward this other human being with our bodies, our thoughts, and our behavioral patterns. And just like it took time to learn to love this person, it takes time to unlearn how to love this person.
One important aspect of breakup recovery is a process called "self-concept reorganization," which is a process of rebuilding and strengthening autonomous identity, independent of the relationship.
During the process of forming a relationship with someone, our identity expands and evolves. Intimacy is inherently a vulnerable process, and it involves opening oneself to another person and encountering another person's history, needs, likes, dislikes, values, ideas, and dreams. When you encounter someone in such an intimate and vulnerable way, you are changed by them. This doesn't mean that you "lose" yourself in the other person, although that can happen for some people, but rather our identity expands through interpersonal contact with another.
A breakup is very much like a death. We are grieving the connection we had with another person: We are grieving the way that person made us feel, the rituals we created with them, the memories we shared, and the visions for the future we had with that person. It's not uncommon to move through stages of grief after a breakup, and as you move through a process of reflection, you may notice that your feelings change from disbelief to anger, to sadness, to an eventual and gradual state of completion and hope for the future. There is no one way to grieve, and there is no one way to process the end of a relationship.
Depending on the breakup situation, we may never know the exact reason why things didn't work out, but working through your thoughts and feelings allows you to come to a satisfying enough sense of closure. Even if one person initiated the end of the relationship, it is important for both parties to examine what happened.
During the process of reflection, it's important to ask the question, "What was my part?" Without placing blame upon yourself, explore how you contributed to any aspects of the relationship dynamic that you would consider "unhealthy" or "unwanted." Ask yourself, "Do I see a relationship pattern in my life?"
Reflecting on your relationship patterns and examining your part develops your capacity for "metacognition," which is the ability to be aware of and understand one's own thought processes. If you notice relationship patterns in your life, you can begin to reflect on how your early developmental attachment history might be playing out in your current relationships. If you notice a pattern, or history of abuse, neglect, or other inappropriate or unsatisfying patterns, you can seek out treatment—such as therapy or other therapeutic processes—to offer yourself support and protection.
Your ability to reflect and take responsibility for what you experience as frustrating, hurtful, or unsatisfying means that you can begin to make new choices and engage in new behavior that brings more relationship satisfaction.
The bottom line.
Getting over a breakup takes time. Our bodies are hardwired for connection, and it takes time to "down-regulate." Just like our relationship to anything, such as food or our phones, the "craving" for this other person doesn't stop right away. We have to continue to observe the cravings and the associated thoughts and feelings. Just like watching the tide of the ocean going out to the sea, each time the wave is gentler, each time the wave doesn't come up as close to the shoreline, and in time, there is more and more space between the preoccupying thoughts and cravings for this other person.

Jordan Dann, MFA, LP, CIRT
Licensed Psychoanalyst
Jordan Dann, MFA, LP, CIRT, is a dynamic and innovative psychoanalyst, writer, and educator. Her training in Gestalt Psychotherapy as well as her many years coaching and directing actors has fostered her desire to help individuals become more connected, self-aware, free, and expressive. As a licensed psychoanalyst in private practice, she works with individuals, couples, and conducts case supervision in New York City. She is a graduate of the Gestalt Associates for Psychotherapy, an IMAGO couples therapist, and a Somatic Experiencing (SE) practitioner. She has a BFA in acting and MFA in theater education from Boston University.
As a coach, her 20 years career in the nonprofit sector deepened her commitment to help people reach higher levels of fulfillment, truth, effectiveness, and joy in their work lives; and to help create intentional working environments so that people feel safe to communicate, play, create, resolve conflict, and get work done.

As a theatre educator, she has taught at New York University, Boston University, Colorado Mountain College, Dreamyard Art Center, Stella Adler Studios, and Cap21. As an experience architect and program manager, she has worked with the Teachers & Writers Collaborative, Shakespeare Society, Aspen Institute, and Theatre Aspen.