The Surprising Recovery Trick That Helps Keep Pro Surfer Alessa Quizon Injury-Free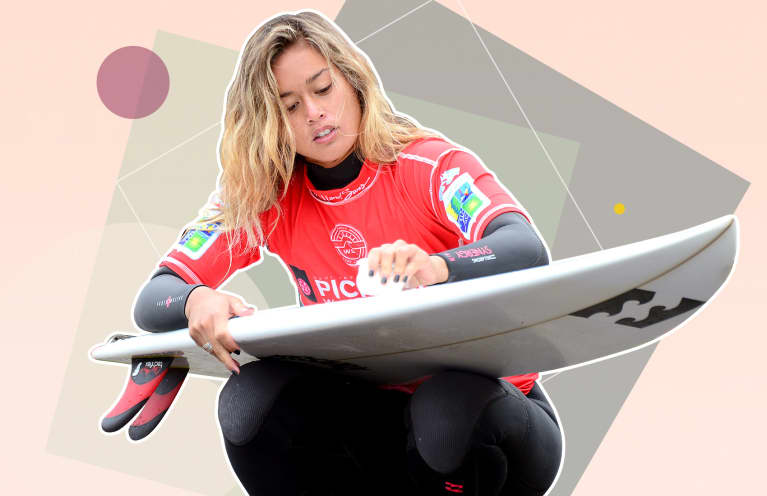 Alessa Quizon, a professional surfer and Billabong athlete, is a Makaha, Hawaii, native who started surfing when she was 4 years old. Since then, she's spent almost every day in the ocean. Whether she's crushing waves at competitions in Indonesia or at home in Dana Point, California, Alessa's life revolves around surfing–it's what she lives, breathes, and trains so diligently for.
But training at such a high caliber for a sport with virtually no protection comes with plenty (and I mean plenty) of risks. There's nothing standing between a surfer's body and the elements, which means injury is easy and unpredictable. That's why her post-surf recovery is so important—overworked and under-rested muscles can also lead to injury, so everything she does off the board matters.
What a pro-surfer's recovery routine really looks like.
Alessa is no stranger to injury—she knows that the numerous hours of surfing take a toll on her body. In the past she has sprained both of her ankles and even had a grade II tear in her MCL, which kept her from surfing for three months. While she says it was a tough time for her psychologically (she's used to major endorphin rushes from surfing and just loves being in the water), it was a much-needed physical break for her body.
Alessa surfs every day and does other forms of training like boxing and stamina-based workouts, but other than being physically and mentally in shape, there's no safeguard to keep her from getting hurt when she's out on the water. "There are so many ways to get injured. You could hit the reef; you could drown...and I'm in a bikini, and guys are in board shorts. There's no armor, padding, anything. There's no device that could help you to prevent injury, either. You're pretty much winging it most of the time." In other words, finding effective recovery methods is everything.
These days, she's more diligent than ever about her post-workout recovery, dedicating time after every single one of her sessions to get ready for the next one. Alessa makes sure to give her body a break, stretch, and apply a topical CBD roll-on oil to her muscles after workouts, competitions, or long surf sessions.
How CBD became her go-to remedy.
"CBD is magic to me; it's my favorite," Alessa praised. "It's saved my muscles from sitting for hours on planes and from getting super sore post-surfing. It's like Tiger Balm but better; plus, it smells really nice!"
While the research on CBD's pain-relieving properties is still developing, it's promising, and many people—including athletes, yogis, and doctors—swear by it. If you want to start using CBD, try treating yourself to a before-bed foot massage with topical CBD like Lord Jones' new High-CBD Body Oil, a hemp-infused cream or balm from Charlotte's Web, or Alessa's go-to, the roll-on CBD oil from Elixicure.