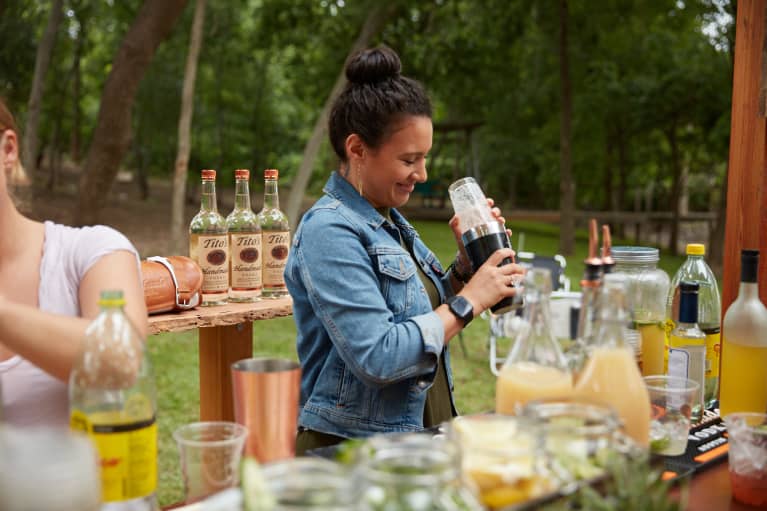 It was pouring when we arrived in Austin, Texas, to visit the Tito's Handmade Vodka team, and the rain barely let up the whole time. But, in the midst of their joyful culture, the weather was the last thing we noticed.
The company recently finished building a 14-acre farm near the Tito's distillery, with the goal of making fresh produce available for the workers. This inspired the team at the company's HQ to come up with a similar idea for their own space, which is situated on a dead-end street in an industrial lot of office buildings, 10 or so miles from the distillery. It's not quite 14 acres, but, spoiler: Their project is so cool. And we got to join the team as they upgraded their weekly office Happy Hour into a next-level Harvest Happy Hour.
Watch Part II of The Joy Project below (if you missed the first one, you'll want to catch up here) to see what's possible when a workplace prioritizes well-being. And scroll down for the three amazing recipes for the team's garden-fresh cocktails using their new seasonal bounty.
1½ oz. Tito's Handmade Vodka
2 oz. sparkling water
1 oz. lemon juice
¾ oz. simple syrup
Lemon slices for garnish
Fresh rosemary for garnish
Add Tito's Handmade Vodka, lemon juice, and simple syrup to a glass with ice.
Top with sparkling water.
Garnish with lemon slices and fresh rosemary.
1½ oz. Tito's Handmade Vodka
1½ oz. sparkling water
¾ oz. fresh lime juice
2 tsp. sugar
6 to 10 fresh mint leaves
Lime slices for garnish
Fresh mint sprig for garnish
Muddle mint leaves in a shaker tin.
Add Tito's Handmade Vodka, sugar, fresh lime juice, and ice.
Shake well and pour everything into a glass.
Top with sparkling water and garnish with a fresh mint sprig and lime slices.
1½ oz. Tito's Handmade Vodka
½ oz. orange liqueur
1½ oz. fresh lemon juice
1½ oz. fresh lime juice
½ oz. simple syrup
3 slices fresh jalapeño
Lime slices for garnish
Add all ingredients to a shaker with ice.
Shake and strain into a glass over ice.
Garnish with a lime slice.