This Is Often The Impetus For Less Nutritious Food Habits, Says A Parenting Expert

mbg Beauty & Wellness Editor
By Jamie Schneider
mbg Beauty & Wellness Editor
Jamie Schneider is the Beauty & Wellness Editor at mindbodygreen. She has a B.A. in Organizational Studies and English from the University of Michigan, and her work has appeared in Coveteur, The Chill Times, and Wyld Skincare.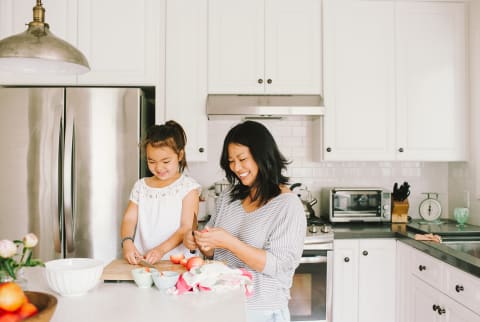 Image by Kristin Rogers Photography / Stocksy
August 23, 2021
"A lot of tastes are formed in childhood," parenting expert Emily Oster, Ph.D., shares on the mindbodygreen podcast. Meaning, kids don't just wake up one day and crave the less nutritious foods we typically associate with the kids' menu (mac and cheese, nuggets, what have you); with the right resources, some parents actually have the ability to shape their children's food preferences by exposing them to nutritious players early on.
Specifically, there's a small window of opportunity to teach kids healthy food habits: Researchers call it the "appetite slump1," and it often flies under the radar. Here, Oster explains the common mistake some parents make when kids reach this appetite slump—and how it affects their food preferences later in life.
Advertisement
This ad is displayed using third party content and we do not control its accessibility features.
How the appetite slump influences food habits.
The appetite slump is just how it sounds: "At some point early on in toddlerhood, like around 2 or 3 [years old], kids get less hungry," Oster says. "They're not eating quite as much as they did before, and sometimes they'll get a little bit pickier."
It may seem like the child is never hungry—for parents, this is understandably a jarring scenario. That's why many parents typically turn to those "easier" flavors—the mac and cheese, the nuggets—to get their kids to just eat something. It's a common response, but "That can exacerbate the pickiness aspects because kids learn very fast," says Oster.
See, kids are smart: Once they learn that they can get mac and cheese if they refuse to eat vegetables, chances are they'll continue to use that tactic. It then becomes much more difficult to unlearn the habit, which may pave the way for pickiness (and an affinity for less nutritious food) later in life.
What to do about it.
According to Oster, parents should refrain from offering the defaults, if possible: "That sort of eliminates the opportunity to try [different] foods," she says. This window of time is precious—not only do kids learn very quickly, but they also tend to hold on to those eating habits later in life. It can be unsettling when your kid doesn't eat as much as they had before, but just know that the appetite slump is a very real, research-backed phenomenon during toddlerhood, and they should eventually return to baseline.
"Think about what diet you're trying to communicate, and then communicate that by serving that set of foods and whatever eating environment your kids are in," Oster adds. As tempting as it may be to entice them with "kid-friendly" flavors, remember that you have a great opportunity to shape their tastes with more nutrient-dense (and still tasty!) food.
Advertisement
This ad is displayed using third party content and we do not control its accessibility features.
The takeaway. 
According to Oster, kids tend to lose their appetite at some point in toddlerhood—and many parents may respond by serving "kid-friendly" foods to encourage their kids to eat. However, this reaction can lead to pickiness and less nutrient-dense food habits later in life; says Oster, it's best to understand this dynamic and avoid serving the defaults, when possible.
Advertisement
This ad is displayed using third party content and we do not control its accessibility features.