"Multi-Masking" Can Give Your Skin An Even Glow: Here's How To Do It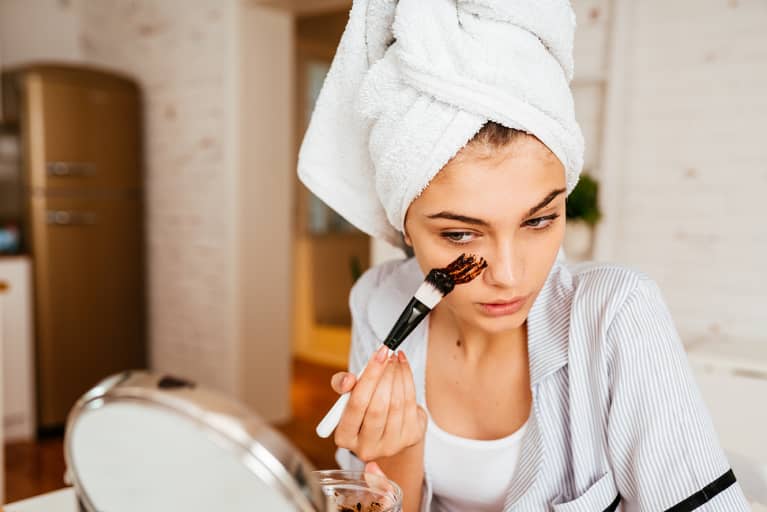 As far as masking goes, targeted treatments range far and wide—you have your purifying clays, your exfoliating peels, your hydrating gels, your enzyme masks, and so forth. And yet, each tends to approach one skin care concern at a time, when we know that your skin itself is a little more nuanced. For example, you might face breakouts on your jawline, yet your forehead is parched dry. Or maybe you're wanting to calm some irritation around your nose, but you notice a cluster of blackheads on your chin. See the issue here?
Enter, "multi-masking": a skin care hack where you'd use—you guessed it—multiple masks to target different regions of your skin.
What is "multi-masking" & how does it work?
"Multi-masking involves using more than one mask in order to target different skin concerns," explains celebrity esthetician and dermatological nurse Natalie Aguilar. Essentially, instead of coating a single mask all over, you would apply multiple different confections on trouble areas. "For example, you could do a detoxifying, oil-absorbing mask on the T-zone area of the face, but then use a hydrating and soothing mask on the drier areas such as the cheeks, temples, and upper lip," Aguilar continues. Perfect to treat combination skin in one go, no?
Before you start finger painting, though, there are a few precautions to keep in mind:
First, choose your masks wisely: As Aguilar mentions, clarifying masks might fare better on oily areas, whereas patches prone to dryness may need a boost of hydration—so make sure you properly I.D. your skin before slathering on.
You also don't want to go overboard, here: There are so many masks on the market, but not all of them deserve a place on your skin in one sitting. Better to stick to a couple of concerns and call it a day.
Additionally, you'll want to be strategic about the masking experience: After all, with a myriad of masking options come multiple instructions. (For example, a certain clay mask might have a hard stop at 10 minutes, whereas a hydrating formula can lay on as long as 20.) Be sure to check the labels of each mask to see which you'd need to start with.
Finally, remember to moisturize once all the fun is over: After any mask, sealing in hydration is crucial—even if your cheeks feel plumped up with hydration after some time under a jelly mask. No matter the treatment, you still need an occlusive agent to keep said moisture from seeping out and drying your skin further.
"Multi-masking" is by no means necessary—it may even feel a bit extra at times—but if you're looking for a mask to target all of your skin care woes, perhaps expand the search to two. That way, your whole face can feel the love in one fell swoop.