3 Holistic Skin Care Experts On Keeping A Glow Come The Holidays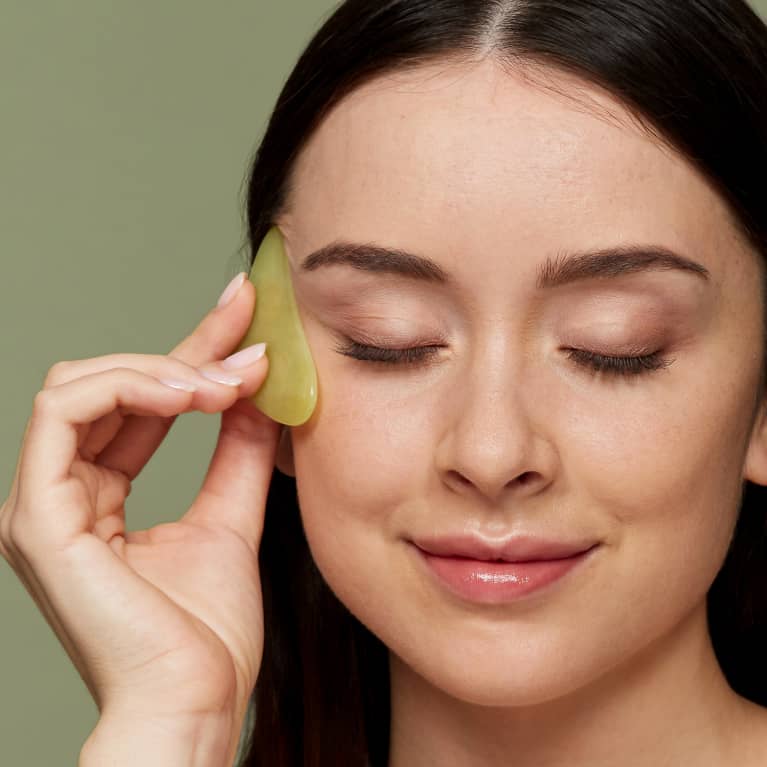 Our editors have independently chosen the products listed on this page. If you purchase something mentioned in this article, we may
earn a small commission
.
This isn't the first time you're hearing this, nor will it be the last: Holidays look a bit different this year. For many, the safest way to see loved ones means a road trip, when under normal circumstances they'd fly or take other means of mass transit. (So that means a potentially very long car ride—with a lot of sitting around.) And for those staying put, enjoying a small holiday with those in your bubble or immediate household, you're probably tucked indoors more than you might be in other years.
In other words: There's a lot less activity to give you a natural, vibrant glow. So we spoke with experts for skin tips on how you can tend to your complexion on a long car ride, at home quarantining, or whatever your plans are. These are easy ways to boost circulation, ease facial tension, and effortlessly glow come the holidays:
1.
Stay hydrated and keep moving.
There's a reason every skin care expert tells you to drink enough water: Keeping hydrated vastly improves your skin's health. "The No. 1 thing you can do is stay properly hydrated, while it may seem counterintuitive to a long car ride, maintaining proper hydration will ensure optimal blood flow," says aesthetician Yolanda Mata, creator of the YoliGlo Facial, who recommends keeping a well-formulated moisturizing mist nearby as well (she's partial to Tatcha's Luminous Dewy Skin Mist, as it contains squalene and Japanese botanicals to keep skin plump). "Not only does drinking enough liquids keep your skin hydrated and permit bathroom breaks along the way, but these stops give you the chance to stretch, walk around, and keep blood flowing. I try to stop every three hours, get out of the car, and spend a few minutes doing breath exercises while stretching my arms, shoulders, hips, and legs. All you need to do is inhale deeply through your nose, hold your breath in for 15 seconds, and then exhale through your mouth. You'll look and feel refreshed and re-energized."
Another way to keep things moving is through facial massage, like gua sha. Gua sha massage incorporates a small stone scraping tool, or board, to help move lymph fluid out of the body and increase circulation. "In my practice I focus on facial massage techniques that come from Ayurveda and traditional Chinese medicine, just to name a few. I also love to teach people how to do it at home so they have a self-care routine they can do on themselves," says mindbodygreen Collective member Britta Plug, a holistic esthetician and co-founder of Wildling Beauty. "Gua sha comes from TCM and helps release facial tension so you can help restore optimal flow of your blood, lymph, and qi [sometimes written chi] so you can really start glowing from the inside out." Watch her explain some moves here.
3.
Try a bit of face yoga
Face yoga is a series of facial exercises in which you intentionally isolate and tone your face muscles. We all have these tiny, delicate muscles in our face that you might not even think twice about. "The face has muscles, just like the body," Fumiko Takatsu, face yoga instructor and founder of the Face Yoga Method, explains to us. "So why not isolate and tone those muscles, relaxing the rest so you can get results?" It works by stimulating the blood flow in your face; the circulation can spur the production of collagen (which, as we know, keeps your skin looking firm and taut) and delay the appearance of fine lines and wrinkles. One 2018 study even found that the daily exercise could reduce signs of facial aging, with improvements especially in upper- and lower-cheek fullness. And unlike traditional yoga, you don't need plenty of space and a mat. The only tool you need is you. For five moves you can do anytime and anywhere, check out our full face yoga guide.