mbg Sustainability + Health Director
By Emma Loewe
mbg Sustainability + Health Director
Emma Loewe is the Senior Sustainability Editor at mindbodygreen and the author of "Return to Nature: The New Science of How Natural Landscapes Restore Us."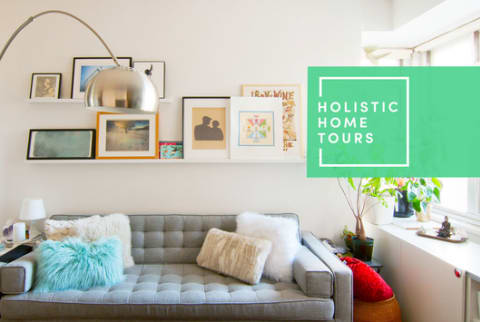 September 29, 2017
Advertisement
This ad is displayed using third party content and we do not control its accessibility features.
Perched in the Lower East Side neighborhood of Manhattan, Anjie Cho's space feels worlds away. The interior architect has used her knowledge of feng shui to deck out her new apartment—which she shares with her husband, Jeremiah, and their two Chihuahuas, Javier and Pearl—like only a pro could. She's letting us in on how she used feng shui to create an oasis in the middle of the city, and you're going to want to take notes.
What are three words that describe your design philosophy at home?
Advertisement
This ad is displayed using third party content and we do not control its accessibility features.
What was the first room you tackled when you moved in?
Definitely the bedroom. We needed a place to sleep, and in feng shui the bedroom is thought to be the most important room in the house since it represents who you are. Since I have a home office, we split the bedroom up with some white fabric panels to create separate spaces. My husband loves how soft and tent-like these feel.
Advertisement
This ad is displayed using third party content and we do not control its accessibility features.
Love it! Speaking of feng shui, can you point out a few feng shui elements in each room?
In the living room, the sofa is in the commanding position of the room so that you can see the door. That puts me—as well as my guests—in a comfortable, secure position. I also have five plants in the window to add more of a wood element to the Completion area of my home. The green plants also add vibrancy and life energy.
The living room also contains my meditation space and shrine. There is an image of the Shambhala Rigden Thangka, which represents unconditional confidence. The singing bowl was a gift from a beloved friend, which I ring at the beginning of each day. The ikenobo cutters are a tool in my ikebana practice. They sit on my shrine to remind me to "cut" my thoughts. This area is located in the benefactors area, as all my teachers, mentors, and the lineage holders (feng shui and Buddhist) before me offer teachings and support in my life.
I haven't done much to the bathroom since I love the vintage feel of the original cast-iron sink and crooked medicine cabinet. I do keep amethyst and nine pieces of clear quartz in there, though, as the bathroom falls in the relationship area, and these provide clarity and high vibrations I can share with others.
In the bedroom, the bed is in the commanding position so we can sleep with peace and ease. The round mirror is above the bed is meant to create a calm friendly relationship with my husband. Circles have no corners or sharp edges, and this is the feeling it can create for a marriage when above a bed. We also have a solid headboard that connects and supports us in our relationship, as do the matching nightstands and lamps.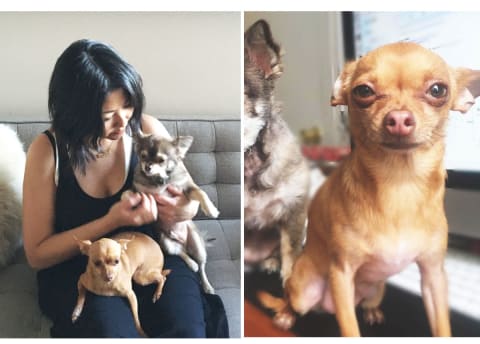 Advertisement
This ad is displayed using third party content and we do not control its accessibility features.
The wall next to my bed also has plenty of personal touches that relate to self-care and self-love. It holds the first Yantra I ever painted, an image of a lion since I'm a Leo, Tibetan prayer flags because I practice Tibetan Buddhism in the Shambhala lineage, and other sacred objects like crystals, sleep-promoting essential oils like lavender, cards from my husband, a photo album from my 40th birthday party, etc.
Our kitchen renovation is still in the works, but it will house a convex mirror to reflect the space behind me while I'm cooking. We will also have another convex mirror set up to reflect the image of the East River across the stove. Water brings in wealth, and carrying the reflection across the stove increases it even more! I will leave the walls white since it's a good color to offset food in feng shui.
My home office most notably has the fiery image of the durga yantra in the fire area of my desk. This mandala is also part of my logo, and Durga destroys and recreates—which is what I do as an interior architect. My desk is also very stable and sturdy, to give weight and stability to my work.
Lastly, the entry of my home has a sort of "tokonoma," which is an alcove in a Japanese home that traditionally contains a calligraphy scroll and an ikebana flower offering. Flower arranging is a contemplative practice, a meditation in action, and seeing it right when I walk in is a reminder to meditate, touch nature, and see the beauty in everything.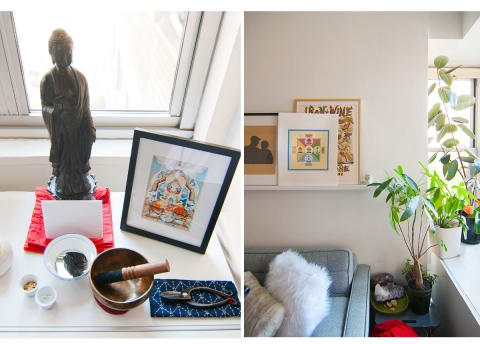 What's your favorite room in your home and how do you use it?
My favorite area is my meditation area, since it's a space for me time. The phone goes on "do not disturb," and I can just sit and get to know myself and observe the world during my daily practice. I start each morning practice with three sounds on the gong, recite my chants, then sit.
Advertisement
This ad is displayed using third party content and we do not control its accessibility features.
What is your favorite season in your home?
Up on the fourth floor, we're basically living in the trees, and we have a wonderful unobstructed view of the East River. We love watching the nature change and shift from green to earthy tones, then to brown and white in preparation for winter. Since I'm a California girl at heart, I always love the summer, but I have to say I'm enjoying autumn more and more lately. We can turn off the air conditioning and open up the windows to let in the crisp air. I love that autumn is such a transitional season. The light and temperature changes, things come to an end, and your heart gets so full of sadness but also eagerness for the new energies to come.
What's the most sentimental thing hanging on your walls, and what's the story behind it?
The two pieces of art above my couch. The first piece—a silhouette of Jeremiah and me—was a wedding gift, and we found it so unique and thoughtful. The second is a thangka (a Tibetan painting) I created and painted with my teacher. It illustrates the five Buddhist families, which represents the five elements. As I worked on it, I was able to hash out some issues and start learning how to embody those five Buddha family energies. I just love it.
What's the best compliment you've ever received on your space?
Friends always comment that the space is peaceful and really embodies a sense of nourishment and love.
Recreate the look: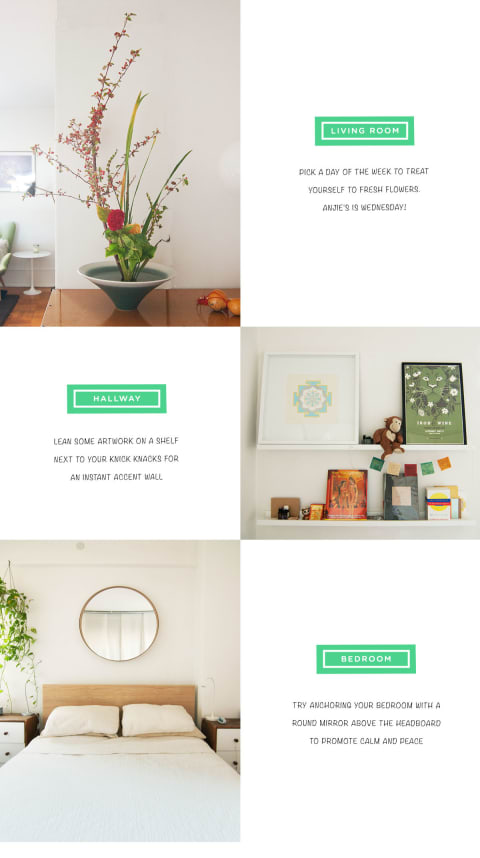 To peek inside more feel-good sanctuaries from around the world, check out the rest of our Holistic Home Tours.