This Tiny Home In The California Mountains Is The Ultimate Cozy Escape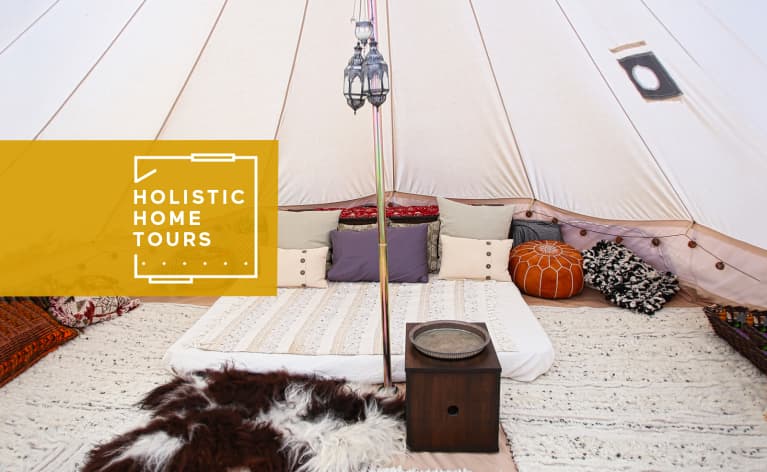 Think of the dreamiest tiny home you can imagine. You're probably picturing the sanctuary Bela Fishbeyn, which a bioethics researcher at Stanford University shares with her husband and 3-year-old daughter, Escher. It's perched on a sunny hillside in California and filled with reclaimed woods, cozy fabrics, and dried flowers. Here, Fishbeyn shares why she decided to move into her tiny mountain escape and how she made it feel like the ultimate home sweet home:
1. Where is your home? How long have you lived there?
Our tiny house is situated in the Santa Cruz Mountains in Boulder Creek, California. We've been living in it for two and a half years now.
2. What inspired you to move into a tiny home? How was the adjustment period?
We had been living in the Bay Area for about a year when our rent went up. Not by much but enough to make us realize that we had just spent almost $30k on rent, and for what? We felt as though we had just flushed that money down the drain, and we wondered whether there might be something better we could get for it—so we investigated other options. We stumbled upon tiny homes and thought they seemed like a great option, but there were so many hurdles to get through! The entire process was such a whirlwind. We went from signing the contract to having a completed home in under six months.
There wasn't much of an adjustment period at all, which surprised me. I had expected it to be such a big transition, but honestly, it wasn't a big deal at all. It was an upgrade from our normal living situation since our tiny house felt so much more luxurious than anywhere we'd ever stayed! Escher was a year old when we moved in, and she's loved it since from the beginning.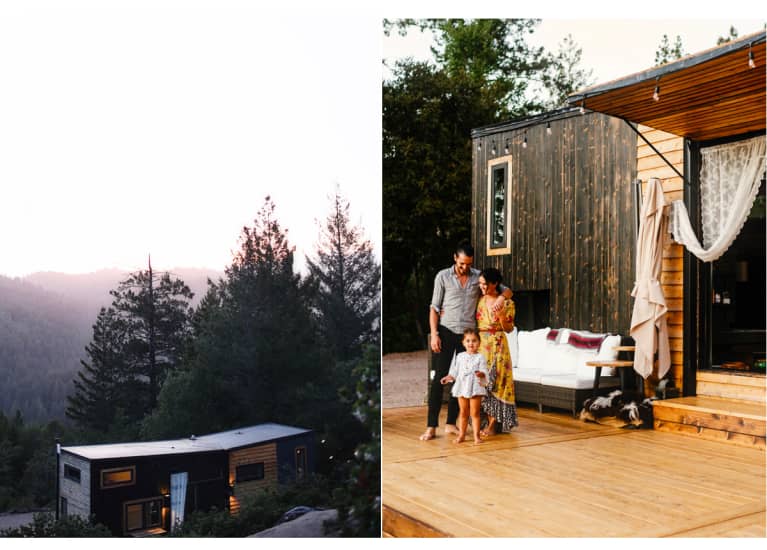 3.  What's the most underrated part of living in a tiny home?
The flexibility! Tiny homes make great rental properties. We rent ours out on Airbnb while we travel, which gives us the chance to subsidize our trips. There's so much you can do with a tiny home besides just living in it. It's been a great way for us to use our housing costs as an investment toward the lifestyle we want.
4. How hard is it to keep your tiny home clean, especially with a young daughter? Any decluttering tips that you swear by?
When you live in a small space, clutter can build up easily, and the simple fix is that you quite literally always keep your home clean. We've found that if you turn tidying your space into a habit, you're never doing too much actual cleaning—you're just putting things back where they belong as you go, which feels more manageable. Escher's adapted so well to our tidying and cleaning habits. Though she's only 3, she's a whiz at tidying up!
Our general approach when it comes to "stuff" is that it's usually better to have nothing than to have crap. Don't buy it unless you love it or need it.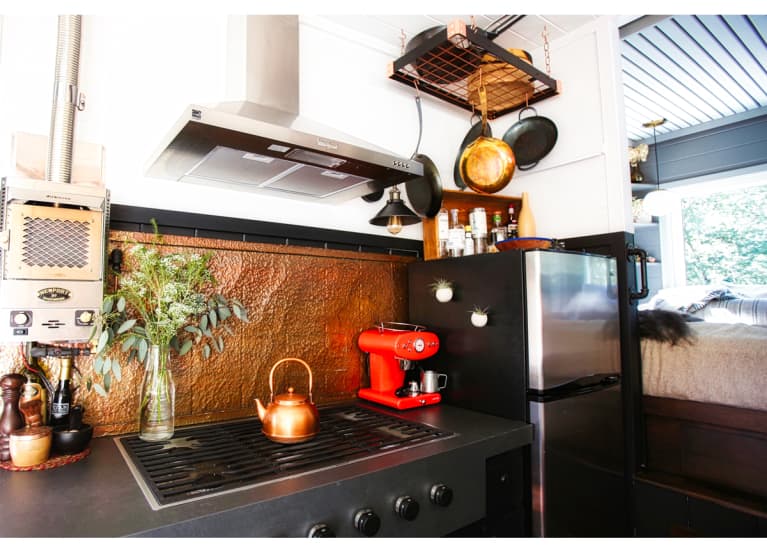 5. How has living in a smaller space affected your well-being?
I wouldn't say that there's anything inherently positive about a smaller space—it's all about what you do with it! Living here has made us more intentional about every part of our lives because it's forced us to think about what's important and what's superfluous.
6. What noises can be heard in your home? What smells?
White noise—it's a great way of separating space, and it helps us all sleep really well. There's also the army of crickets outside at night, and some funky dance music and tons of conversation. And from quails to chickadees to deer and other critters, there's always someone exploring the landscape around our home. Most nights we grill our meals, so lots of smells of meats, cedar, and lime.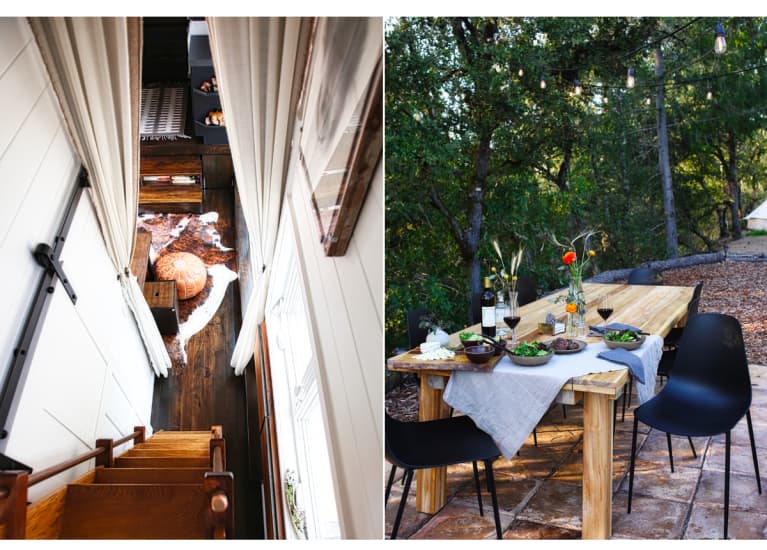 7. What's the oldest thing in your home? Newest?
The oldest thing in our home is probably my grandmother's jewelry. She brought it over from Russia and gave it to me before she lost her mind to Alzheimer's. The newest thing in our home is our newly dried flowers! Drying flowers is such a nice way of making them last. Our tiny home is filled with wildflowers we've dried.
8. What's the best compliment you've ever received on your space?
The reviews we get on Airbnb are amazing! We truly love sharing our space with others and hearing about their experiences. Some recent ones include, "This place is simply magical; we never wanted to leave," "Can't wait to come back!" "Truly a little slice of heaven!" "… a dream come true."