A Low-Waste California Home That'll Convince You To Start A Bathroom Compost Bin
Our editors have independently chosen the products listed on this page. If you purchase something mentioned in this article, we may
earn a small commission
.
The term "minimalist, low-waste home" used to be code for bare white walls, no decoration, and lots of empty space. But as more people have embraced environmentalism and conscious consumption, these homes have started to look a lot more like, well, homes. They're comfortable, vibrant, and welcoming spaces where the trash cans just happen to be pretty empty.
Lily Cameron of Wild Minimalist is one face behind this shift over to friendlier low-waste living. In her new book Simply Sustainable: Moving Toward Plastic-Free, Low-Waste Living, Cameron offers a room-by-room breakdown of her favorite eco-tweaks. She was kind enough to give mbg a peek into her San Rafael, California, home and the smart systems that keep it sustainable.
What are three words that describe your design philosophy at home?
Minimal, sustainable, functional.
Is there one room that tends to be harder to fill with low-waste alternatives? Any tips that made it a little easier for you?
The bathroom is definitely one of the more challenging rooms to find low-waste alternatives. For me, it's taken time, patience, and some trial and error to find products that work for my skin and hair, and my beauty routine still isn't 100% plastic-free.
I used to get really hung up on trying to eliminate every single piece of plastic packaging in the bathroom, but now I take a more balanced approach. If I have a product that I absolutely love that comes in plastic, I try to make it last as long as possible and recycle the container when it's empty.
In general, taking a gradual approach to low-waste living is the way to go—start slow and integrate one or two swaps at a time to see if they work for you before moving on.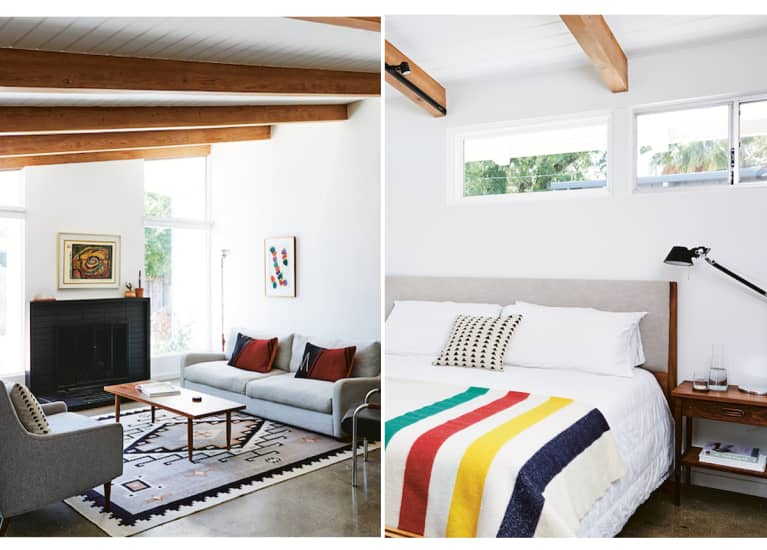 Does your home shift with the seasons? Are there any changes you're making as we head into spring?
We swap our cozy flannel sheets for breathable linen ones as we transition from winter to spring. We also keep our windows and doors open more during the day—everything smells so beautiful and fresh in the garden this time of year.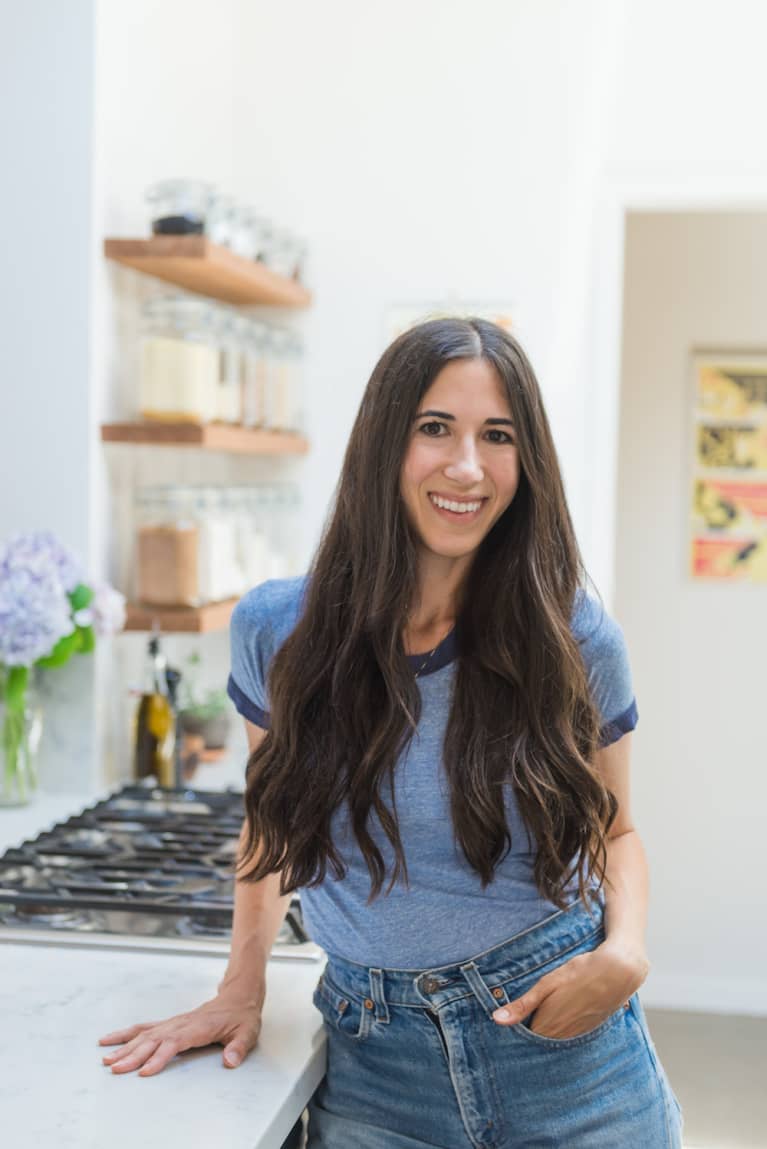 What's one easy low-waste home tweak that you'd recommend to everyone?
Add a compost bin to your bathroom! There are so many items you can compost—tissue, toilet paper, cotton swabs (made from cardboard and cotton), cotton balls, hair, nail clippings, and more. Just adding a compost bin will support a huge reduction in your bathroom waste.
What room in your home brings you the most joy, and why?
Our kitchen brings me the most joy and is truly the heart of our home. My husband and I both love to cook (and we used to love to entertain, pre-COVID). It has a great open view of the living room and garden, so you can prepare meals and still be in on the action. It's very spacious and communal.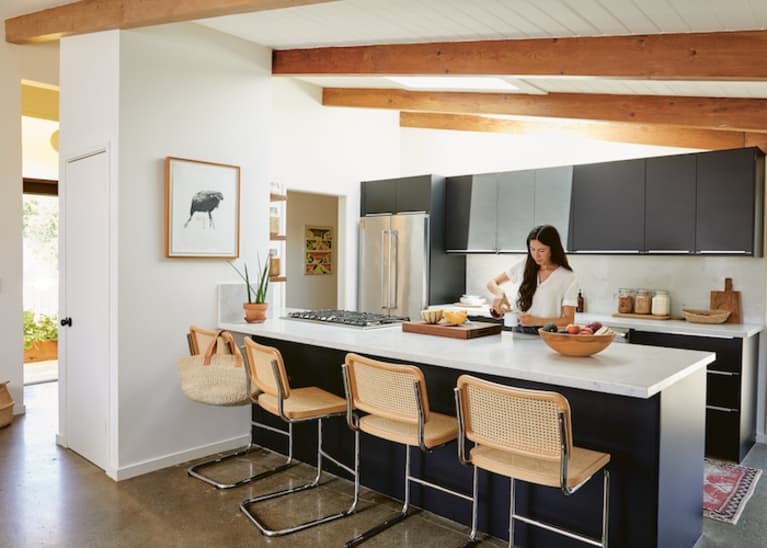 What noises can be heard in your home? What smells are there?
You can hear lots of birds, sometimes an owl, and our toddler babbling away. There's always the smell of cooking—my favorite is waffles on the weekend.
What's the most sentimental thing hanging on your walls, and what's the story behind it?
There's a beautiful pastel portrait of my grandfather Gerson in our hallway. When he was younger, his family operated a bed-and-breakfast in Montreal, and one time an artist staying with them didn't have enough money to pay the bill. My great-grandmother said he could settle the bill by drawing a portrait of her son Gerson. He looks very young and handsome and a lot like my dad.
What does minimalism mean to you?
Minimalism is curating a functional, beautiful living space. It's surrounding yourself with items that bring you joy and letting go of clutter and excess. It's about being mindful and intentional before you add anything new to your space and considering what will happen to it at the end of its useful life.
There are a lot of similarities and overlaps between minimalism and low-waste living.
Here are some more tips from Cameron's new book that will help you reduce waste in your own home:
The bathroom: In addition to your compost bin, keep a stack of clean cloth rags in your bathroom to have on hand to wipe down your sink and vanity area after washing up. It'll save you a deeper clean (and some paper towels) later.
The pet's abode: Pet toys are made to be destroyed, so Cameron opts for ones made from natural materials like hemp and wool instead of synthetics. That way, she can compost them if they eventually become too worn, and she doesn't have to worry about her dog swallowing a mouthful of plastic.
The kitchen: Read up on plastic-free storage techniques that can keep unpackaged fruits and veggies fresh for longer.