Whether you like your hibiscus tea hot or cold, there's no doubt that it's delicious. Whether you're sipping your hibiscus tea in iced tea form on a tropical beach or drinking it out of a steaming mug on a chilly winter day, once you pick up a hibiscus tea habit, it's hard to go back. This naturally caffeine-free, pink-colored tea is made from either crimson or the calyces (sepals) of the roselle, which is a type of hibiscus flower.
The taste of hibiscus tea is hard to resist: It's a little bit tart, a little bit sweet, and tastes mildly of cranberry. Want to learn more about hibiscus tea? Here's everything you need to know.
Where did hibiscus tea come from?
Sometimes called roselle tea, hibiscus tea originates in tropical areas like the Middle East and Central America. The U.S. Department of Agriculture reports that hibiscus plants can be one of 40 different species, and once the plant is grown, it has to be dried out before it can be made into tea. Once combined with boiling water, it makes a healthy, delicious beverage.
In addition to being tasty, refreshing, and invigorating, hibiscus tea has a number of health benefits. Hibiscus tea is packed with vitamins and minerals that support immunity (looking at you, vitamin C) and can prevent disease down the road. The American Heart Association advises people with mild hypertension to drink hibiscus tea, as it can lower blood pressure in adults.
This recommendation by the AHA is based partially on a study conducted at Tufts University in Boston, which found that drinking three cups of hibiscus tea daily can significantly lower blood pressure. "We found that three cups a day of hibiscus tea significantly lowered systolic blood pressure among the group of people who consumed the tea daily for six weeks, compared with a placebo beverage containing artificial hibiscus flavor and coloring," explained Diane McKay, a scientist in the antioxidant lab at the Jean Mayer USDA Human Nutrition Research Center on Aging at Tufts University. "And the effect was even greater among people who had a higher baseline level of systolic blood pressure."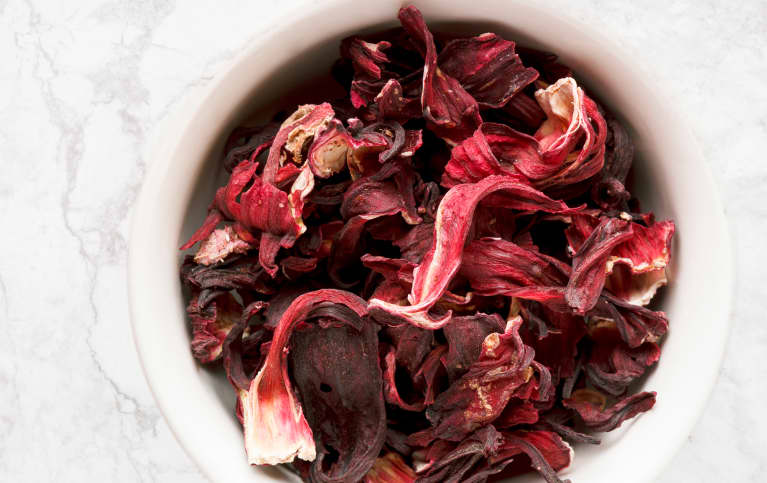 Hibiscus tea for anxiety and depression.
Hibiscus tea benefits don't end with its blood-pressure-lowering abilities. Because of the vitamins and minerals found in hibiscus tea (like flavonoids, the same pigment found in red wine), drinking hibiscus tea is a great way to ease symptoms of depression and anxiety. These combine to create a natural antidepressant, which can be helpful for anyone suffering from restlessness, feelings of sadness, insomnia, negative thinking patterns, and more.
Drink more hibiscus tea; drink more water.
Another huge benefit of regularly consuming hibiscus tea is that when you drink more tea, you also drink more water. The benefits of drinking water are truly endless: Think increased energy, increased regularity, a flushing out of toxins, an elevated immune system, an instant mood-booster and a natural headache cure.
The great thing about drinking water in hibiscus tea form is that you also get the benefits that come with drinking hibiscus tea, like lower blood pressure and eased symptoms of anxiety and depression. Additionally, drinking herbal teas is a great way to nip sugar cravings in the bud, and by now it's pretty obvious that the less refined sugar we eat, the better off we are.
A word of caution on hibiscus tea.
While hibiscus tea is delicious and worth drinking, it's important to consider that hibiscus tea can actually be toxic in high doses, particularly to the liver. And pregnant women should probably avoid hibiscus tea altogether: It can cause menstruation or premature labor. Other risks can include sudden drops in blood pressure, nausea, and can have a negative affect on certain medicines.
As long as you're mindful of what can happen if you drink hibiscus tea in high doses, go ahead and brew yourself a cup of hibiscus tea, or pick one up the next time you're at your local coffee shop. If they have herbal tea, they probably have it. Enjoy the refreshing taste, and reap the health benefits!
Intrigued by the health benefits of tea? Here's how to use it to scale back on sugar.