paid content
 for

Move Over PSL: 5 Reasons To Sip Golden Milk Today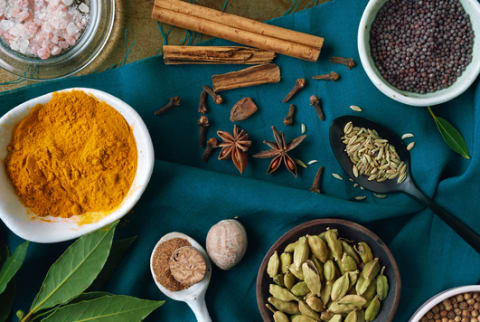 October 4, 2016
Who doesn't love a soothing beverage at the end of a long day? No judgments if your go-to drink is a glass of red or a bedtime tea, but now you have another Happy Hour option. The name itself— "Golden Milk"—was enough to catch our attention.
Named for its yellow color, Golden Milk is a turmeric-based health tonic lauded by the wellness cognoscenti. Much like Happy Hour, a Golden Hour is meant to help you let go of daily stressors.
This ancient health tonic contains herbs like turmeric and ashwagandha that have long been used in Ayurveda to support overall health. Ayurveda has been around for a long time—more than 5,000 years—and is a holistic approach to health and wellness derived from ancient Indian practices.
Ayurveda literally translates to "life knowledge"—in Sanskrit, ayur means "knowledge" and veda means "life." The goal of Ayurveda is to facilitate harmony through food and lifestyle choices that actively balance out your natural tendencies.
In today's fast-paced, on-the-go lifestyle, the practices of Ayurveda remain incredibly helpful for grounding and finding balance. Here's why you'll find us sipping on this sweet, delicious Golden Milk tonight:
1. Turmeric keeps your brain & memory sharp, and supports healthy muscles and connective tissue.*
Turmeric has been shown to maintain working memory in studies of older people. Additionally, curcumin, a compound found in turmeric, supports a healthy inflammatory response in the body, including the muscles and connective tissue. In studies, it has been shown to promote healthy ligaments.
2. Black pepper helps increase the absorption and bioavailability of turmeric.*
Turmeric tends to have lower bioavailability—in other words, it's harder for us to absorb it. Black pepper helps optimize our use of turmeric.
3. Ashwagandha supports the body's healthy response to stress.*
It's been shown to promote a healthy balance of cortisol in the adrenals.
4. Dates are a healthy way to add sweetness that provides a delectable caramel-like taste.*
Plus, they are a good source of niacin (B-complex), iron, and potassium.
5. Vanilla is a mood booster.*
And if purchasing, gathering, measuring, and combining all of these sounds overwhelming, don't fret. Gaia Herbs has mastered the ideal ratios of organic, high-quality turmeric, ashwagandha, vanilla, black pepper fruit, and dates for optimal health and has made it taste divine.
Read: No more powdery messes on the kitchen counter or time wasted perfecting the taste. We love adding a teaspoon of the convenient Gaia Herbs Golden Milk powder to warmed or steamed almond milk to make a latte-like Ayurvedic treat.
* These statements have not been evaluated by the Food and Drug Administration. This product is not intended to diagnose, treat, cure or prevent any disease.
How do you get your gold on? Face masking? Meditation? Journaling? Show us your Golden Milk ritual on Instagram by tagging #goldenhour. We'll raise a glass to that!