paid content
 for
Here's Why Clothing Rental Is About To Be Your New Favorite Fall Obsession
Image by Nuuly / mbg Contributor
September 20, 2022
With cooler mornings and shorter days upon us, the fall season is officially around the corner. Before long, it''ll be changing leaves, corn mazes, and pumpkin-spice-everything. And alongside our favorite fall occasions come the new outfits we're pining for—from corduroy jumpsuits to big and bold jackets to cozy sweaters. Every fall day is a new opportunity for fun and fashion.
The thing is: Buying a new outfit for our every autumnal whim isn't always the most sustainable or feasible option. But whether you've got an entire Pinterest board devoted to fall 'fits or would simply love a refresh, all things are possible with a Nuuly monthly clothing rental subscription. From that comforting soup recipe to your most stylish pair of boots, fall is the season for obsessions. And here's why clothing rental is about to be your new favorite fall fix…
Advertisement
This ad is displayed using third party content and we do not control its accessibility features.
Clothing rental gives you access to more styles and more of your favorite brands.
If we only think about our wardrobe in terms of buying, our options are always limited—by our wallet, the season, and trends. But with clothing rental, your fashion options are nearly endless. With Nuuly's subscription clothing rental service, you get to choose any six styles each month for just $88 per month. (Psst...and use discount code MBG20 to get $20 off your first month!) So whether that's premium denim that you'd never otherwise indulge in, one-of-a-kind vintage pieces, or formal attire for that fall wedding—options abound.
Nuuly offers thousands of styles to meet your mood. Feeling bold? We're all about the bright hues of this Lantern Sleeve Jumpsuit by Farm Rio. On the other side of the spectrum: the ultra-elegance of this In A Mood Gown by Katie May. All in all, Nuuly carries more than 300 brands, stocked in a variety of sizes—from petite to plus sizes up to 5x, and even maternity! You can choose anything you want from labels like Free People, Selkie, Anthropologie, Lisa Says Gah, and Farm Rio. Stepping into fall in AGOLDE's Luna Pieced Jeans and this Bailey Crochet Top by ASTR The Label? Don't mind if we do.
Clothing rental with Nuuly is easy
Picking out new outfits for the fall season is the fun part (*adds High-Rise Pleated Trousers to bag*). But here comes the convenient part. Once you pick your six items from Nuuly, they're all yours for the month. When it's time to send them back, Nuuly makes it easy with fast, free shipping and returns—with no late fees, damage fees, or fees to pause or cancel. Plus, all of Nuuly's clothes are professionally cleaned in Nuuly's state-of-the-art laundering facility. Does that mean less laundry for you to worry about? Yes, yes it does.
Renting is sustainable: for the planet and your wallet.
Fall puts us in the mood for fashion—but clothing rental helps us cultivate fresh fall looks without the fast-fashion ick. Renting our clothing, versus hitting the store for every upcoming event or change of season, is already eco-friendly. But Nuuly has an extra eye on sustainability: Their orders are shipped in recycled and reusable totes with zero plastic packaging. Their clothes are cleaned with energy and water-efficient methods and are repaired or upcycled when necessary—instead of destination landfill.
Clothing rental is a sustainable way to participate in fashion but undoubtedly more sustainable for our finances, too. When you rent with Nuuly, you get to wear more—sometimes thousands of dollars' worth of clothing per month—while spending less. The Down For You Shirt Jacket by Free People, for example, retails at $198—but is one of six items you get with your $88 monthly subscription. You still get all those "brand-new outfit" feels, without the spending scaries.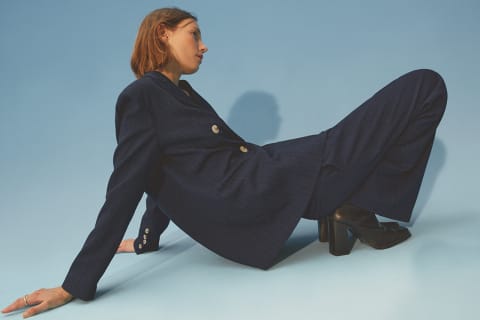 Image by Nuuly / mbg Contributor
Advertisement
This ad is displayed using third party content and we do not control its accessibility features.
Fall fashion goals on your doorstep.
Shopping at our favorite store or boutique, we're bound to find something we love. But then time goes by and before we know it, we've only worn those pricey trousers once before it's time to swap in the summer clothes again. As fall makes its more-than-welcome approach, we've got those seasonal shopping jitters. We want fun prints for the harvest party, cozy tops for cold weather movie nights, and denim for date night at the pumpkin patch. And thankfully, no matter the outfit, no matter the occasion—Nuulyis bringing fall fashion goals to our doorstep. And we think that's worthy of an obsession.
Use the discount code MBG20 to receive $20 off your first month of Nuuly!
Advertisement
This ad is displayed using third party content and we do not control its accessibility features.
Devon Barrow
Branded Content Editor
Devon Barrow is a Branded Content Editor at mindbodygreen. She received her degree from the University of Colorado. When she's away from her desk, Devon is teaching yoga, writing poetry, meditating, and traveling the world. She's based in Boulder, Colorado.
Devon's first book, Earth Women, is coming soon. To learn more, join the mailing list, and receive updates, head to www.devonbarrowwriting.com.