The 3 Tiny Tweaks I Use To Make Stuffing Way Healthier & Far More Delicious
Contributing Food Editor
By Liz Moody
Contributing Food Editor
Liz Moody is a food editor, recipe developer and green smoothie enthusiast. She received her creative writing and psychology degree from The University of California, Berkeley. Moody is the author of two cookbooks: Healthier Together and Glow Pops and the host of the Healthier Together podcast.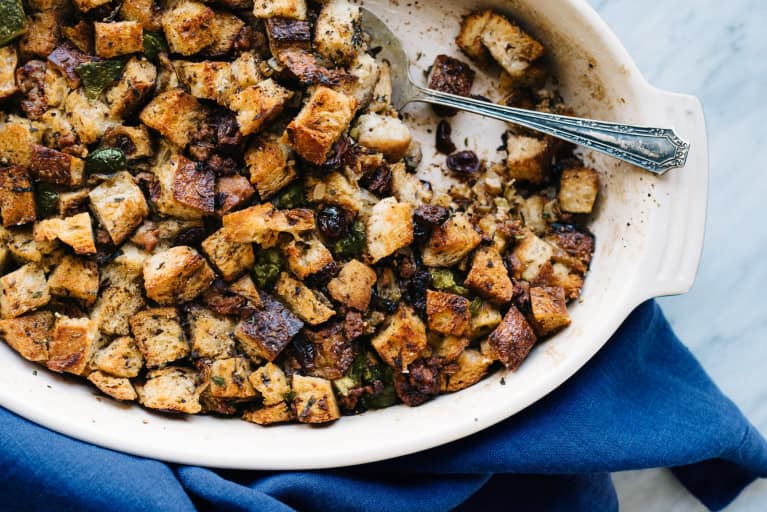 Here at mbg, we believe that coming together and celebrating community is a key part of wellness—which is why, this Thanksgiving, we won't be asking you to forgo turkey for salad or sacrifice diving into a bowl of stuffing. Instead, we're arming you with little tweaks that let you keep the best foods of Thanksgiving and ditch the worst (hello, food coma). From the one ingredient that'll make your traditional desserts gut-healing and blood-sugar-balancing to the pregame breakfast your stomach will thank you for, think of it as having your pumpkin pie and eating it too. That's something we can all be grateful for.
Stuffing is my personal favorite Thanksgiving dish. I actually make it for dinner all year round, which has given me plenty of time to perfect healthier alternatives. I still, however, wanted my stuffing to taste like stuffing—that is, as good as a wild rice or cauliflower version might be on its own, it's a poor, unsatisfying facsimile of the real thing.
Instead, I tackled stuffing ingredient by ingredient. Bread was a necessity, yes, but was there a healthier bread? A way to shove in more vegetables without compromising the resulting flavor or texture? Could a healthier stuffing taste as good—nay, better—than its carb- and butter-filled counterpart?
The answer is unabashedly yes. The stuffing I share below is my absolute favorite recipe, healthy or not. Follow it to the letter, or just make the simple changes below to up the flavor and healthy ante on your grandma's classic recipe.
Tweak 1: Use sourdough bread.
Sourdough bread has a tangy flavor that adds a note of complexity to stuffing, but it also has a ton of health benefits. The dough contains bacteria that breaks down parts of the wheat, including phytic acid, making it more digestible and easier on your gut. Because of the fermentation process, it also causes less of a blood sugar spike, mitigating a crash later. I like to get mine at a local bakery, where I can ask about fermentation times (the longer, the better!).
Tweak 2: Load up the veggies.
When I toast the bread for my stuffing, I put in an equal-size sheet pan filled with veggies—meaning my stuffing ends up being the same amount of produce as straight carbs. Since you're roasting them before putting them in the stuffing, the veggies develop a caramel-y, umami flavor that adds to the taste of the finished stuffing. My favorite combo is kale and shredded Brussels sprouts, which offer tons of anti-inflammatory, detoxifying benefits, but any leafy brassica works well.
Eggs make an appearance in some stuffing recipes and are left out of others. I like to add them to mine—but I add a lot. Pastured eggs have a number of nutrients, but most importantly for this particular dish, they add critical amounts of protein that keep your blood sugar balanced and make the dish filling enough to be satisfying with a more gut-friendly portion size. The greater amounts of egg also drastically enhance the texture, eliminating the wan, dry stuffing of yore in favor a dense, herb-studded number akin to savory bread pudding. With the craggy, crispy top, you actually get texture variance, making the final dish far more satisfying—and far healthier.
Liz's A-Little-Bit-Healthier Stuffing
12 cups torn, bite-size pieces of sourdough bread
6 cups of leafy cruciferous vegetable of choice, shredded or torn into bite-size pieces (Brussels sprouts, kale, Swiss chard all work well alone or in combination)
3 tablespoons extra-virgin olive oil, plus more to drizzle and coat pan
Fine-grain sea salt
2 yellow onions, diced
2 medium carrots, diced
6 small cloves garlic, minced
2 tablespoons chopped fresh rosemary
1 tablespoon chopped fresh thyme
2½ cups vegetable stock
8 eggs, preferably pastured
Preheat oven to 375°F. Lightly coat a 9-by-13-inch oven-safe baking dish with olive oil; set aside.
Line two large sheet pans with parchment paper. On one, toss the bread with a generous sprinkle of salt and drizzle of olive oil. Arrange in a single layer. On the other pan, toss shredded cruciferous vegetable with a generous sprinkle of salt and a drizzle of olive oil. Place both pans on separate racks in oven. Bake until the bread is crisped through and brown at edges and the vegetables are just browning, about 10 minutes (remove the pans at different times if necessary). Leave the oven on when you remove the bread and vegetables.
Meanwhile, heat 3 tablespoons of olive oil in a large pot over medium-high. Add the diced onions and carrots and cook, stirring frequently, until they begin to brown, about 5 to 7 minutes. Add the garlic, rosemary, thyme, and stock. Bring the stock just to a boil, then remove from heat.
Stir in the toasted bread and cooked cruciferous vegetables until everything is homogenous. Add the eggs, stirring to distribute well.
Spoon into pan. Bake at 375°F for 30 to 45 minutes, until the craggy edges of the top are browned and crispy. Let cool slightly before serving.