Making A Cheeseboard This Holiday? Up The Ante With These Healthy Homemade Crackers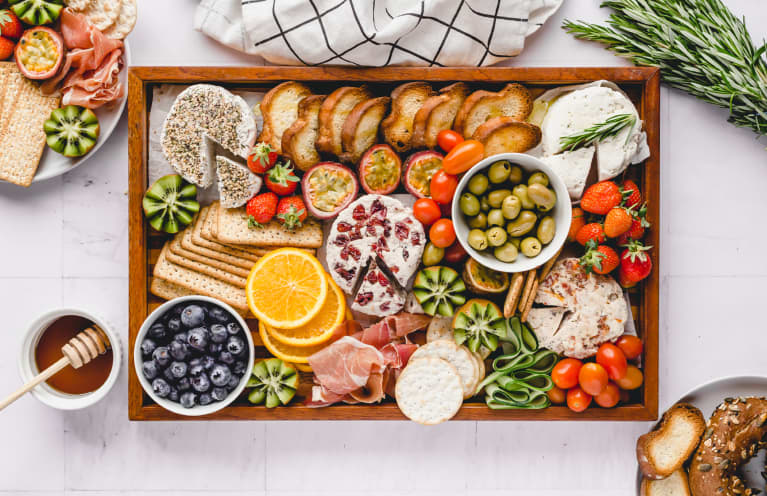 Our editors have independently chosen the products listed on this page. If you purchase something mentioned in this article, we may
earn a small commission
.
Cheeseboards have become something of a holiday staple, and given how totally stunning you can make them, it's not much of a surprise. (By the way, we've got all the tips you need to make an amazing one here.) Healthy and delicious crackers are an essential on any board, alongside whatever healthy cheeses, fruits, veggies, and spreads you include.
While there's plenty of tasty store-bought options (like these 10 healthy crackers we love), making some from scratch is a fun way to jazz up your board. This recipe, from Bill Schindler, Ph.D., uses sourdough starter, whole wheat flour, and some flaky sea salt to make a crispy snack that's perfect on any appetizer table.
"These crackers are an excellent way to transform leftover sourdough mother into a nutritious food with a long shelf life," he writes. "They look and taste like healthy Wheat Thins and are a perfect complement to cheese or as a snack themselves."
2 cups mature sourdough mother culture
1⅓ cups whole wheat flour
1½ teaspoons sea salt
⅓ cup unsalted butter, room temperature, plus more, melted, for brushing
Maldon salt
Combine the sourdough mother, whole wheat flour, salt, and softened butter in the bowl of a stand mixer fitted with the dough hook and mix on speed 1 until all ingredients are fully incorporated. Or, if mixing by hand, stir with a Danish dough whisk or wooden spoon to combine the ingredients until it becomes too difficult to continue. Turn out the dough onto a clean work surface and knead just until all the ingredients are fully incorporated.
Transfer the dough to an airtight container or wrap in plastic wrap and refrigerate for 6 to 12 hours to slowly ferment.
Preheat the oven to 350°F. Line several rimmed baking sheets with parchment paper. Roll the dough into thin sheets (approximately 1/16-inch thick) with a rolling pin or pasta machine. Carefully transfer the dough sheets to the prepared baking sheets, cut into 1½-inch squares, brush the tops with melted butter, and sprinkle with Maldon salt. Bake for 20 to 25 minutes, until crisp and slightly browned.
Transfer to a wire rack to cool. When completely cool, store in an airtight container at room temperature, up to several weeks.